A Chaotic Drive To Nobel Laureate Rabindranath Tagore's 'Abode Of Peace': Santiniketan — Part I
Images: Ritabrata Mukherjee & Hemraj Adhikari
Once we were on the other side (the wrong side) we exited the highway as fast as we could, onto a two-lane road and then stopped to regroup. We soon realised that we were missing the Fiat! Where was it?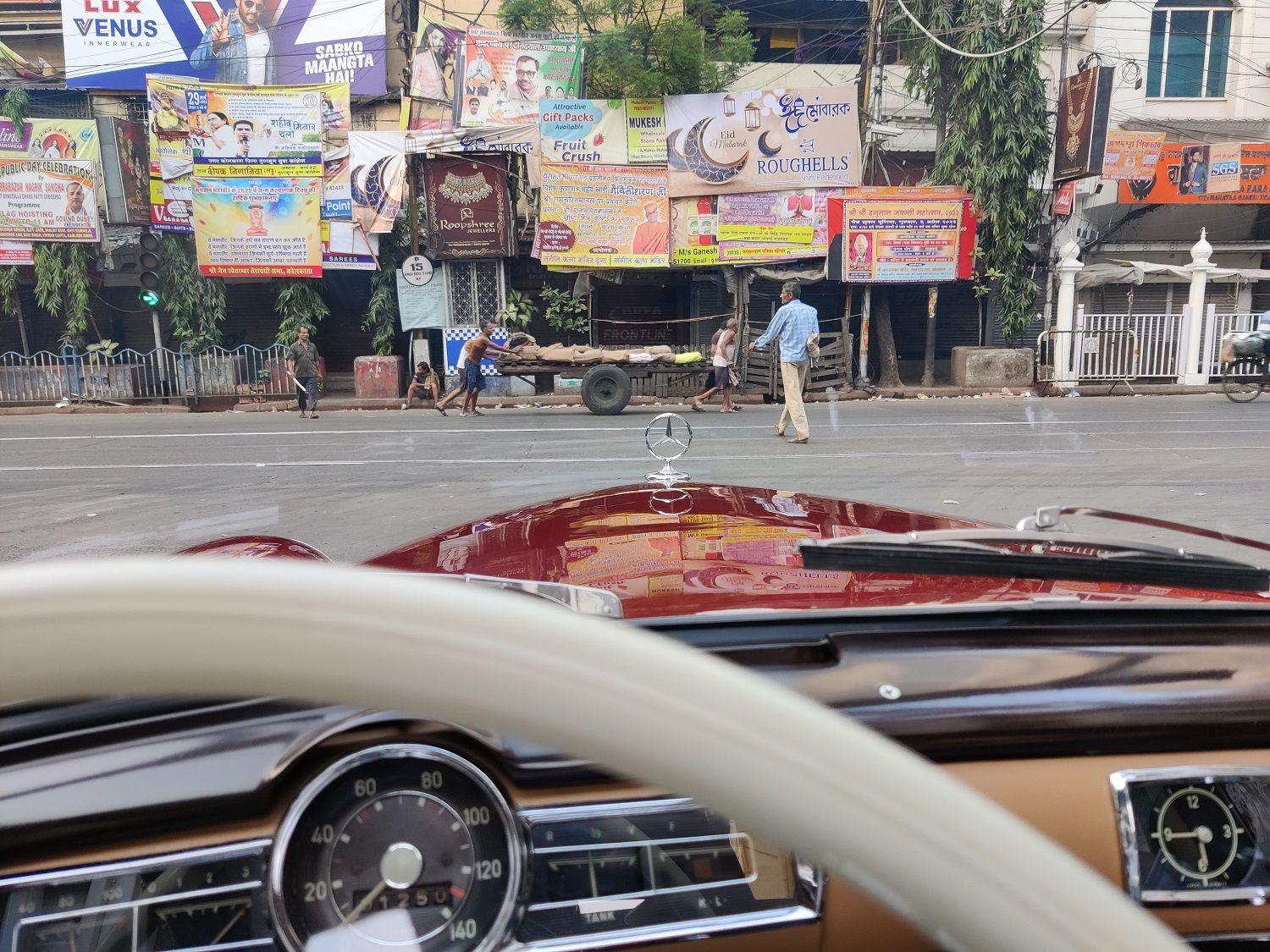 Over the last 6 years, Calcutta (Kolkata) has seen a flurry of activities in the historic vehicle fraternity due to the formation of two clubs, the first in 2017 & the second in 2020. Weekly and monthly drives within town, multiple displays every year etc. have now become commonplace, so much so that at times there are clashes in dates between the two events!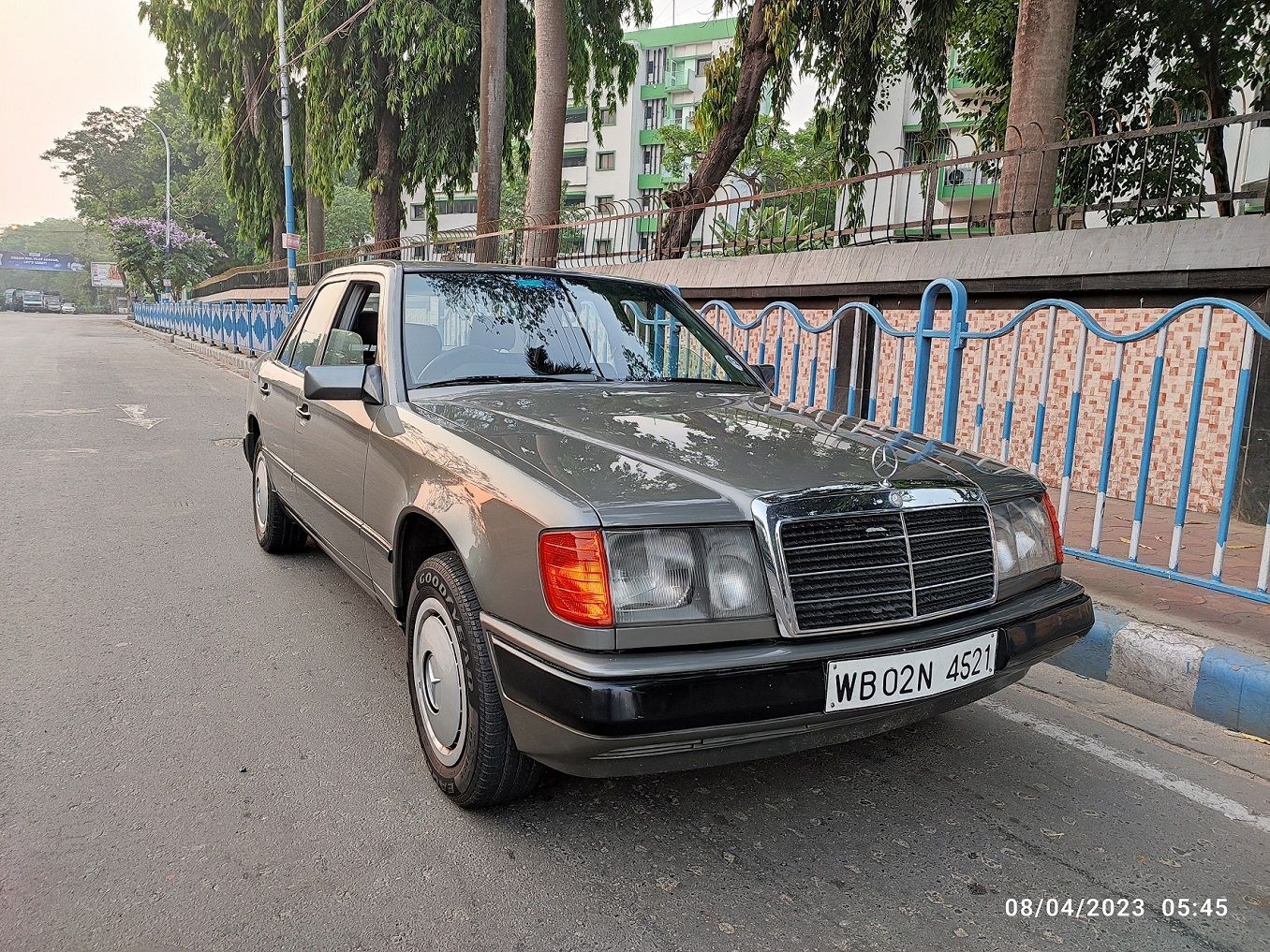 With largely the same format for drives and displays, several owner drivers at Classic Drivers Club (CDC) started to ponder about drives with a difference, an out-of-town drive to a nice place and a couple of nights halt before heading back to town.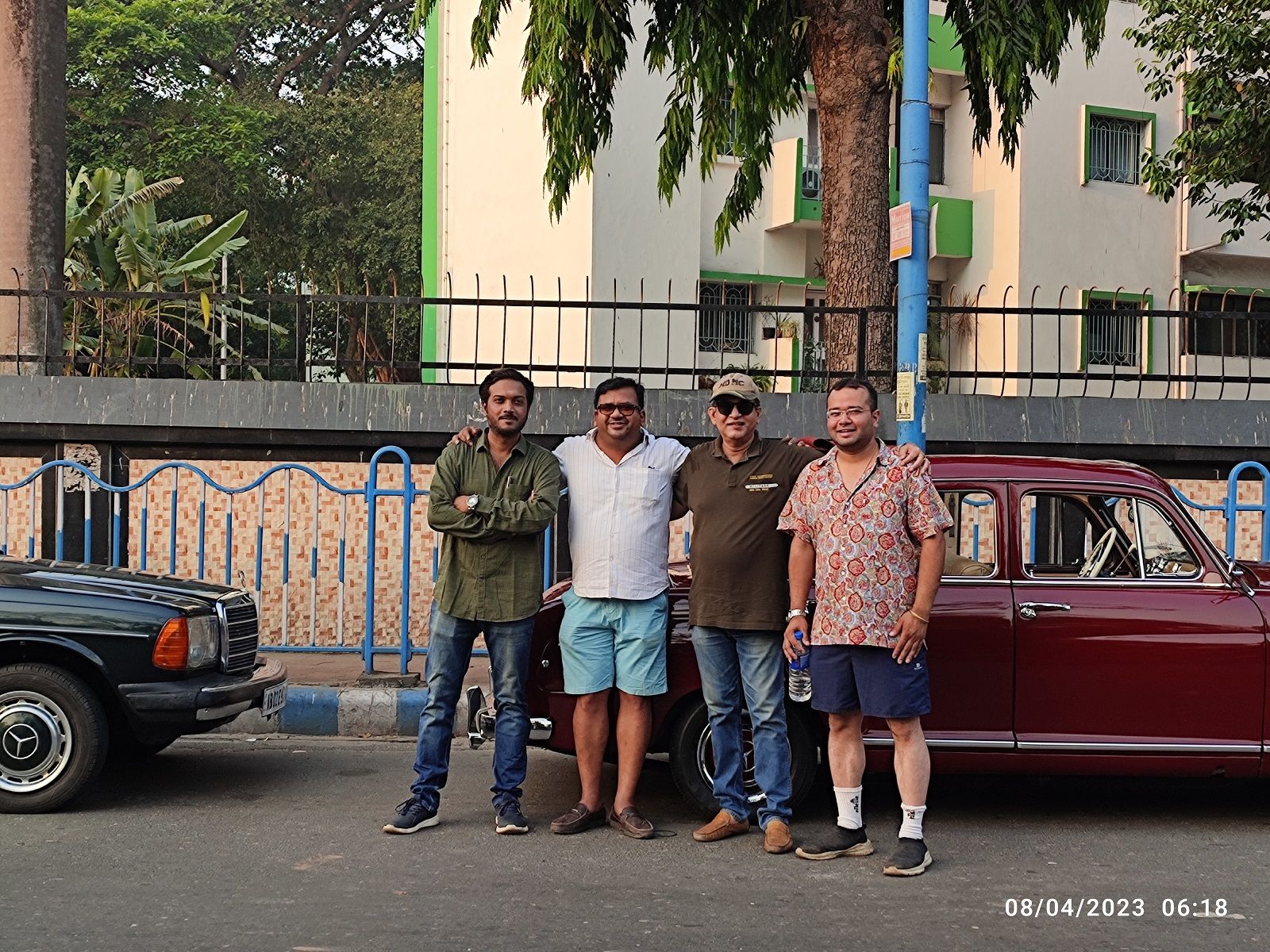 The idea was terribly exciting for me since Kolkata hadn't done it and despite the reservation of some members, others were keen and talks were in advanced stages (as early as November 2021) for a planned multi-destination drive over 3 days in December 2021. But it all had to be put on hold sadly, thanks to a sudden spike in Covid-19 cases. The enthusiasm died down and the topic wasn't talked of for a couple of years.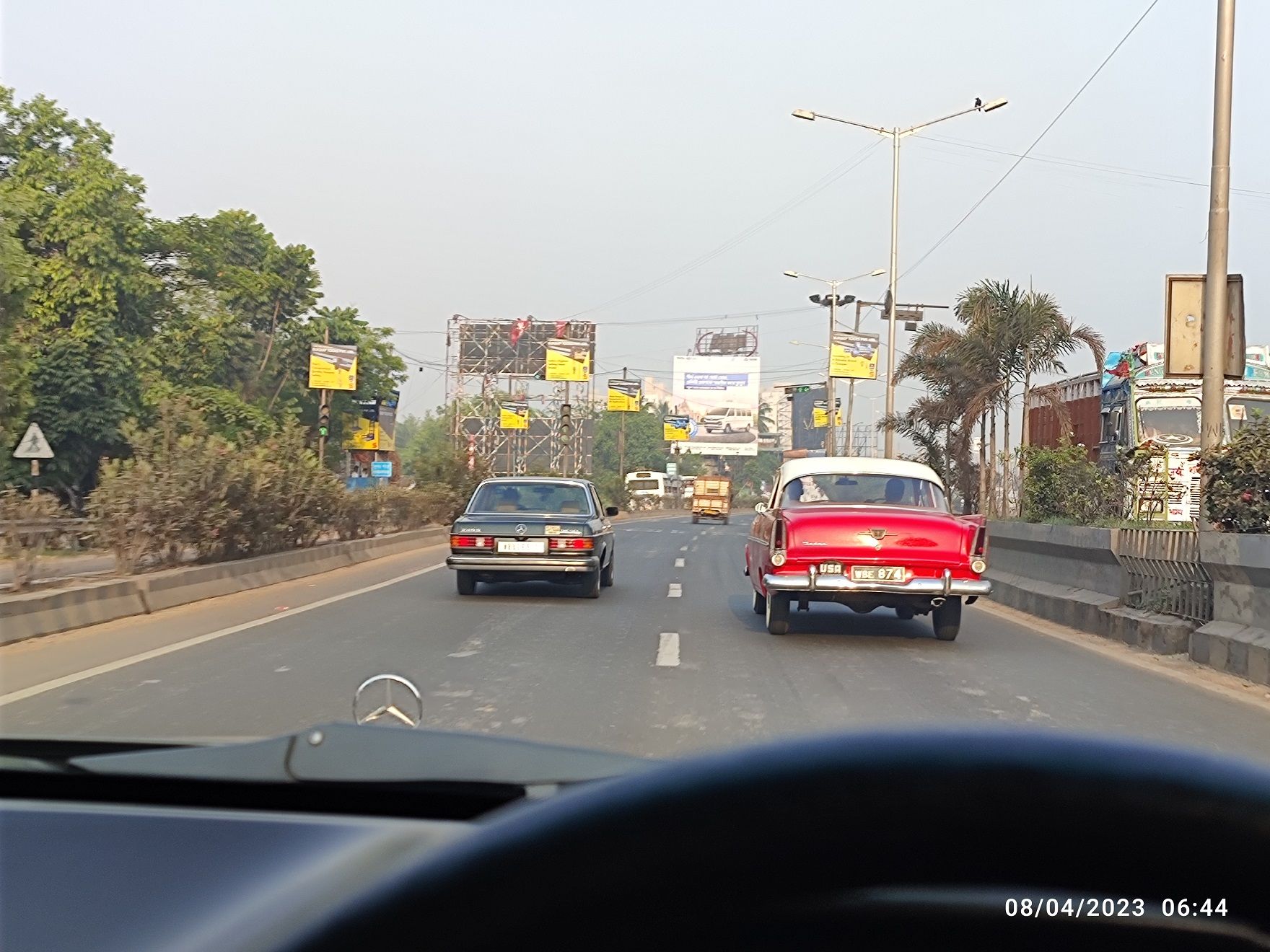 The start of 2023 saw the usual events, rallies, drives and displays which lasted till as late as March. To be honest, I was getting rather tired of it all because we were basically the same bunch of enthusiasts with the same vehicles, taking part in multiple events, all within the city.
Towards the end of March 2023, a young member of our club approached me, very keen for us to undertake an out-of-town drive. I was a bit skeptical because the weather had already turned, the days were hot, very hot in fact, and I wondered if anyone would sign up. But the young man's insistence and enthusiasm eventually won me over and we started to inquire with other members who may be interested.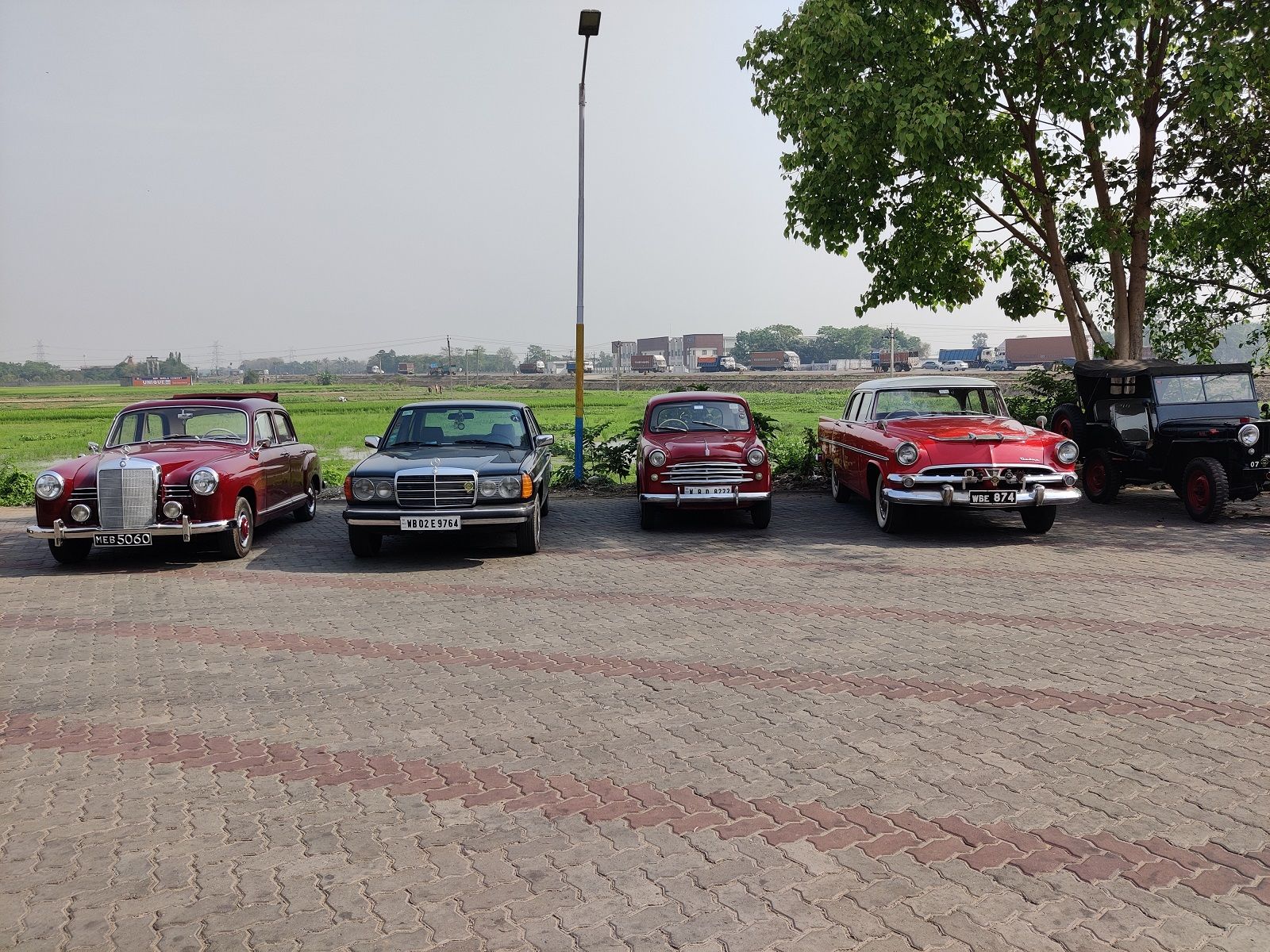 We hoped to have 10 owner-drivers with their cars. Indeed, we could have had 10 but some keen members already had plans in advance and weren't free. So we ended up with 6 owner-drivers, ranging from members in their late 20s to the eldest in his early 70s.
The final 6 cars were a 1954 Willys Jeep, a 1954 Fiat Millecento, a 1956 Dodge Kingsway, a 1958 Mercedes Ponton, a 1984 Mercedes 240D (W123) and a 1985 Mercedes 200 (W124).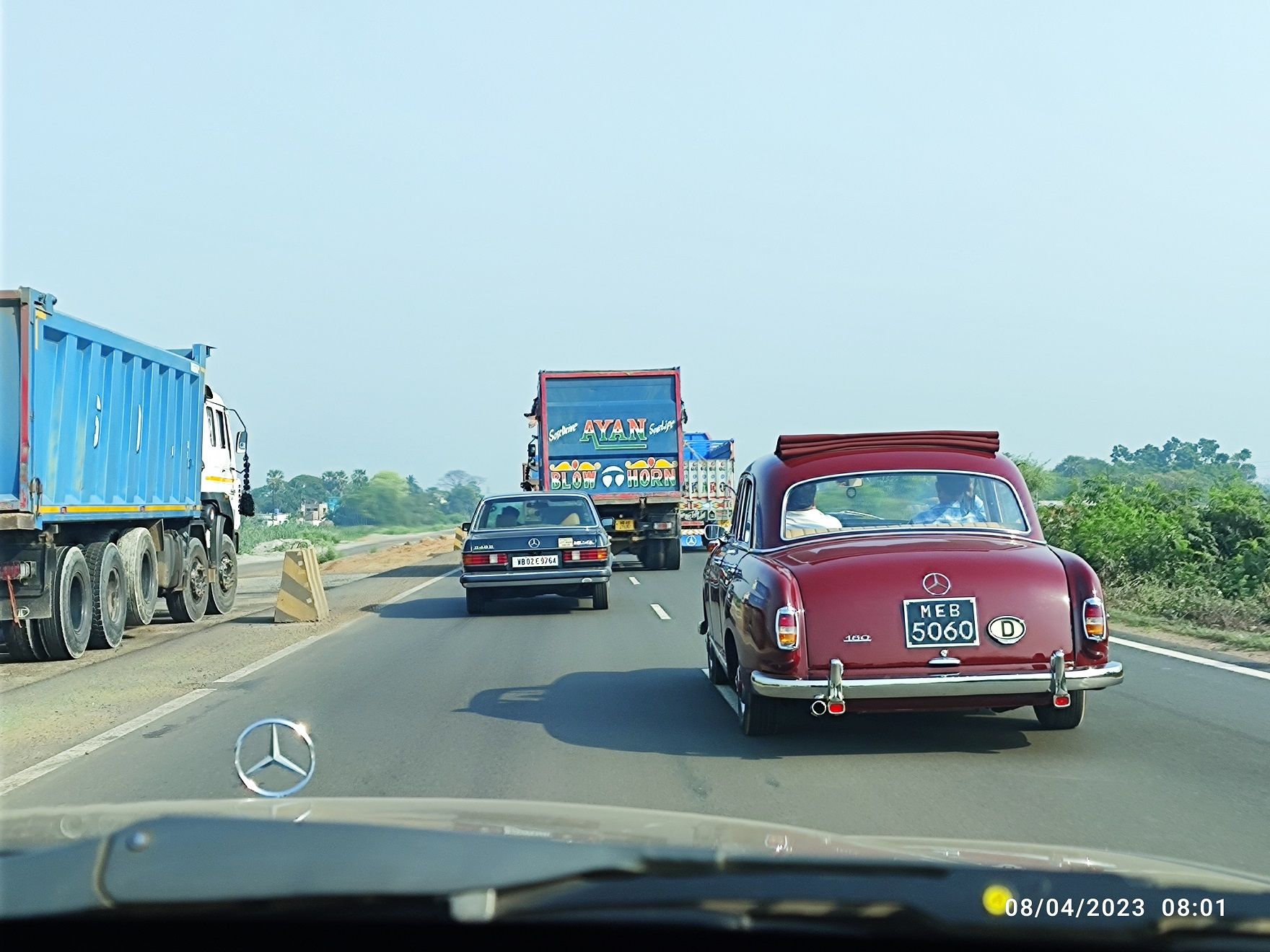 The 8th of April was the date chosen, a Saturday. The plan was to leave Calcutta at 6:00 am, reach Santiniketan, about 150 kms away, in time for lunch at around 1:00 pm. Boy, did it turn out differently!
Apparently there was a miscommunication, since one car arrived at 6:30 am instead of the allotted 6:00 am at the meeting place. So just after 6:30 am, we started our journey. The route was simple: exit Calcutta and hit the Delhi highway (NH 2), cross Bardhaman town and take the exit to the state highway at Gushkara. This route was just under 150 kms.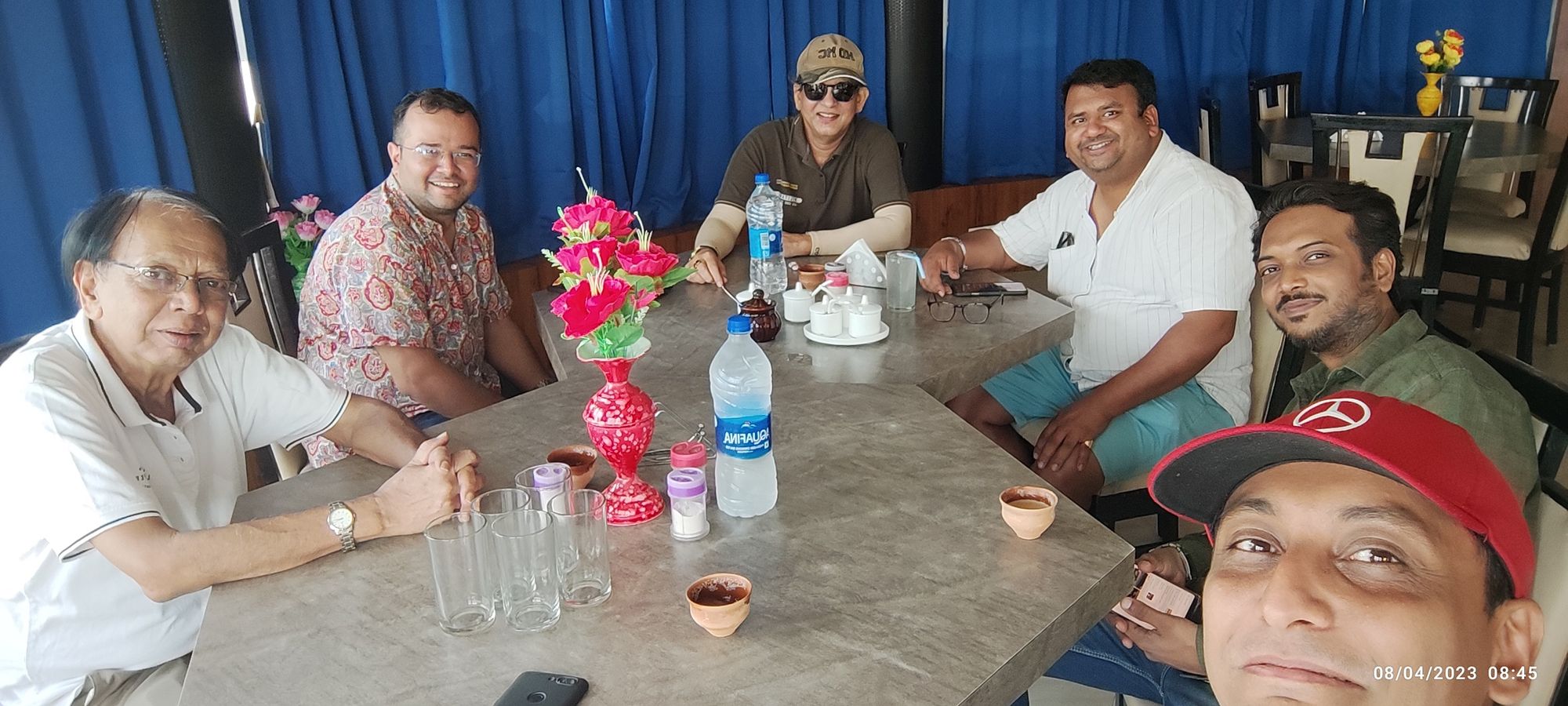 All 6 of us were looking forward to the drive, the Willys, Millecento, and 240D were not a worry, they had been driven extensively and had proven reliability. The Ponton, belonging to yours truly, fresh from restoration in January, had done three out-of-town trips without a hitch, so I wasn't worried.
The Dodge Kingsway, on the other hand, had not been driven such a distance for years and it hadn't been used much over the last three years.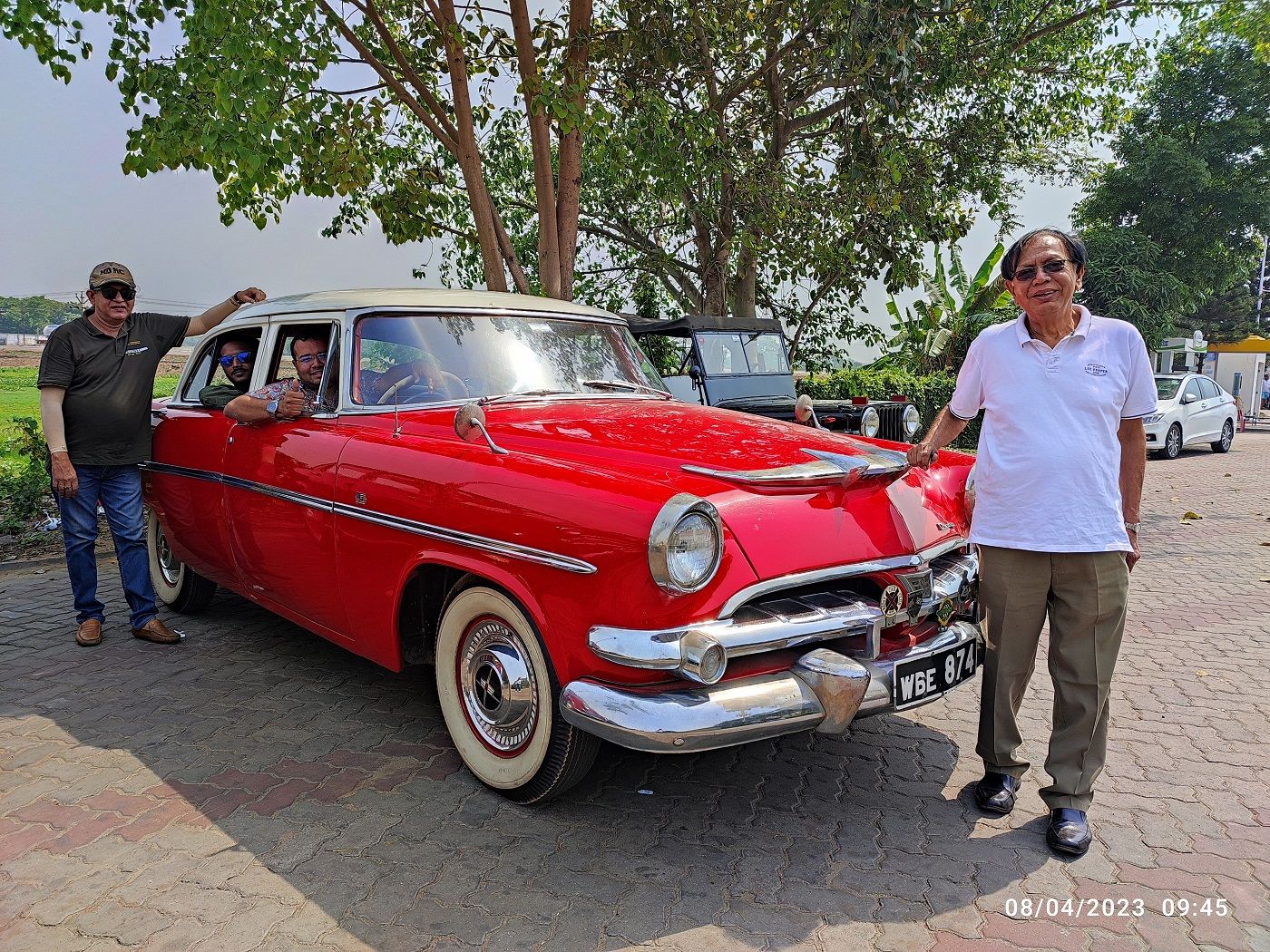 The W124 200 was a very recent acquisition and the new owner had to sort out a number of things to get the car back on the road, so this was going to be a sort of test for the car.
In case of any trouble with the cars, we had arranged for two mechanics to ride with us along with a complement of tools.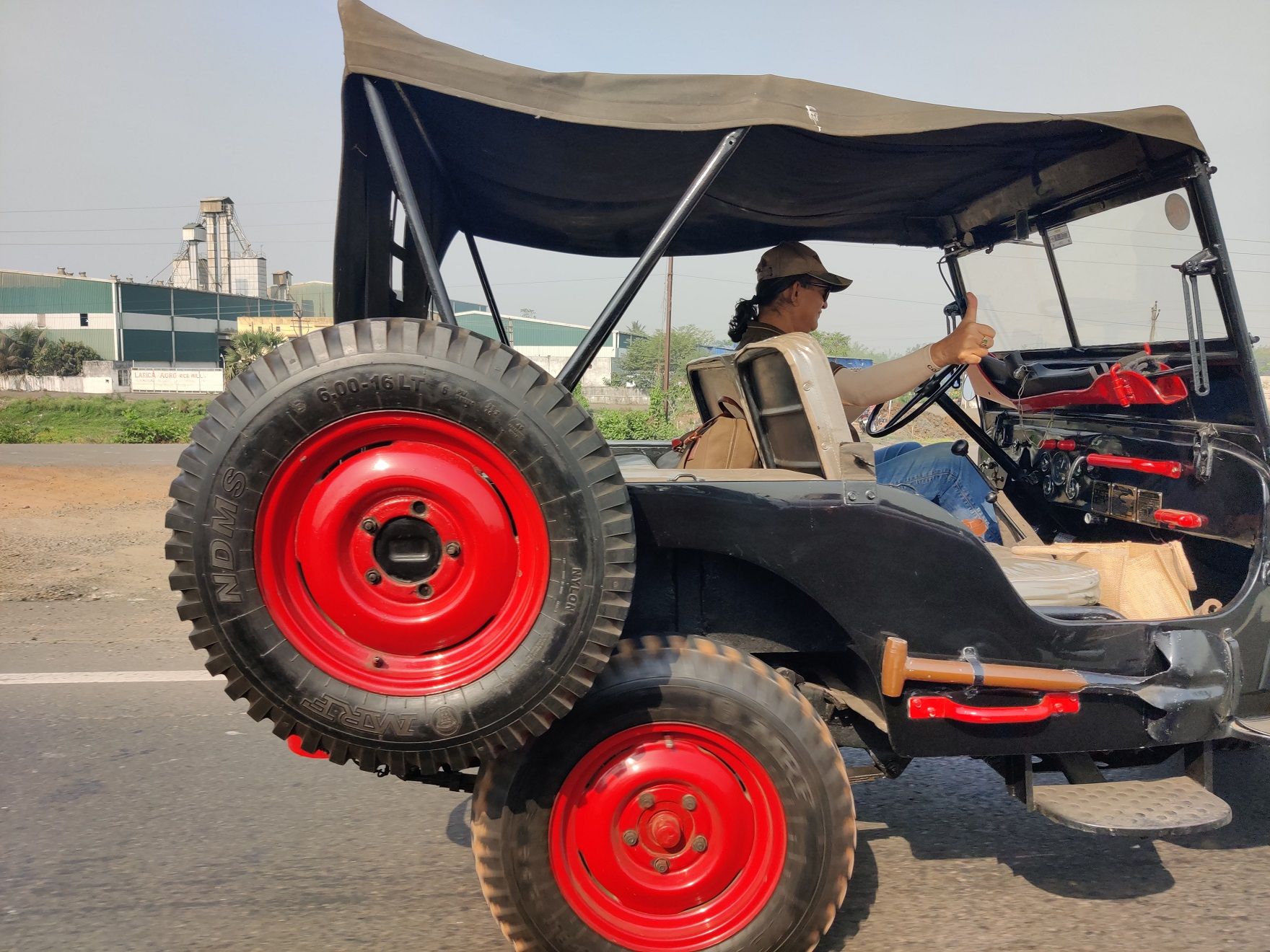 Once the convoy of 6 exited Calcutta, we settled nicely into the pace of NH2. We had decided that the Jeep would lead and would not exceed 70 kmph.
NH2 has lovely trees lining both sides of the highway and for the most part, has a good, smooth surface. Traffic is usually well spread out, but it can be unpredictable.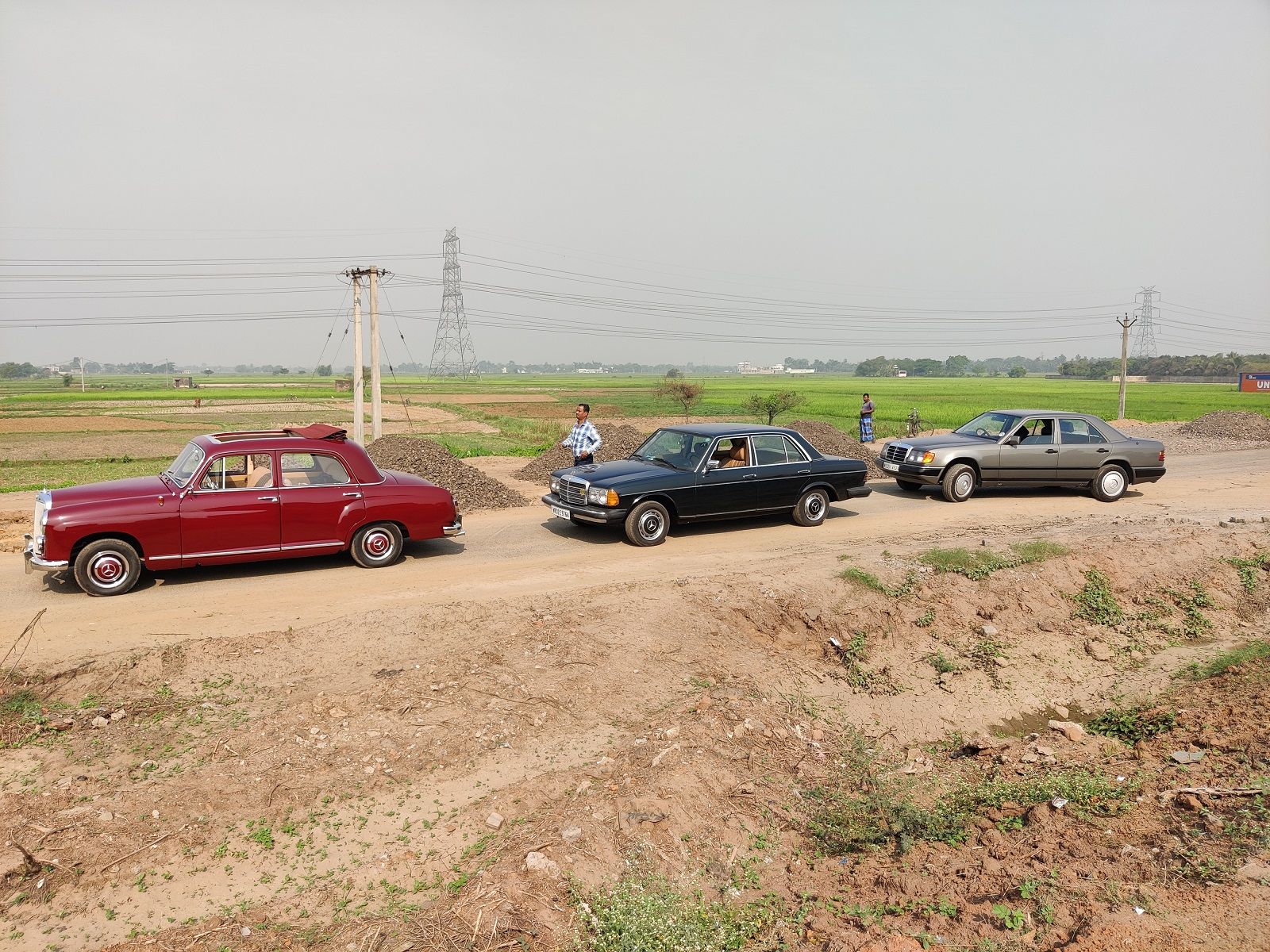 60 kms and two hours later without any interruptions, we stopped for breakfast at a popular eatery. It was about 8:30 am and the sun was already beating down on us—this was not going to be a pleasant drive.
After several aloo paranthas (lightly fried flat bread with a potato filling), dahi (hung curd), anda bhurjis (fried scrambled eggs), nimboo panis (fresh lime water) and some extra time spent in cooling down at the air-conditioned restaurant, we were ready to resume our journey.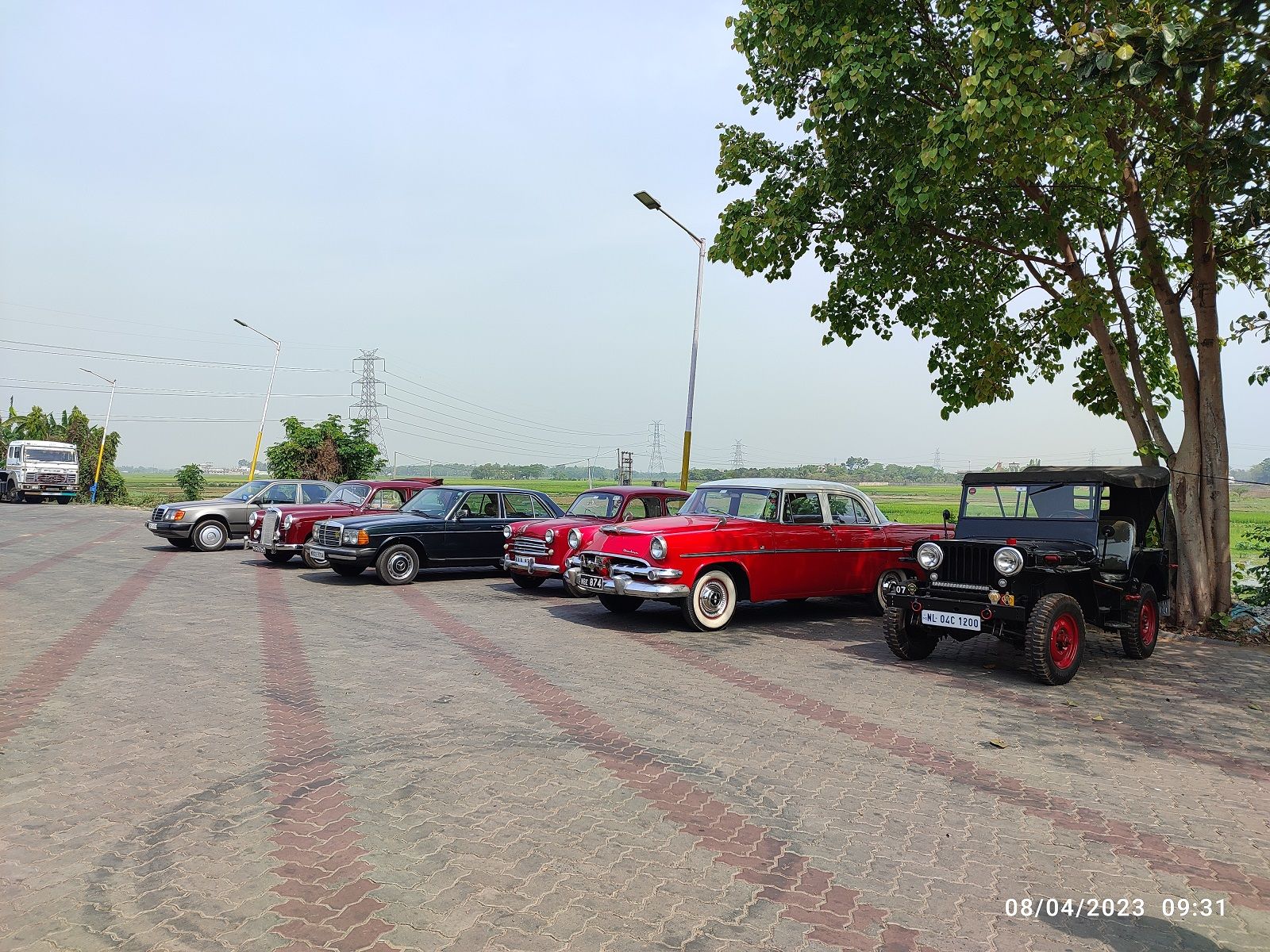 To our surprise, there was a bunch of people who were around our cars and were curious to know about them. This always brought me joy, to see other people interested in the historic vehicles we love so much.
We resumed our journey towards Bardhaman (Burdwan) town, another 40-odd kms away and were enjoying the highway until we abruptly ran out of luck, and how.
---
---
Comments
Sign in or become a deRivaz & Ives member to join the conversation.
Just enter your email below to get a log in link.