A Ford And Nine Postcards
Images: T R Raghunandan
A lockdown is a good time for spring cleaning. As I dusted an old box file of classic car notes, out fell a yellowing cover with postcards, nine of them, inside. I smiled. I had forgotten about them all these years.
Once upon a time Bangalore did not have any Information Technology Parks, Ring Roads, burning lakes and traffic jams. We used our classics daily without a care. The Karnataka Vintage and Classic Car Club organized a yearly rally, where we gathered around our beauties, beer flowed, stories were told and deals were made.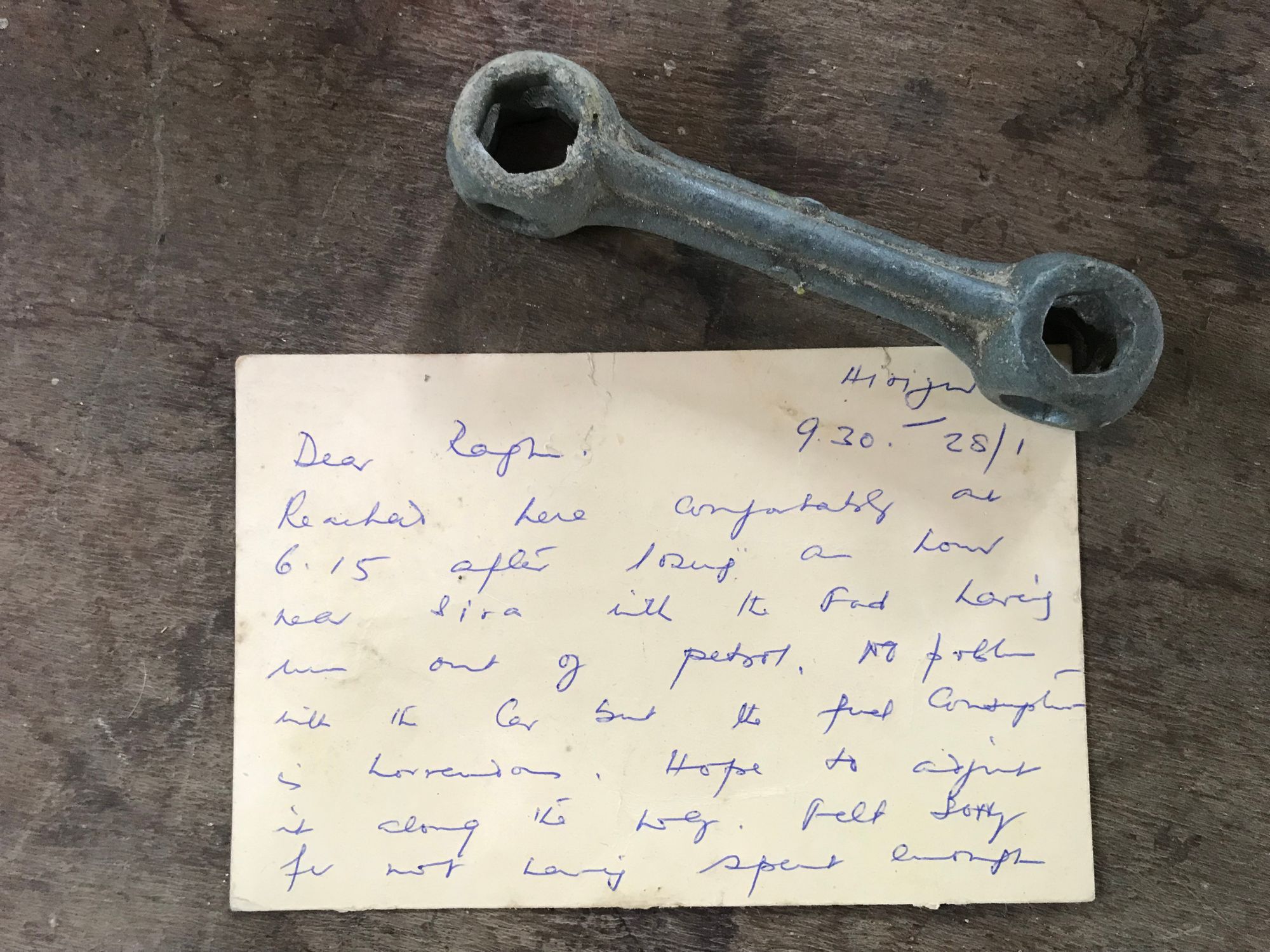 C. Ravikumar, the Club's Secretary, was a hopeless lover of old cars. There were few in Bangalore to rival his knowledge of them. Never content, Ravi was always on the lookout to add one more jewel to his treasure; for that elusive beauty that he knew was out there somewhere.
Ravi ran his busy restoration garage on the city outskirts and his genteel office on Spencer Road. These became favourite hangouts for us; the club newbies. There was always some newly arrived basket case, to excite attention.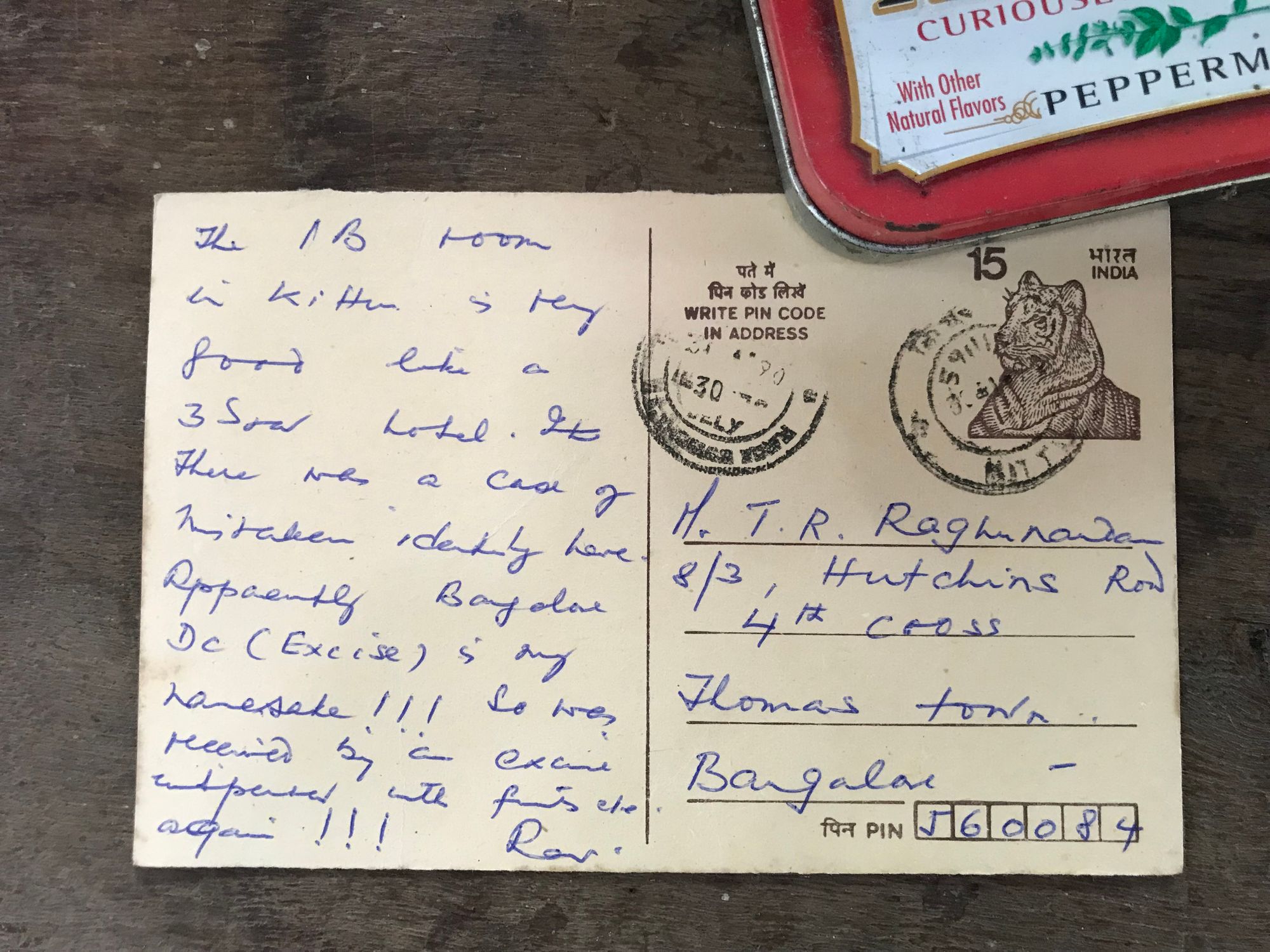 One such car was an early thirties Model B Ford. The B did not have the auras of its predecessor the Model A, or its contemporary, the flathead V8. It had the latter's body, but used a modest 4 cylinder side valve engine, underpowered for its size.
Never one to forsake a challenge, Ravi planned to restore that car and drive it from Bangalore to Delhi in February 1990, to participate in the annual Statesman Car Rally. I offered to help with the logistics.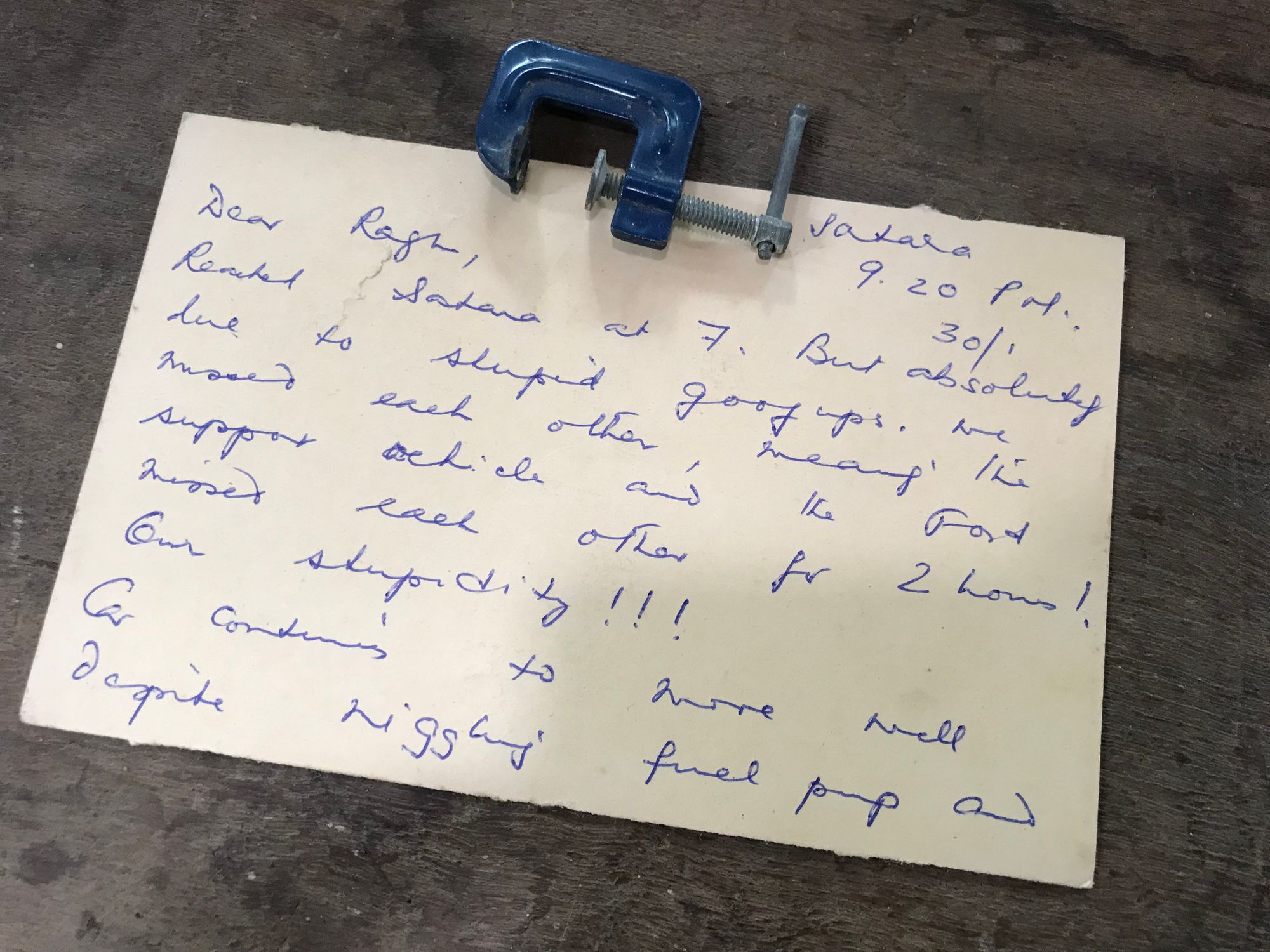 Indian highways, two lane and framed by large trees, conveyed a true sense of distance then. There were few hotels and motels. I helped Ravi use the government inspection bungalows en-route. He promised to send me postcards daily, chronicling his progress.
A quick restoration followed by a couple of test drives, and Ravi was ready. Giving himself ample time for the journey, Ravi set out on 28 January, accompanied by Chandru, his good friend in his Mercedes, and Anantha, his mechanic.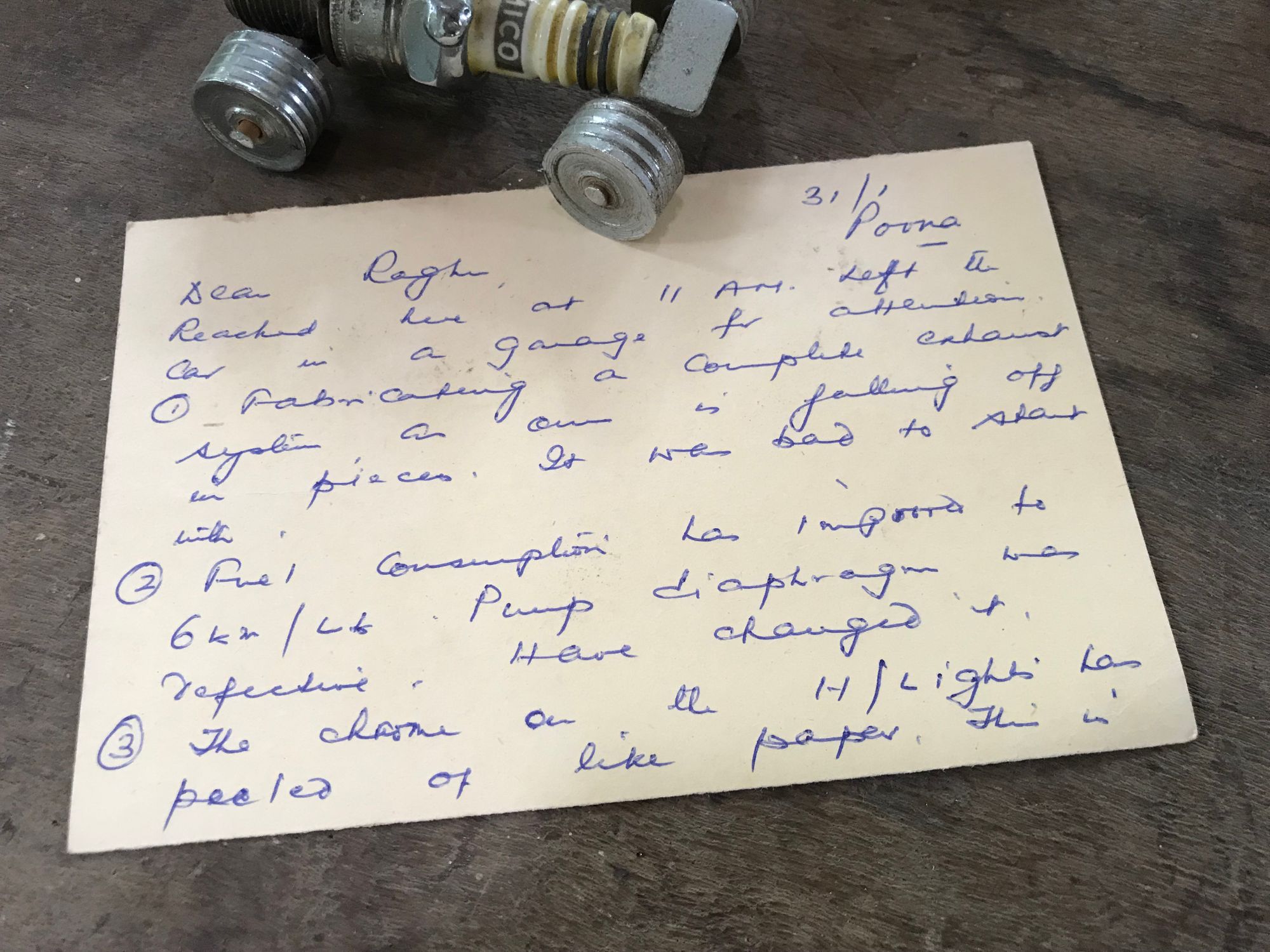 That evening, from Hiriyur, 160 kilometers from Bangalore, Ravi sent his first postcard. 'Reached here comfortably at 6.15 after losing an hour near Sira with the Ford having run out of Petrol. No problem with the car but the fuel consumption is horrendous. Hope to adjust it along the way,' he wrote.
A day later, Ravi had reached Kittur by 4 PM. 'Reached here much ahead of schedule (327 kms). The car is running sweetly but the fuel consumption is frightening. 3 kms/litre. So planning to skip an interim stop, reach Poona (380). Rather ambitious but we have to sort out the fuel consumption problem,' he reported.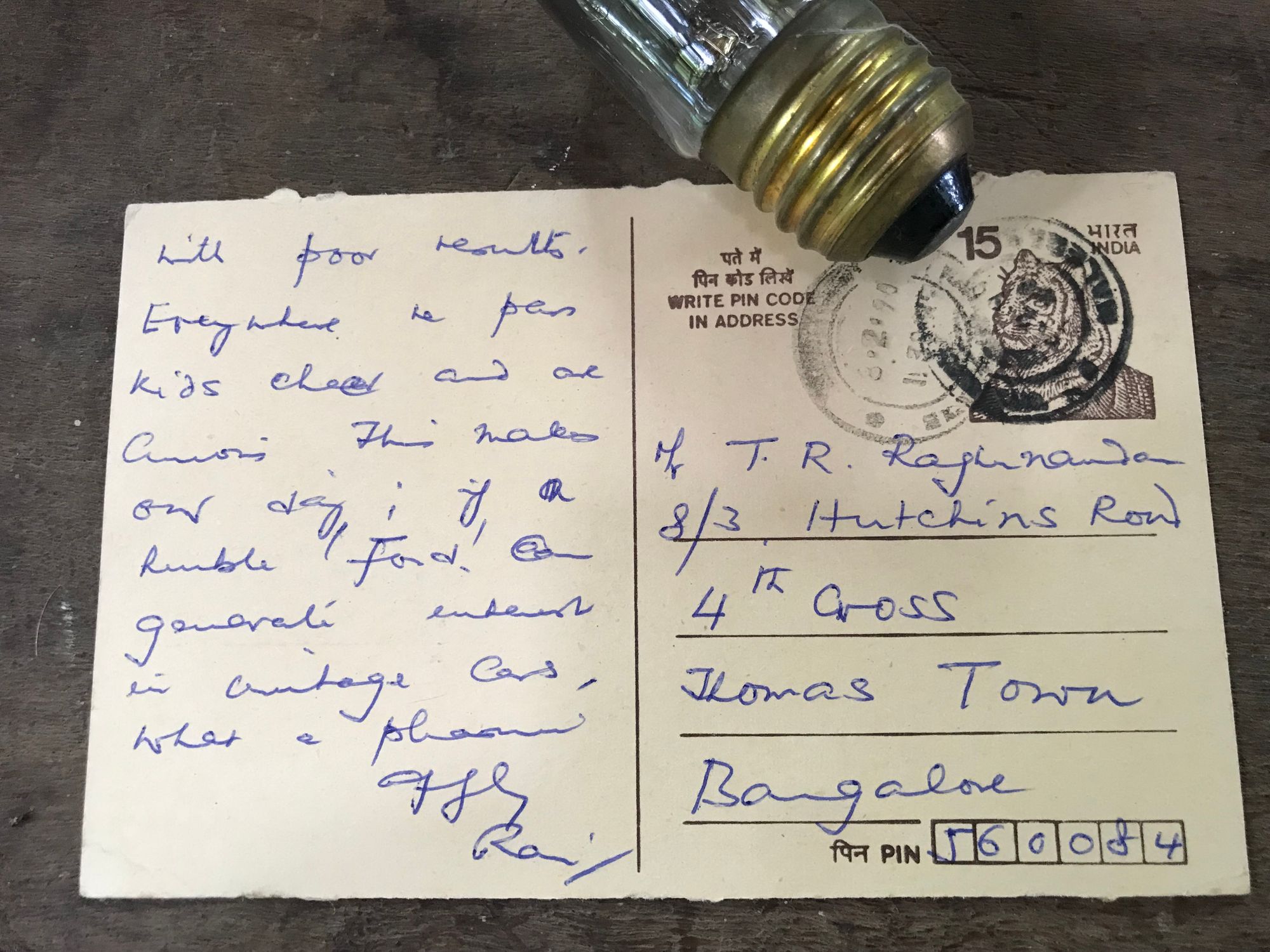 At Kittur, Ravi benefited from unexpected hospitality. 'The I.B. (Inspection Bungalow) in Kittur is very good. There was a case of mistaken identity here. Apparently, Bangalore DC (Deputy Commissioner) Excise is my namesake!! So was received by an excise inspector with fruits etc.!!'
Considerably rested after government hospitality and government fruit, Ravi cruised the next day to Satara, where he wrote 'Reached Satara at 7. But absolutely due to stupid goof-ups…the support vehicle and the Ford missed each other for 2 hours! Our stupidity!!! Car continues to move well despite niggling fuel pump and cut out problems but since the car is running well we are keeping up the schedule'. Note, back then, there were no mobiles to keep tab on your convoy. If you missed your support vehicle, you missed it.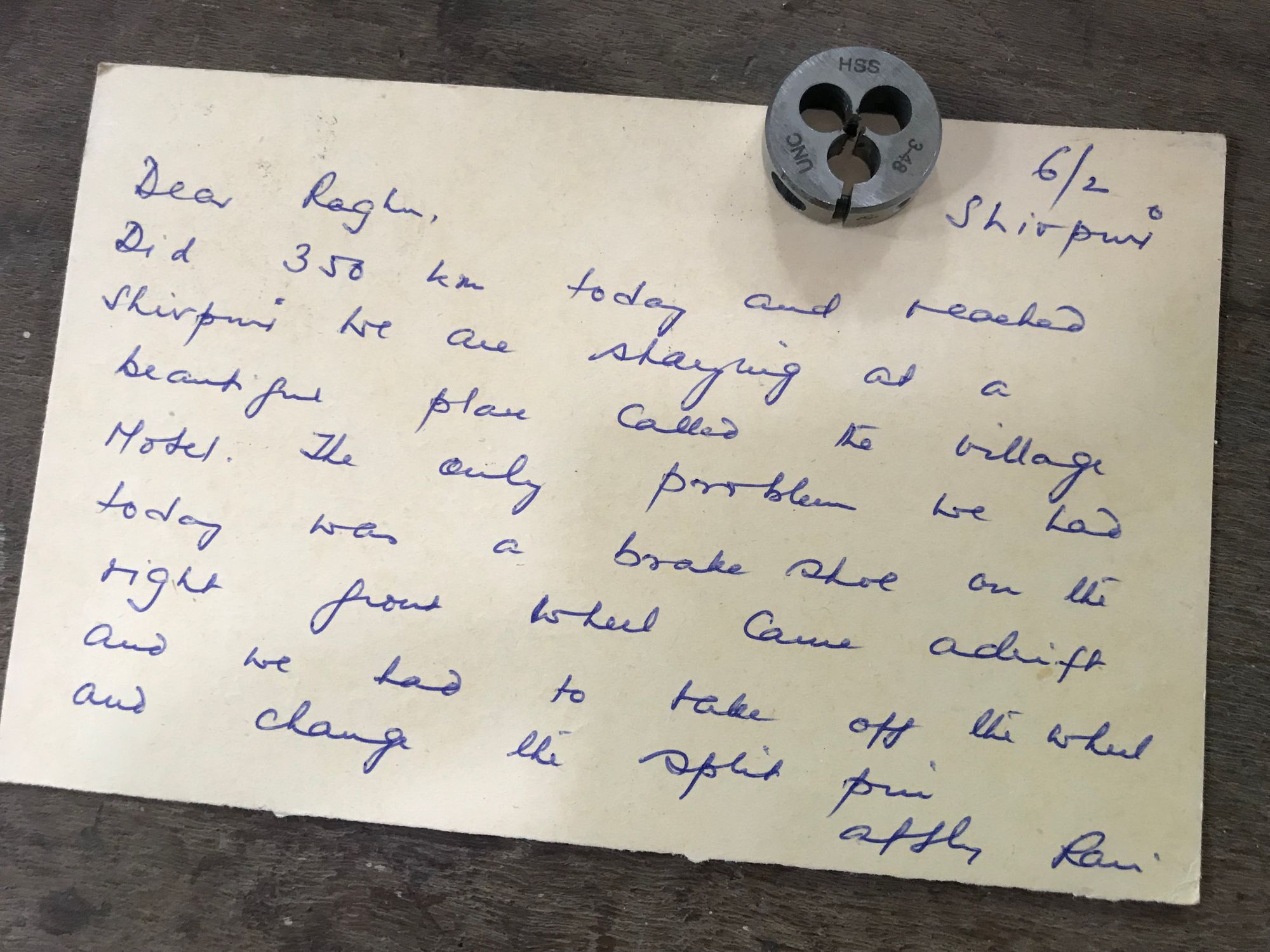 On 31 January, Ravi made an early start and reached Poona at 11 AM, He wrote, 'Left the car in a garage for attention. (1) Fabricating a complete exhaust system, as ours is falling off in pieces. It was bad to start off with. (2) Fuel consumption has improved to 6 Km/Lt. Pump diaphragm was defective. Have changed it. (3) The chrome on the headlights has peeled off like paper. This is very bad. Plan to buff and polish the dome in time. (4) Getting a fuel mixture control rod fabricated'.
Ravi stayed on in Pune till 3 February undertaking these major repairs. At 8.30 PM on 3 February, Ravi wrote from Malegaon, 'Left Poona at 7 and (reached) Malegaon at 6…not bad for 320 kms. We had a near miss which we discovered just in time. A cracking rear rim. Have to get it arc welded at Indore and till then we have no spare wheel. The repairs at Poona were disastrous. Lots of money spent with poor results'.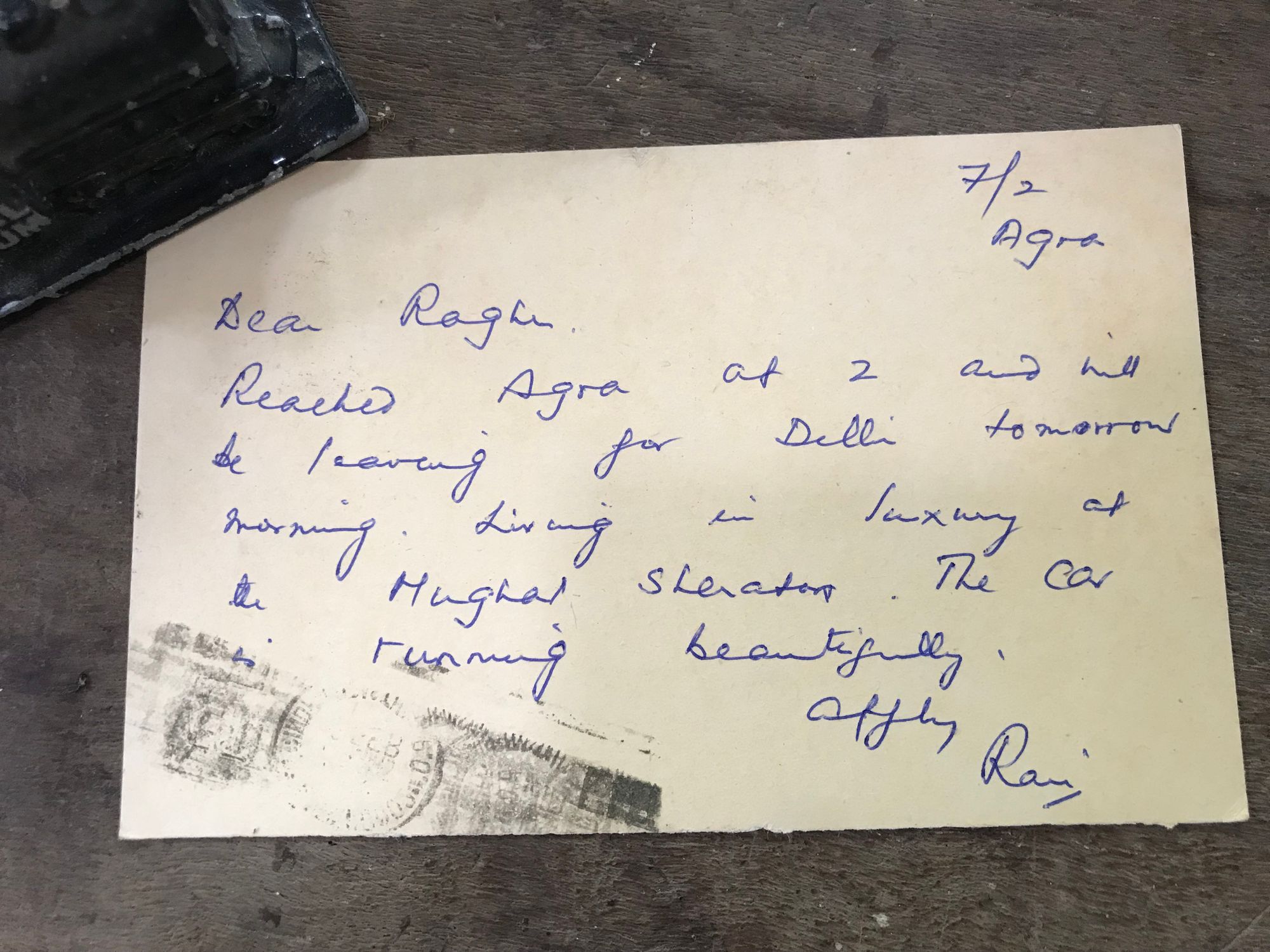 But he was happy too. 'Everywhere we pass, kids cheer and are curious. This makes our day! If a humble Ford can generate interest in vintage cars, what a pleasure!' he observed.
On 4 February, Ravi was in Mhow, within striking distance of Indore. 'Reached here at 6.30 PM (300 km) with only a snapped fan belt. Planning to spend a few hours in Indore', he reported. Progress was not as anticipated though. The next day, Ravi was in Dewas, having had the exhaust fixed at Manvendra Singh Barwani's place in Indore. On 6 February, Ravi made good progress, clocking 350 kms to reach Shivpuri. He wrote, 'The only problem we had today was a brake shoe on the right front wheel (that) came adrift and we had to take off the wheel and change the split pin'.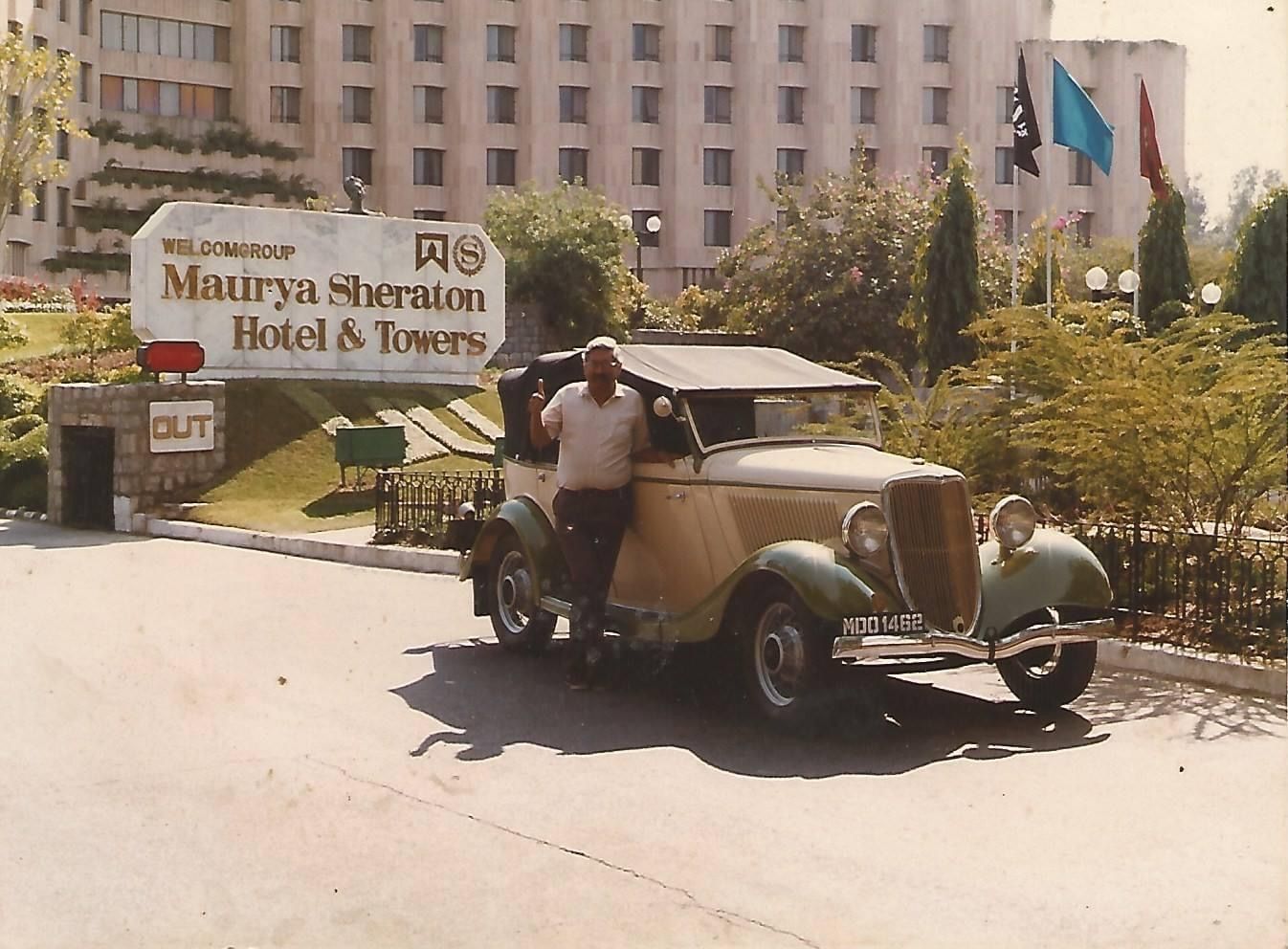 The ninth and last postcard was posted from Agra on 7 February. The car is running beautifully, wrote Ravi. Ravi posed for a photo outside the Mughal Sheraton hotel; the only one that I have of that trip. The next day, they had reached their destination, Delhi. Ravi won the prize for the car that drove the longest distance by road to attend the Statesman rally.
Nowadays, a whole new generation of adventurous enthusiasts zip across India on journeys they describe as 'epic'. Most hurtle along treeless highways in their modern boxes on wheels, insulated from the sights and sensations that make India such a wonderful place. They don't post postcards; they take selfies and post them on social media. For me, Ravi's short updates speak of an India that is eternal, one that is beyond the 'epic' trips of today.
---
---
Comments
Sign in or become a deRivaz & Ives member to join the conversation.
Just enter your email below to get a log in link.