An Eye Opener: The Tata Steel Vintage & Classic Car & Bike Rally, Jamshedpur—Part 1
Images: Deepanjan Sarkar
When I was asked to be part of the jury for the second edition of the Tata Steel Vintage & Classic Car & Bike Rally in Jamshedpur, I was thrilled. This was the first time that I was asked by an organisation to be part of the jury for a historic vehicle event. Naturally, I accepted without hesitation.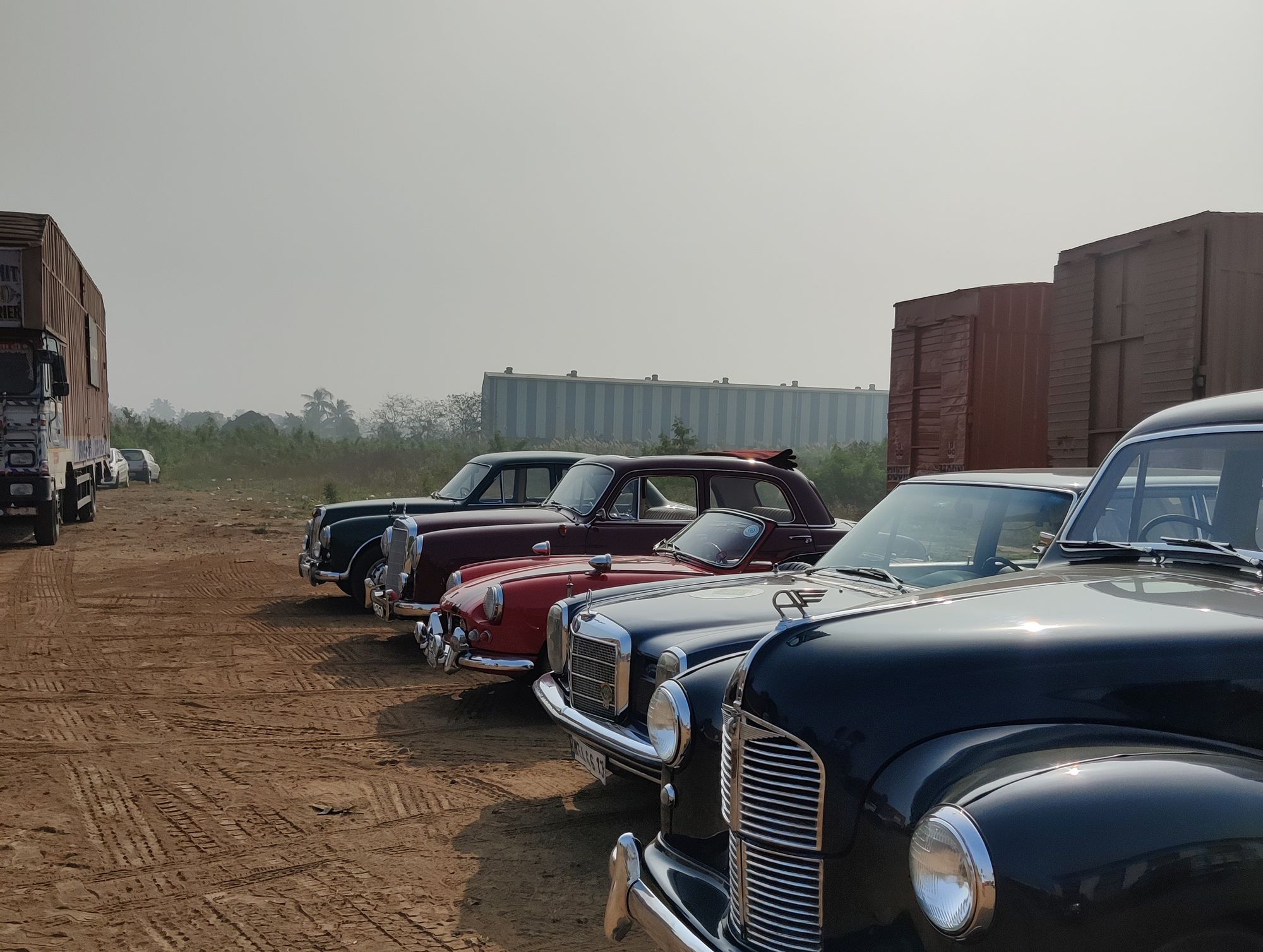 Jamshedpur is only 285 km away from my hometown of Calcutta (Kolkata). Much to my delight, a few classic car owners from Calcutta with 8 cars between them, signed up for the Tata Steel Rally at Jamshedpur and I was one of them, entering my 1958 Mercedes-Benz 180A as a non-competing exhibit.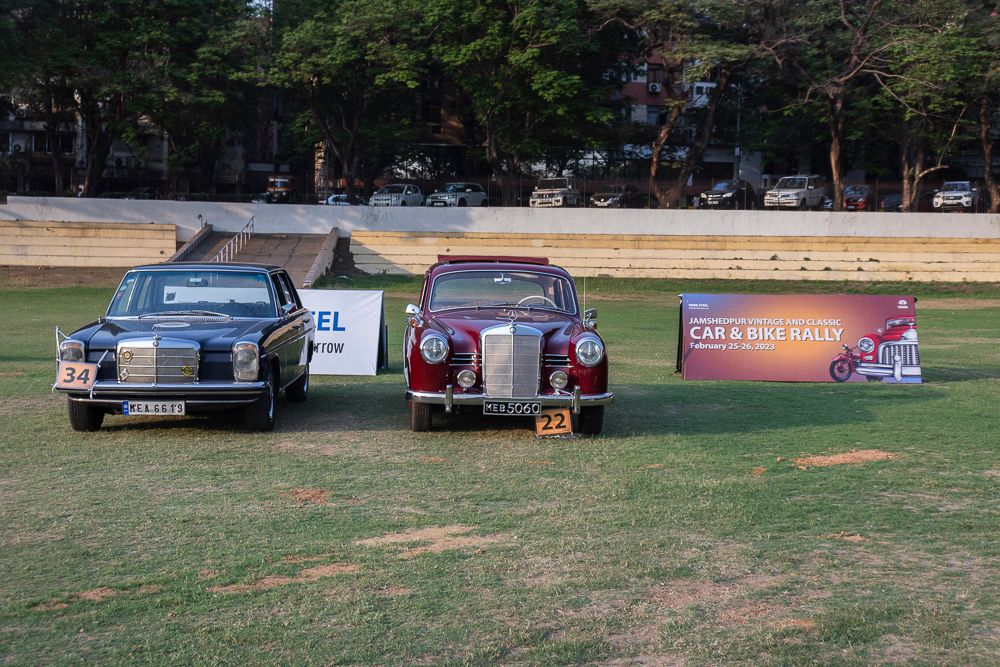 The Rally was to be held on Sunday, the 26th of February 2023, with judging of the entrant vehicles a day before. As a member of the jury, I had made it clear that my entry would be on display only and my car would not be competing in any category. My other jury colleague from Calcutta entered his 1968 Mercedes-Benz 220, again, only as an exhibit. Giving company were a 1963 Triumph Spitfire, a 1955 MG ZA Magnette and a 1950 Austin A40 Devon. These 5 cars were transported to Jamshedpur by truck and reached Jamshedpur on the morning of 24th February.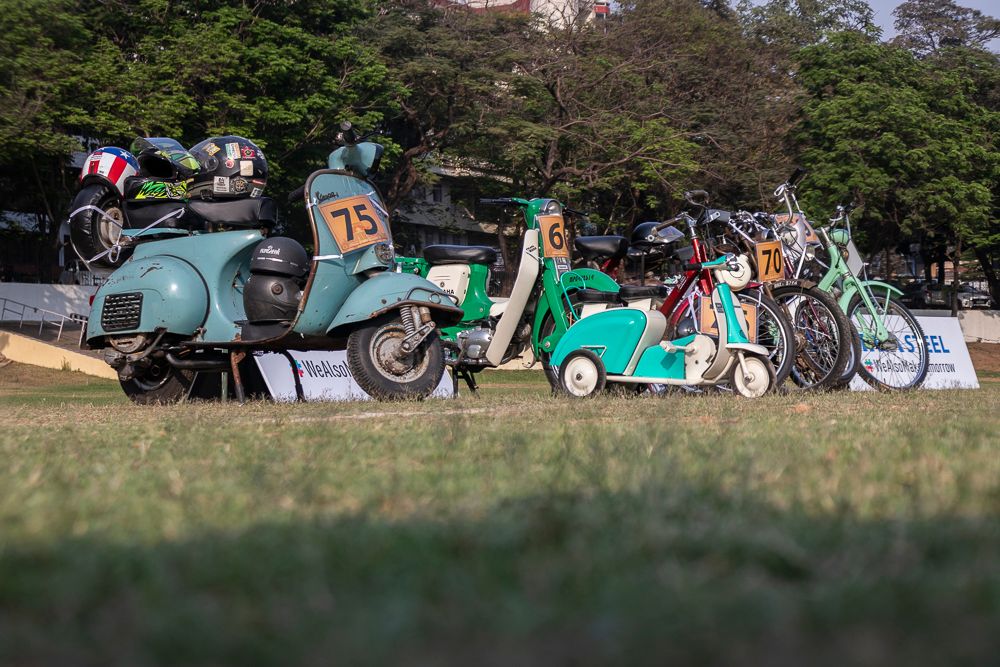 The other three cars included an Ambassador Mk1 and a Fiat Super Select which drove down on the same day whilst the eight car, a 1954 Fiat Millecento, left Calcutta by road for Jamshedpur later that evening and was halfway through the journey but sadly was forced to turn back for Calcutta due to an emergency.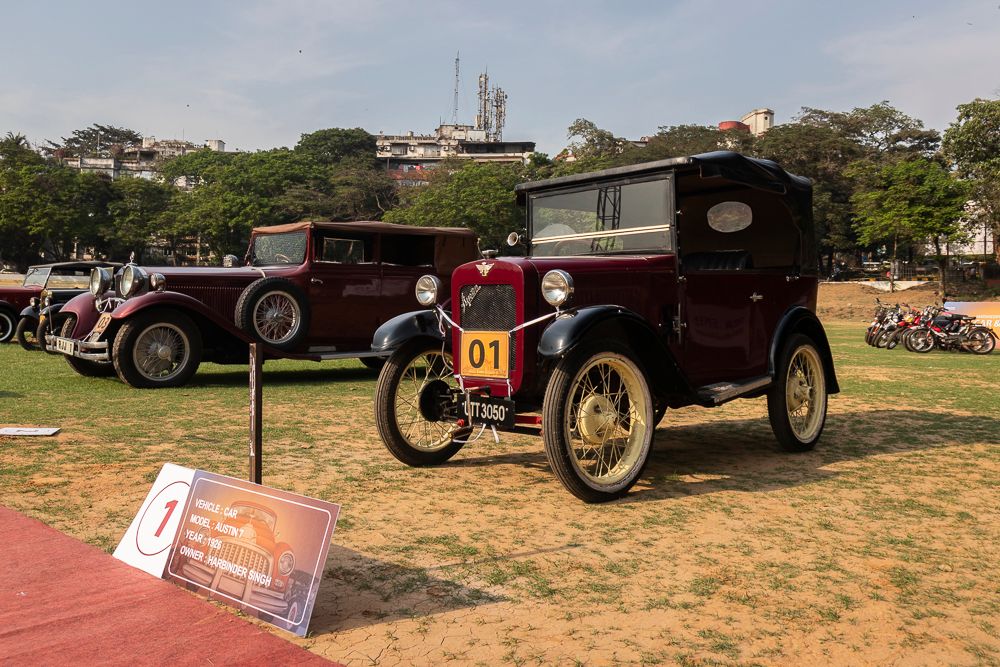 Once our cars were unloaded just outside Jamshedpur we drove into town. I was pleasantly taken in by the city. In my mind's eye, Jamshedpur was an industrial city; hot, dusty and polluted. Nothing could be further than the truth; the town is dotted with lovely public parks and flowering trees, wide open boulevards and streets which are spotlessly clean with great roads. All of the Tata Steel controlled area of Jamshedpur is simply wonderful, and a visit to the city is definitely worth it.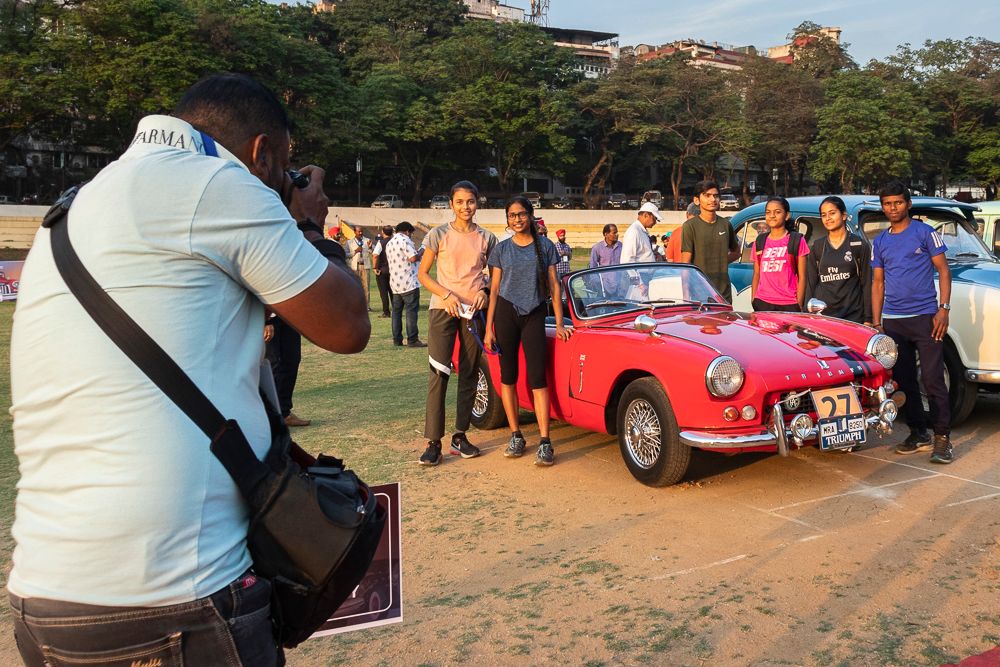 From the start, the hospitality of Tata Steel was evident, everything was arranged for and our cars were assigned secure parking at The United Club which was walking distance from the guest house that I was put up in. I was even assigned a 'protocol officer' (I couldn't help but chuckle when I was told about this) in case I had any trouble during my stay.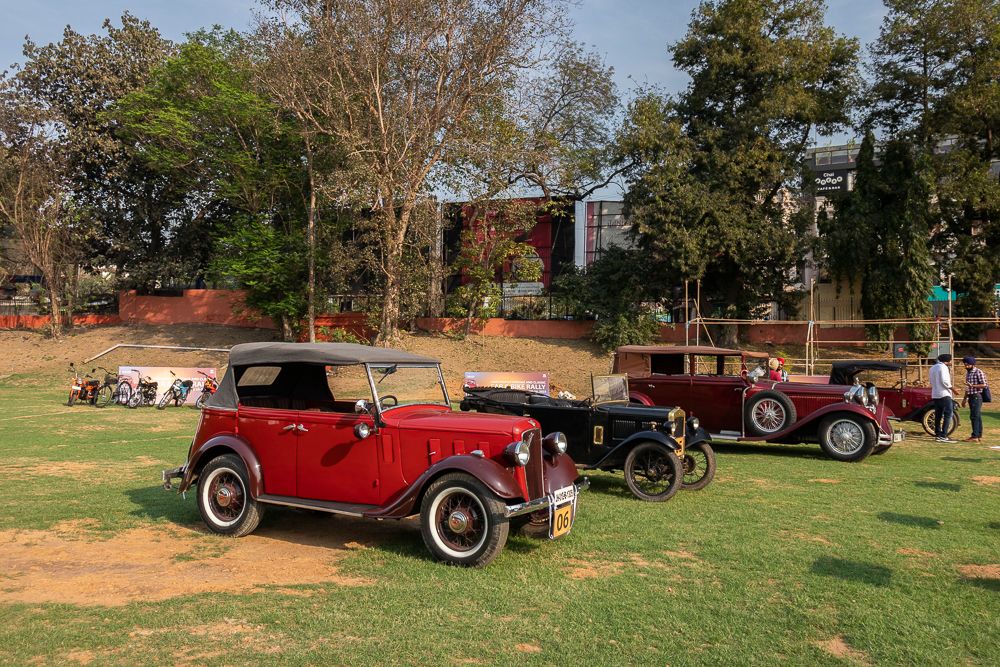 Judging was to commence the next day at two in the afternoon at a public ground where the rally was to be held. This left me and the other car owners from Calcutta with ample time to clean our cars which were covered in dust after being transported. I knew I wasn't competing, but my car had to be presentable. Later that afternoon, we drove down from the guest house to the ground. Okay, the traffic in Jamshedpur isn't the best; in fact it was downright terrifying for me at the beginning since my car is a left-hand drive. We drove in a convoy with another friend leading in his modern car, equipped with GPS.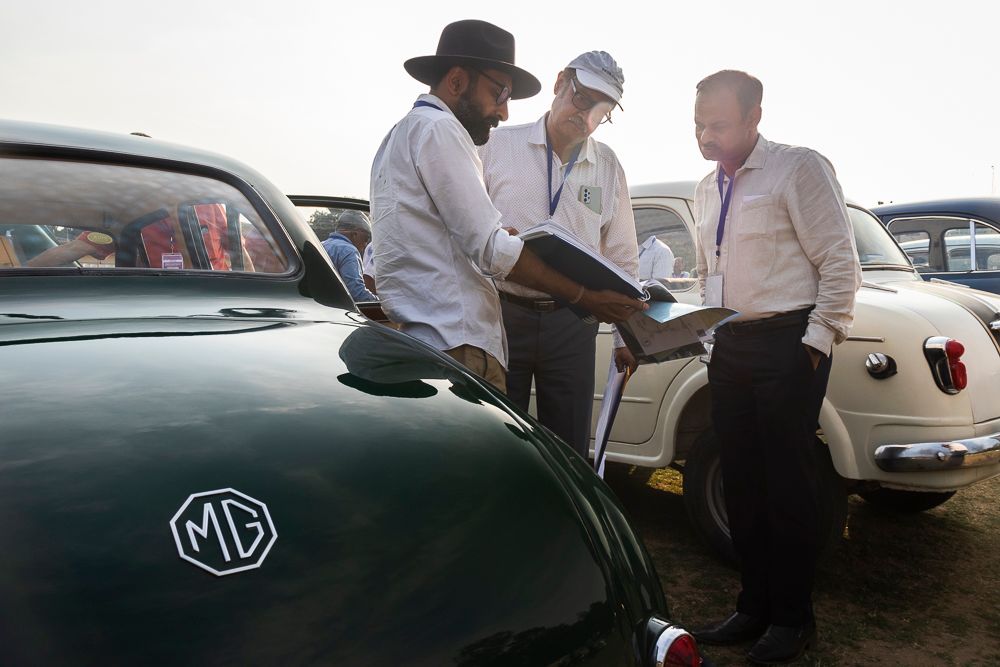 Once we were at the grounds, I made sure that my Mercedes and my fellow jury member's Mercedes were parked alongside each other, far from the competing vehicles, to leave no doubt in anyone's mind that our 2 cars were on display only.
It was time to get serious and the first thing that surprised me was the number of 2 wheelers and the quality of the 2 wheelers that were present. There were around 40 of them as opposed to around 36 cars and these included the 7 cars from Kolkata. I was later told that 26 of the 40 two-wheelers belonged to one person from Jamshedpur, who apparently has a collection of over 70 two-wheelers! Thank God, I thought to myself; for there was a jury member who specialised in two-wheelers and he took it upon himself to scrutinise the entrants. Two-wheelers are not my forte.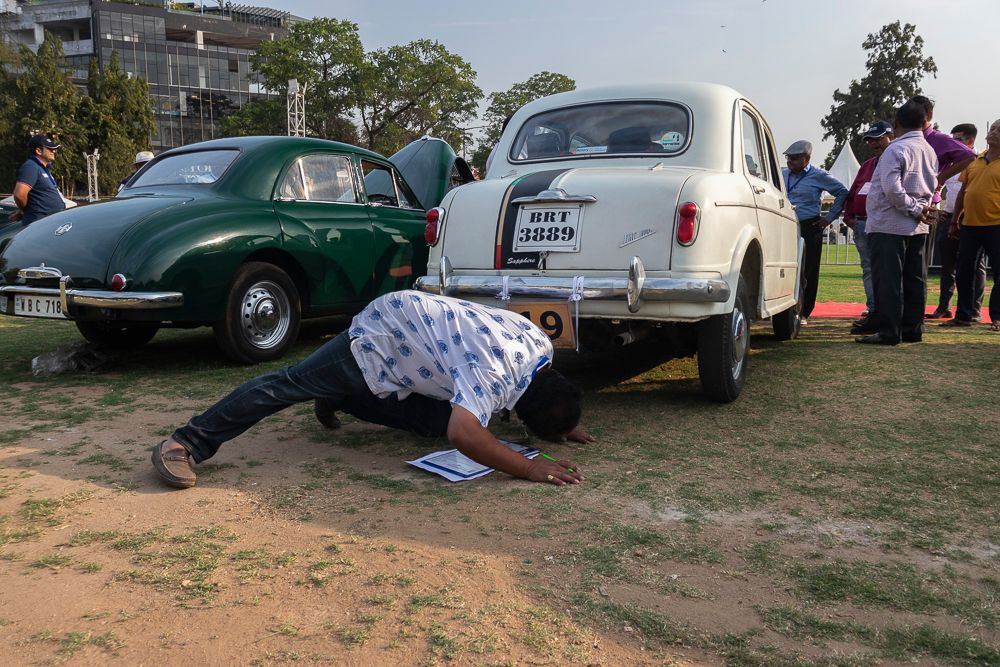 The oldest car was a 1926 Austin 7, recently purchased from Meerut by two brothers who were very keen on making the car more authentic. Another Austin 7, in long term ownership with a family from Chaibasa and a regular entrant at the Kolkata Statesman Rally was a familiar sight; I was happy to meet the owner and his family. An Austin 10/4 tourer from Ranchi stood next to it, and looked attractive. And then, there was the car which had I longed to see, the 1928 Mercedes-Benz Nurburg owned by Tata Motors.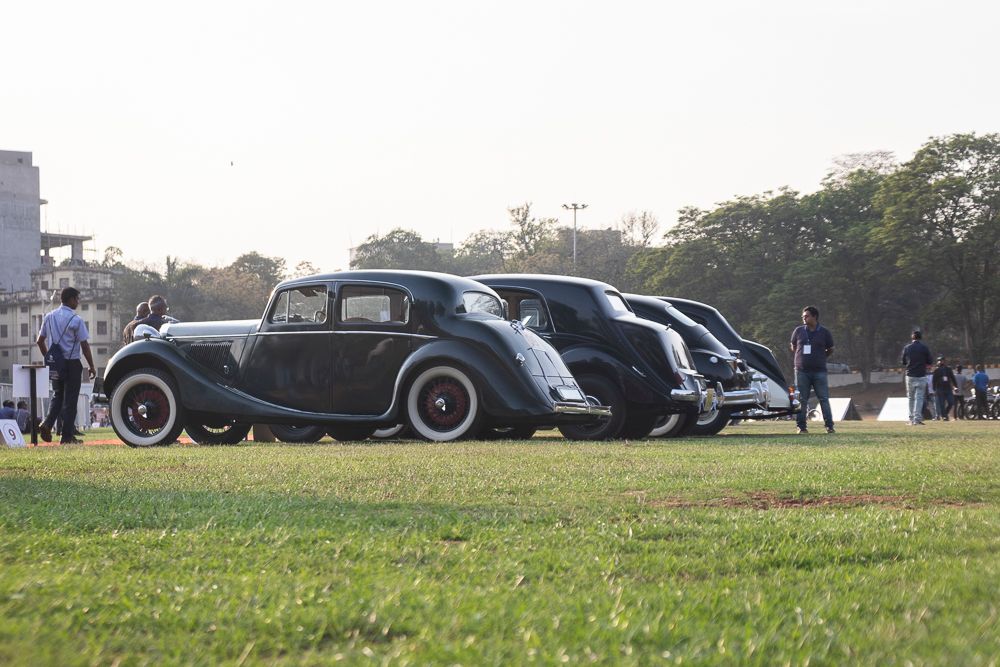 The straight eight Mercedes engine was impressive and the exhaust note was divine. I was however disappointed with the overall upkeep of the car. This struck me as odd because I have photos of the same car from the 1970s when it was put back on the road by Tata after a period of hibernation and in those photos, the Nurburg looked great. The car has great potential, after all this was not a run-of-the-mill, mass produced car, it was a Nurburg cabriolet, and as far as I know, the only cabriolet that survives in India; the other two Nurburgs being a tourer and a limousine.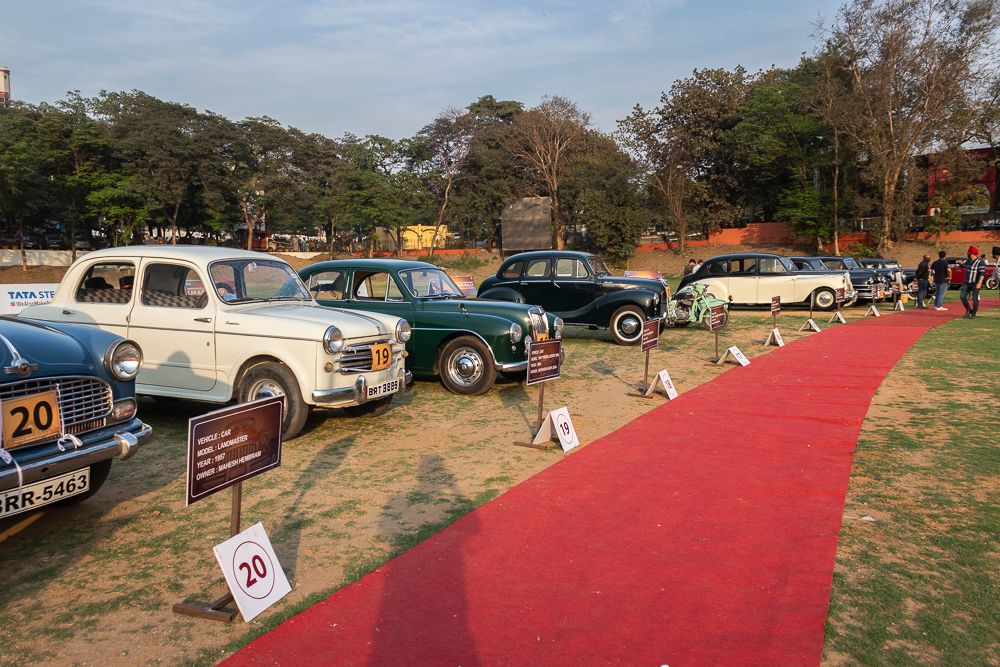 The next two cars which seemed well presented from the outside were an Austin Princess Vanden Plas limousine in a smart two-tone livery of ivory and black and an Austin Sheerline A125 in black. Both cars were owned by Tata Steel. Closer inspection of the cars revealed that there was much scope for improvement. A few minutes earlier, a 1947 Chrysler Windsor silently glided by to take its parking slot—that was the next car we were going to judge.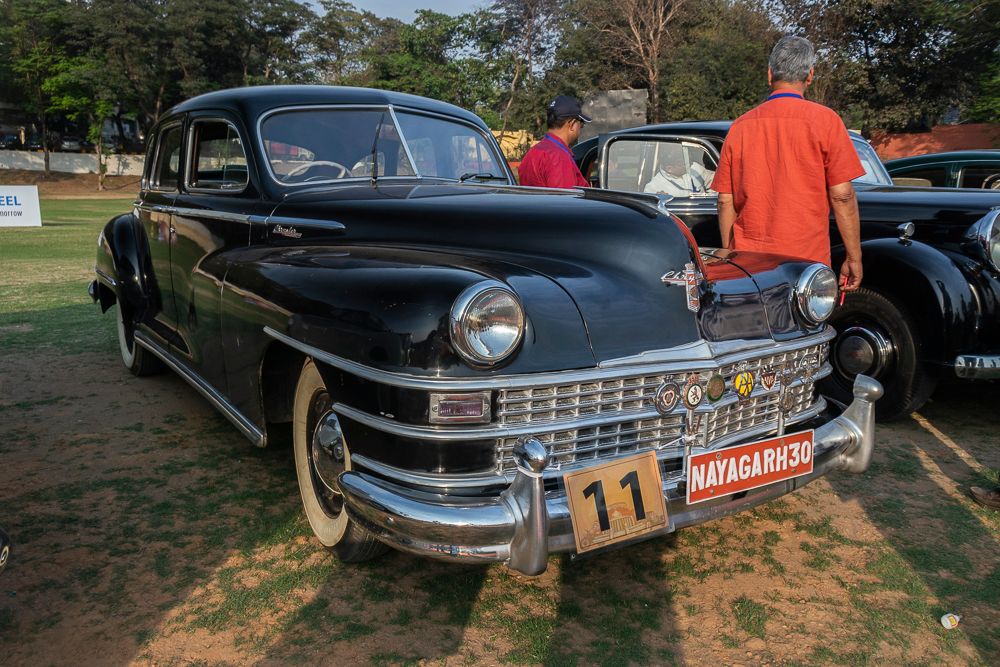 This Chrysler drew close attention from the jury. The car was quite well preserved, no doubt a result of being in the same family since new. It belonged to the erstwhile royal family of the once princely state of Nayagarh, in Orissa, and the car had been transported from there. The Fluid Drive transmission still worked and the originality was pleasing; the rear doors retained the Nayagarh coat of arms. The car was sympathetically recommissioned in Kolkata sometime in the early 2000s. The young custodians were keen to know from me whether they should restore their car—'leave it as it is and just keep it mechanically sound' was my advice.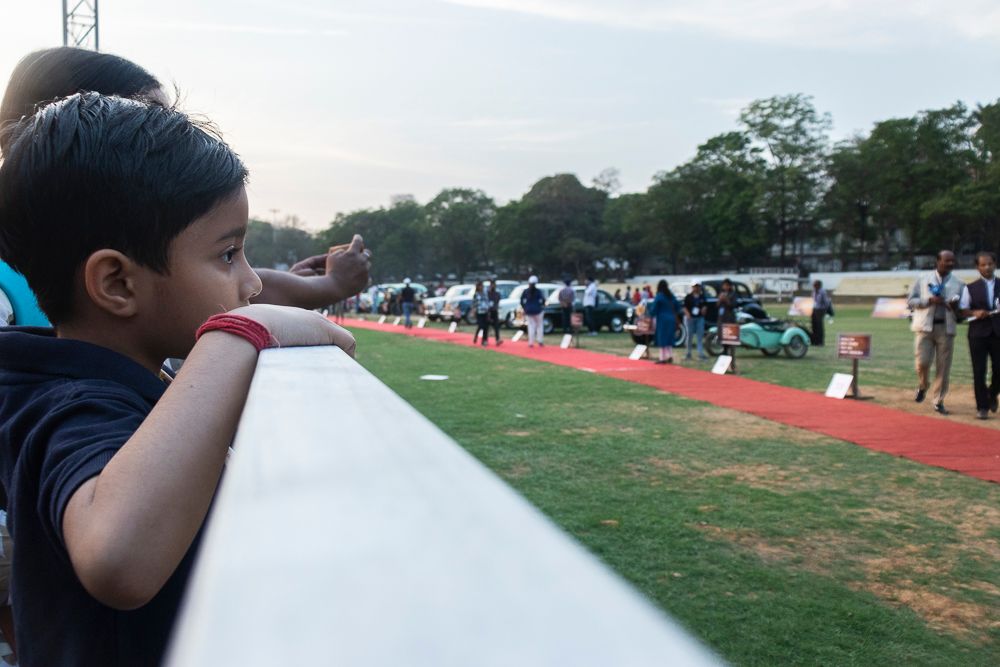 A couple of Fiats followed: a Millecento from the mid-1950s and a Fiat Elegant. A Jaguar Mark IV 1.5 litre in dark green was next. I recognised the car. It was restored in Calcutta some years back and looked beautiful at that point of time. On that day however, the car looked a little tired from the outside although the interiors still looked fresh.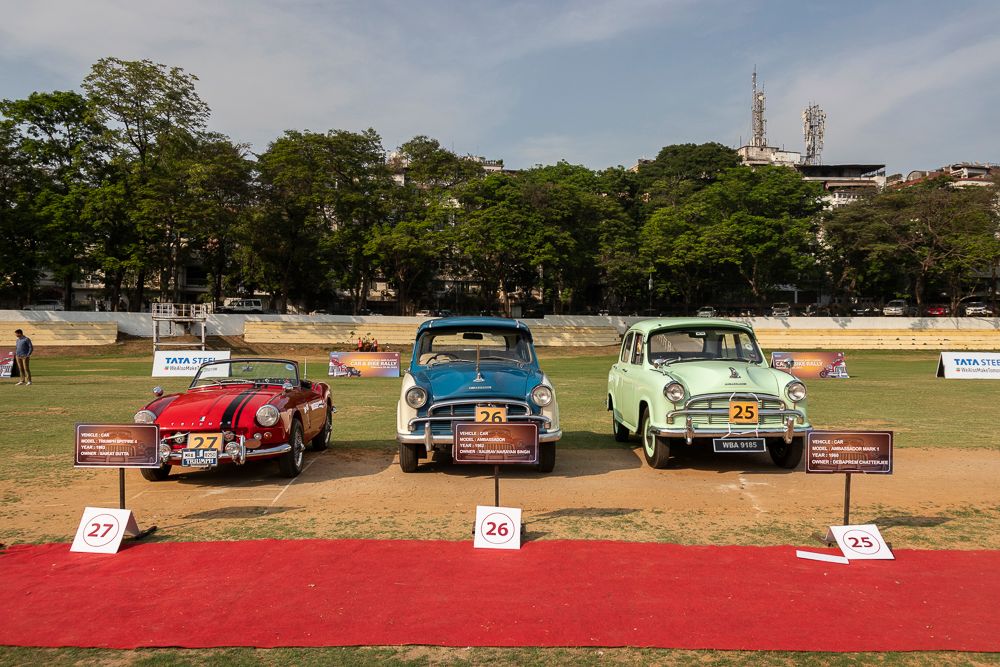 Perhaps the most interesting vehicle at the Rally was a Mahindra FC 150 from 1968 which had driven down from Keonjhar, in Orissa. This left-hand drive off-roader was well detailed and fresh out of restoration. I was told a day later that it was the only left-hand drive Mahindra FC (Forward Control) that was still running in the country. Next up were two Ambassadors, a Mark 1 belonging to the erstwhile royal family of Ramgarh in Jharkhand in two-tone off-white and medium blue replete with side trims separating the two colours, reminiscent of the Morris Oxford Series III. The engine was utterly smooth and barely audible; it brought a smile to my face. A later Mark II, belonging again to the Nayagarh family was parked next to it. And then came the cars from Calcutta.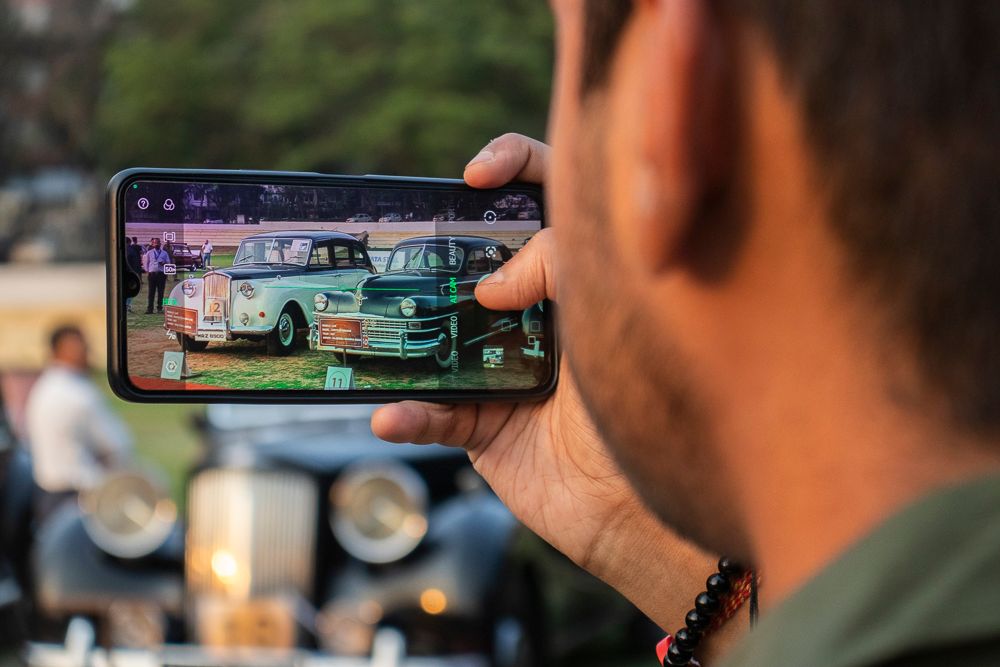 The Triumph Spitfire, which was the darling of the media present on Saturday and Sunday, scored high. The Austin A40 Devon was well presented and again scored high in my books. When the time came to judge the MG Magnette, a long-term daily use car till a decade back, which the current owner had restored over the last year, I recused myself from judging it… how could I? It was restored at my home and I had a hand in its restoration! The Mark I Ambassador and Fiat Super Select from Calcutta were amongst the last to be judged.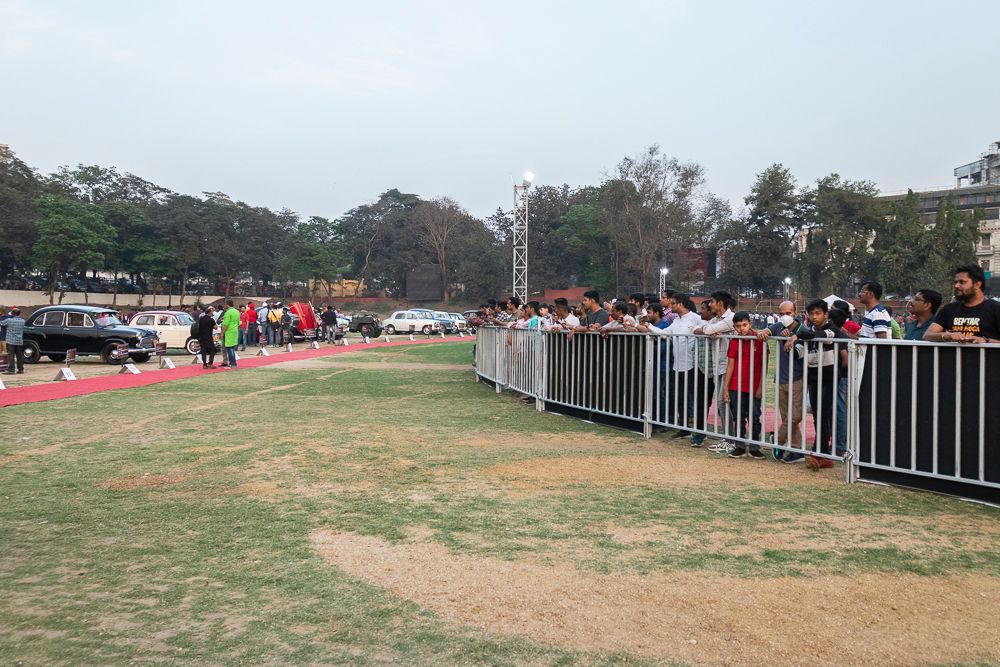 To be continued…
---
---
Comments
Sign in or become a deRivaz & Ives member to join the conversation.
Just enter your email below to get a log in link.