Hum Hindusthani
Images: Genevieve Manjunath, T R Raghunandan, Yashaswini D
"Chodo kal ki baatein, kal ki baat purani,
Naye daur mein likhenge, mil kar nai kahani,
Hum Hindustani, hum Hindustani"
"Let go of yesterday's words, they are old; on a new journey, we will write new stories. We are Hindustanis." Words of a popular patriotic song, from the sixties.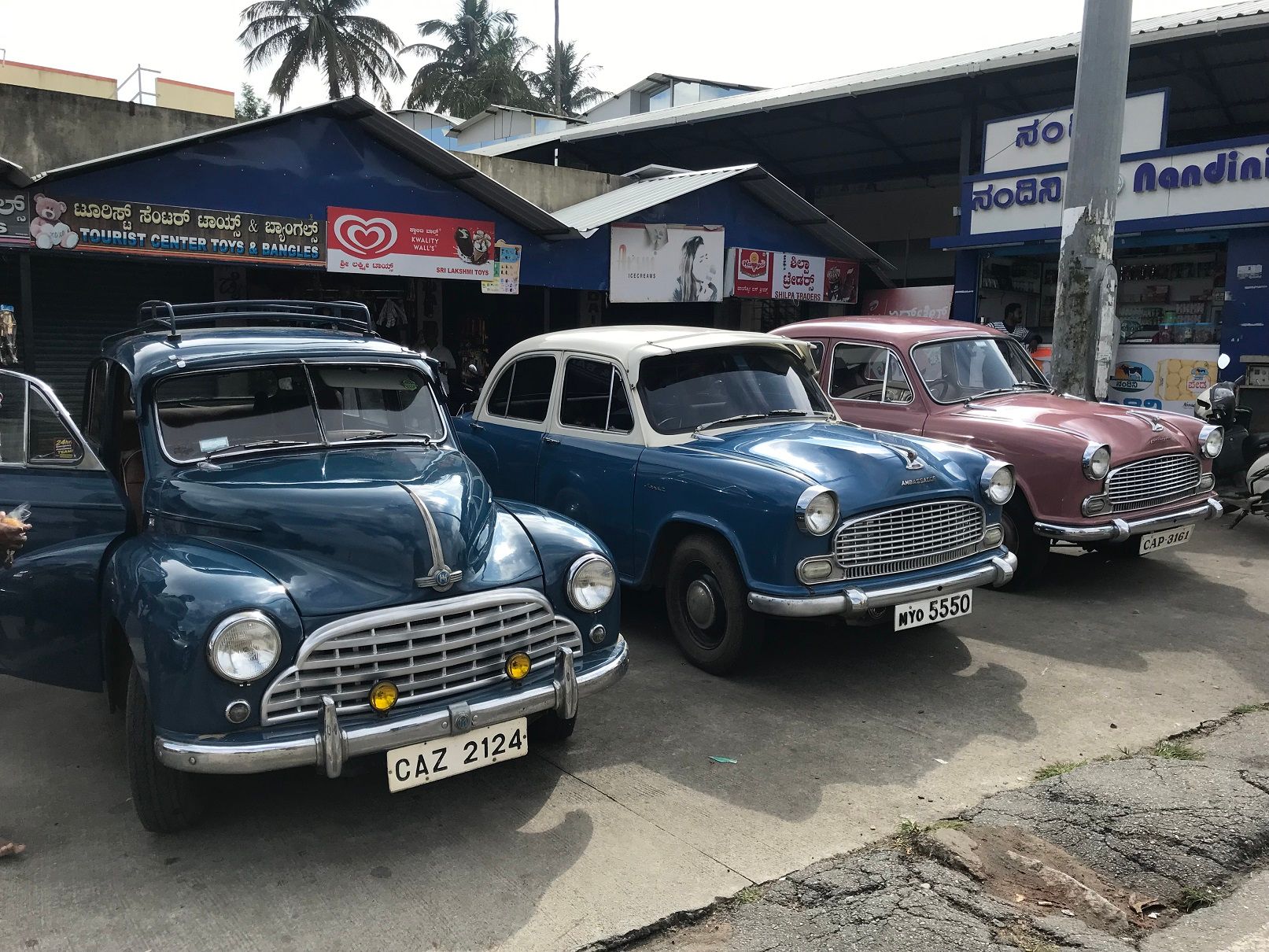 Srinand is a Hindusthani; one with two 'H's. Manju and I are mere single 'H' Hindustanis.
And there lies a tale.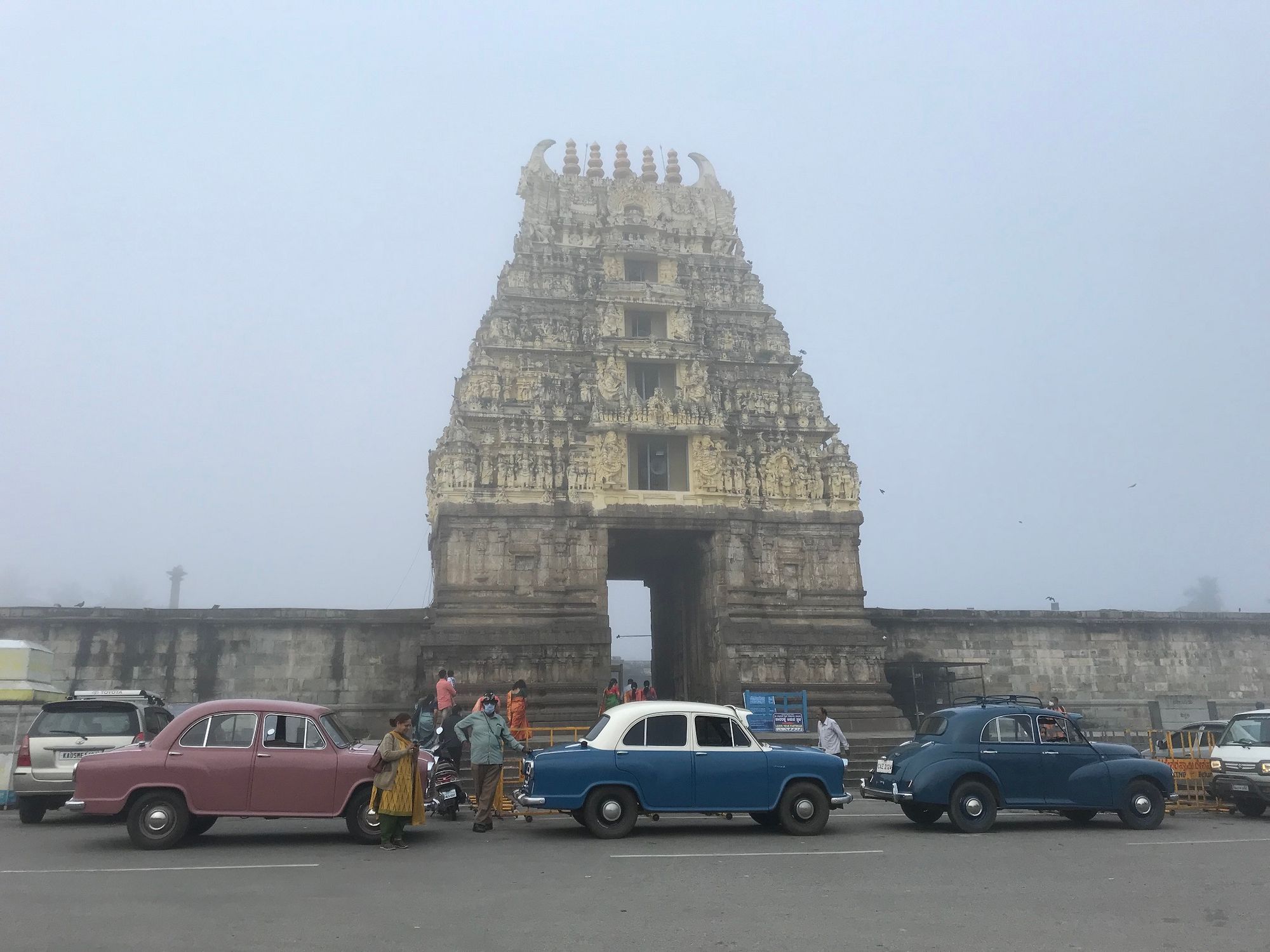 Till the fifties, the Hindustan Motors Company sported two 'H's in its name: Hindusthan Motors Company. The Morris Minor clone they built was badged the 'Baby Hindusthan', the Landmaster was referred to as the Hindusthan Landmaster, and the first Ambassador (which was never known as the Mark I till the Mark II came along) was known as the Hindusthan Ambassador. However, advertisements of that era show that the Ambassador Mark II was known just by that name and as manufactured by Hindustan Motors. The second 'H' had made a quiet exit by then.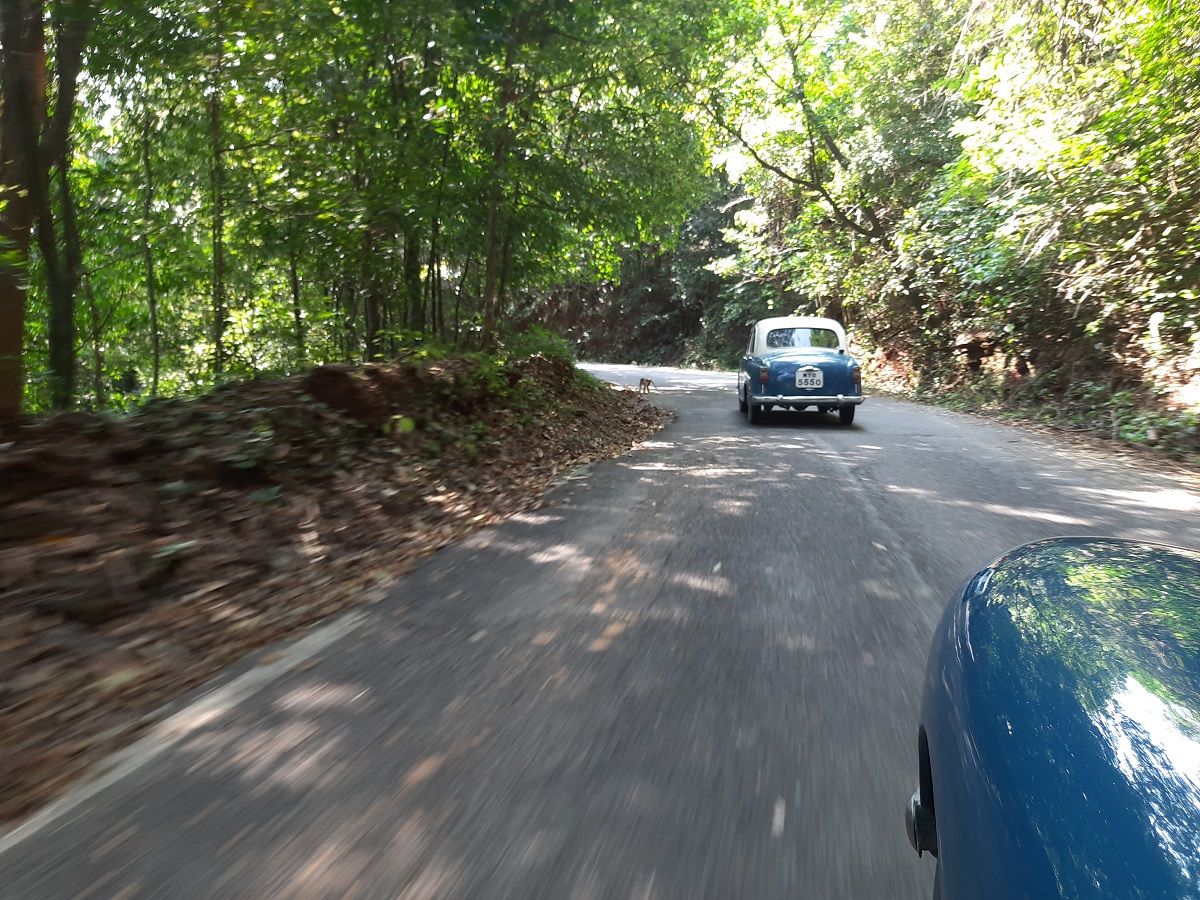 In deference to the oldest car in our group, I refer to all of them as Hindusthans.
Manju says that Hindusthans are comfortable and rugged and simple cars to fix. He owns two Ambassadors; a 1961 Mark I and a 1969 Mark II. His wife Jenny and he tour extensively in these.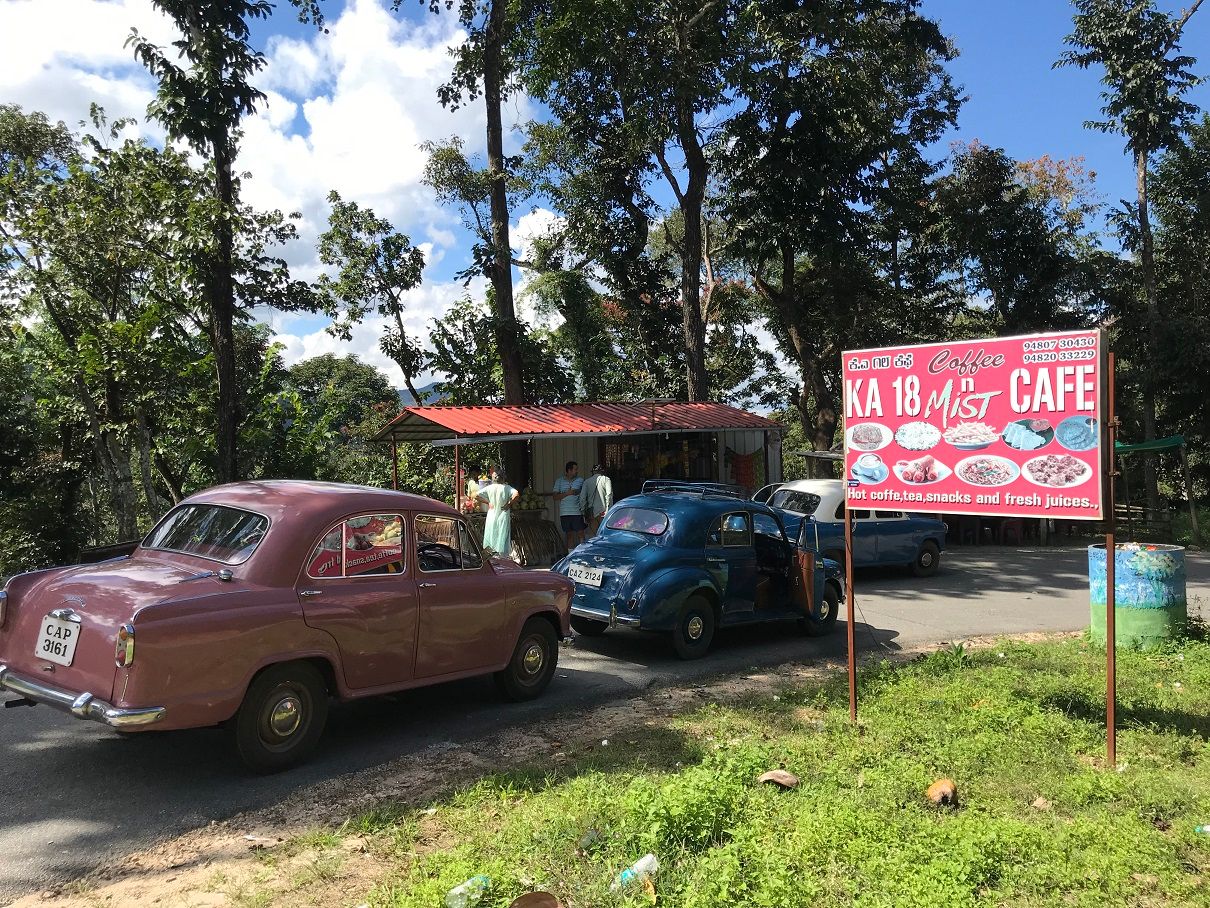 Srinand owned a Morris Minor, but replaced it with a 1950 Hindusthan 14, a rebadged Morris Oxford that resembles a scaled-up Minor, as his family grew. Thus equipped, he enjoys comfortable classic car touring with his wife Yash and their young children.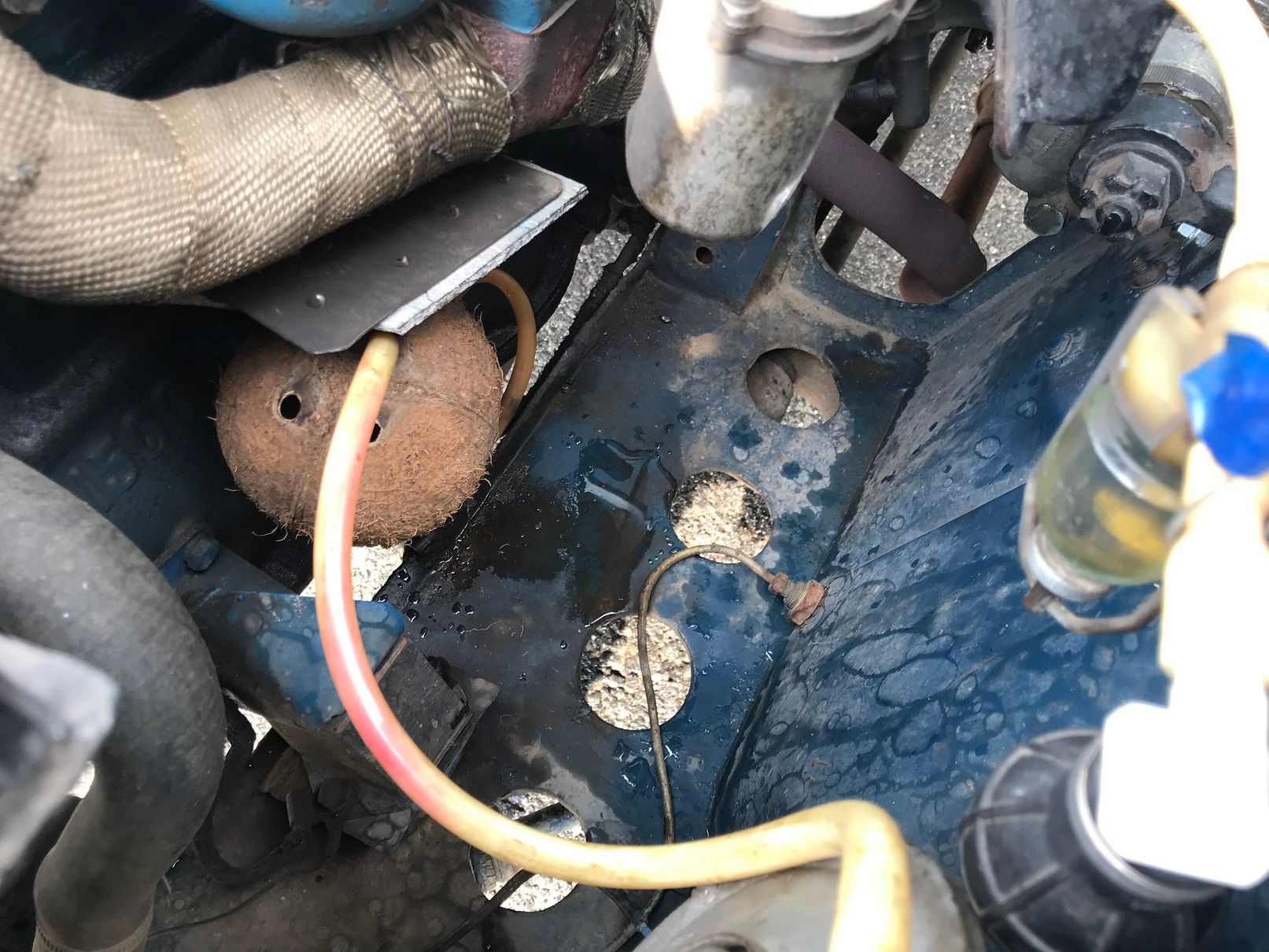 I love our family Ambassador. He—yes, he is male—was bought by my mother on Onam day in August 1964 at Ernakulam. "There were only two cars in the showroom," she recalls. "One was black and the other, a brownish pink colour." She bought the latter, painted in Autumn Russet, a shade offered only in '64 and '65. To me, he is the Pink Ambassador.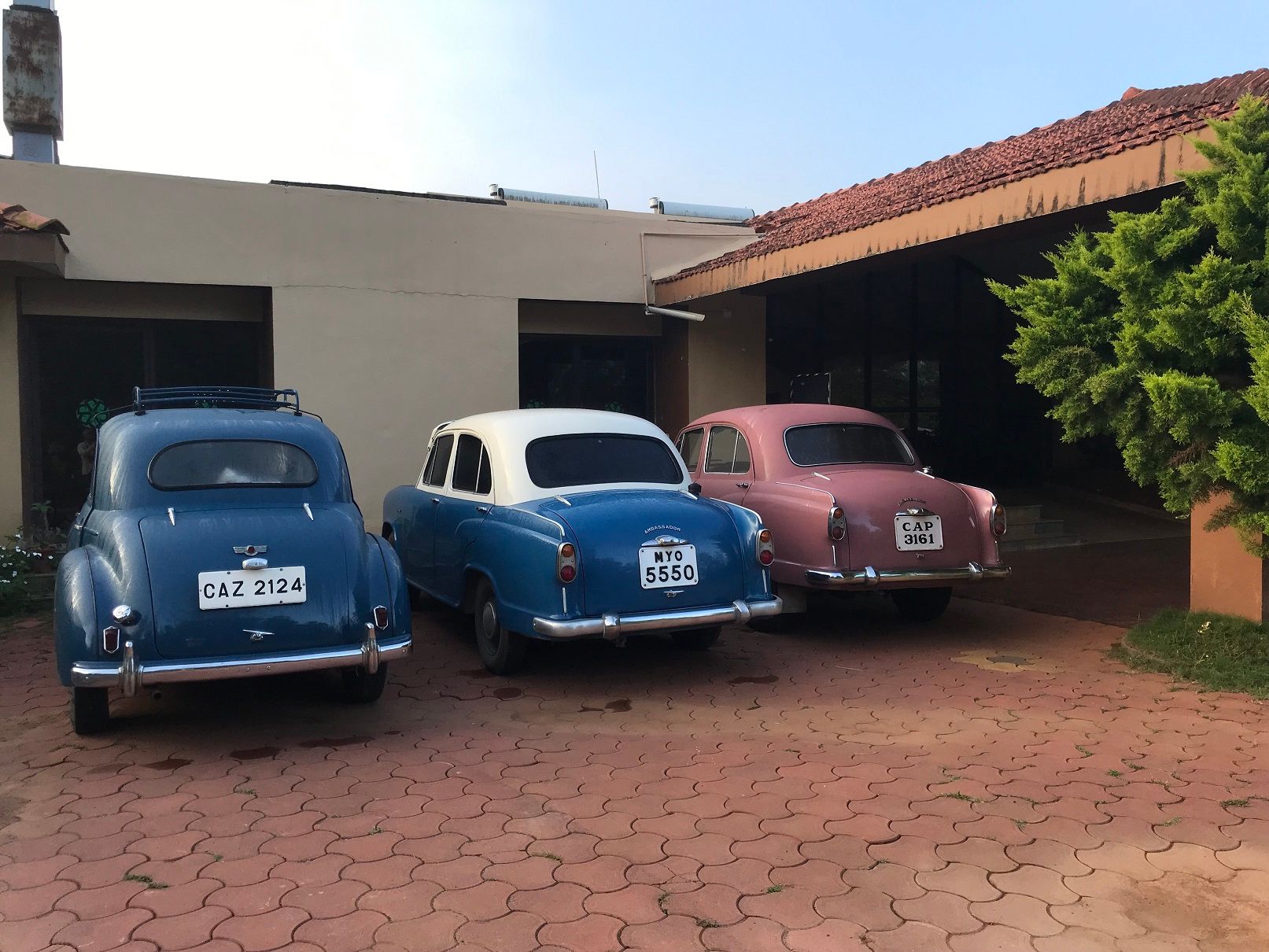 Our family driver, Raman Nair, a taciturn man, had driven for Montgomery's troops during the war. He recollected driving in silence and darkness across the Libyan Desert to avoid Rommel's dive bombers. His war service ended tragically when a bomb killed his entire platoon except him, as they sat down for a meal. He returned to Palakkad and worked for 13 years with our family, driving our Ambassador. Our car is named Raman, after him.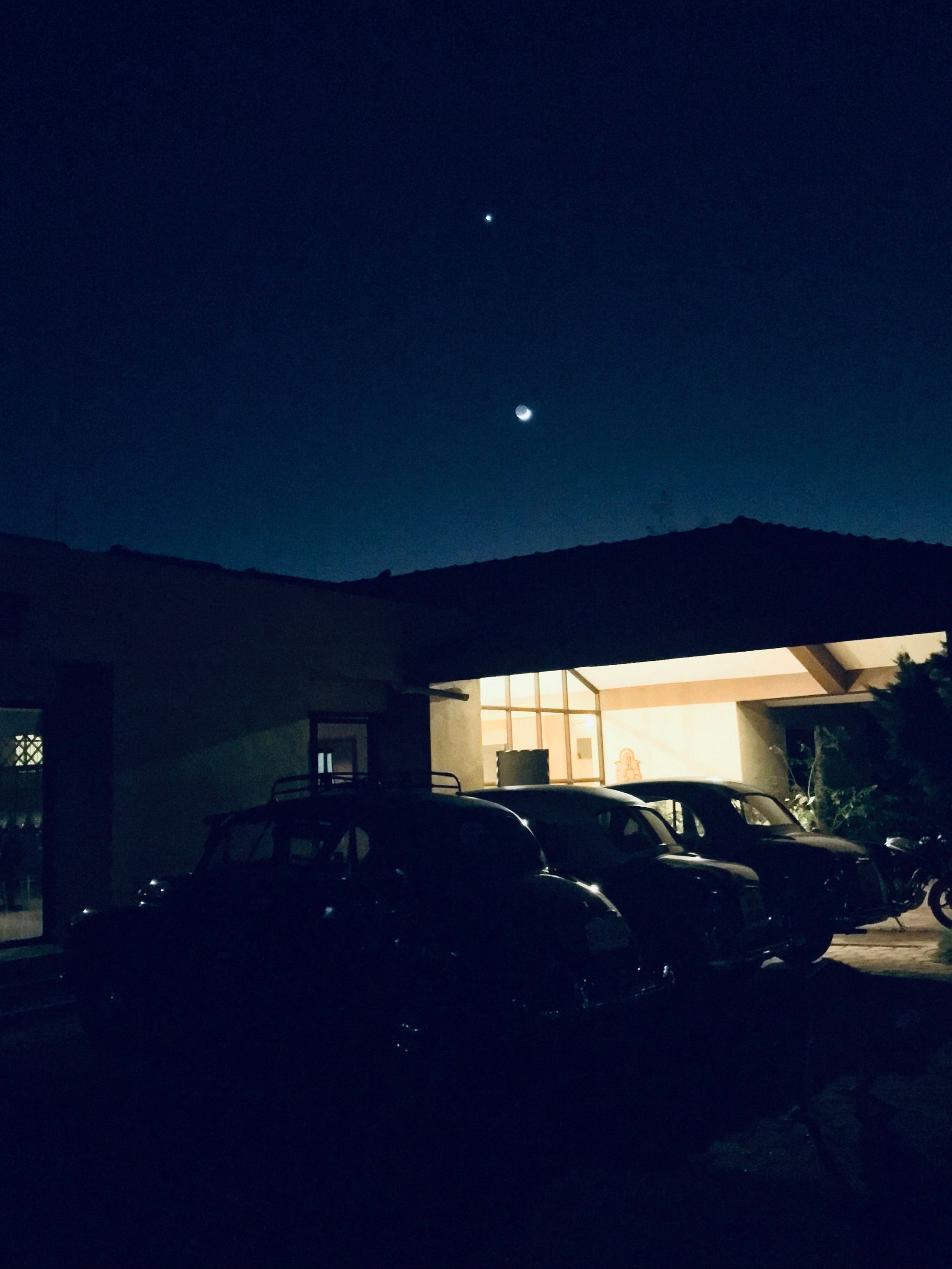 A classic car meet organised in Goa was our opportunity to point our Hindusthan noses north-westward. Srinand's Hindusthan 14 currently runs an Ambassador OHV engine. Manju's car is totally stock. Mine, in its chequered career, has had an engine switch to an OM 616 Diesel engine, an unburstable Mercedes derived unit.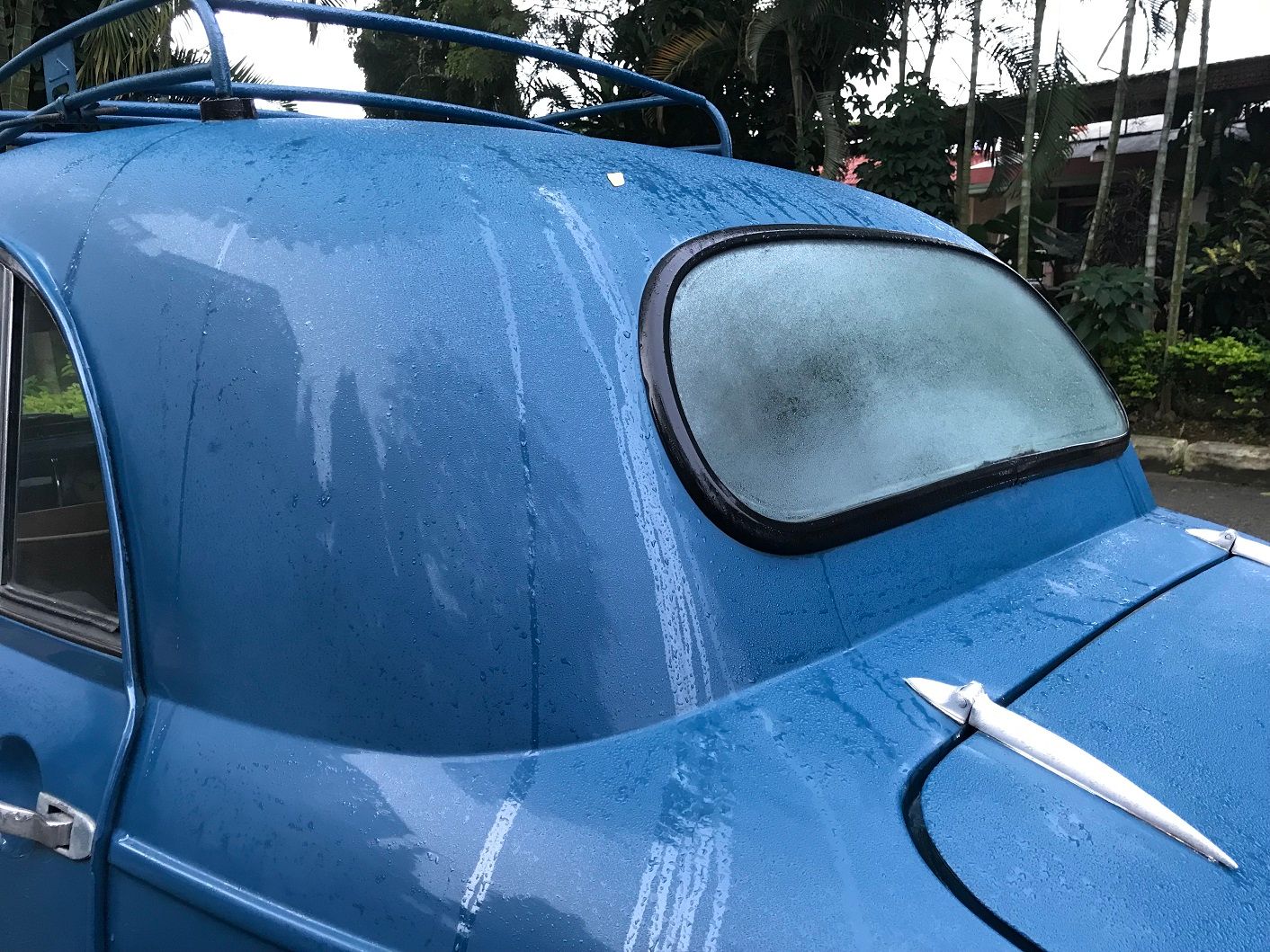 Once we got past Bangalore's snarls, the Hindusthans opened up. Raman's lazy engine growled and muttered as he gorged on the miles. From Hassan the road winds up to the temple town of Belur. After a dawn visit to the 14th Century Channakeshava Temple, we headed westward, driving through thick forests, coffee and Arecanut estates interrupted by paddy fields, through the foothills of Chikmagalur, our droning engines drowned by chirping Cicadas.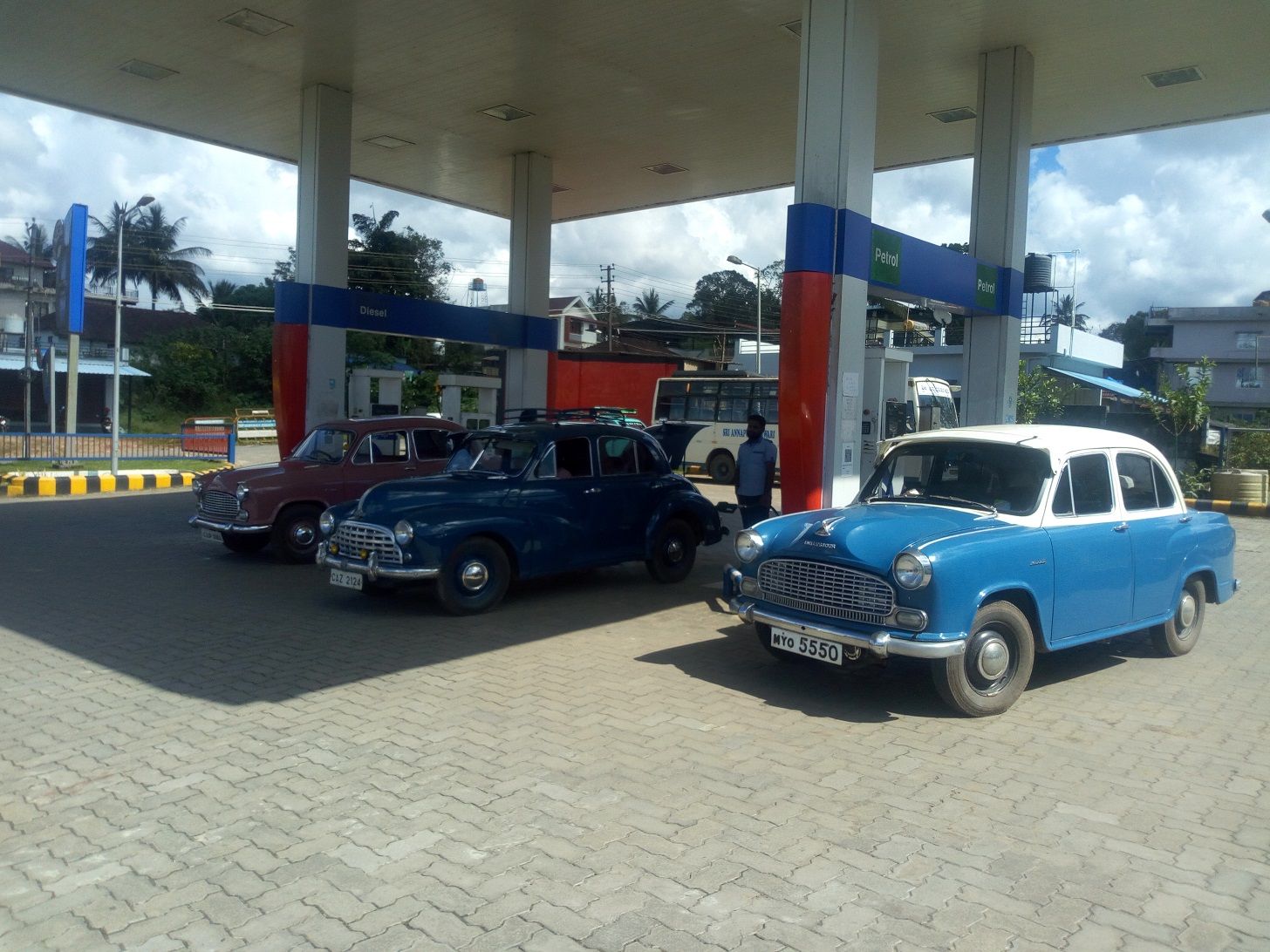 Some hiccups were inevitable. The Kamasutra like embrace of the inlet and exhaust manifolds caused Srinand's carburettor to suffer from vapour lock, cured by a cold compress. Furthermore, the mechanical fuel pump, located within kissing distance of the exhaust tended to overheat and seize, a condition cured by covering it with a coconut shell; a hole punched through its eye to let out the fuel line.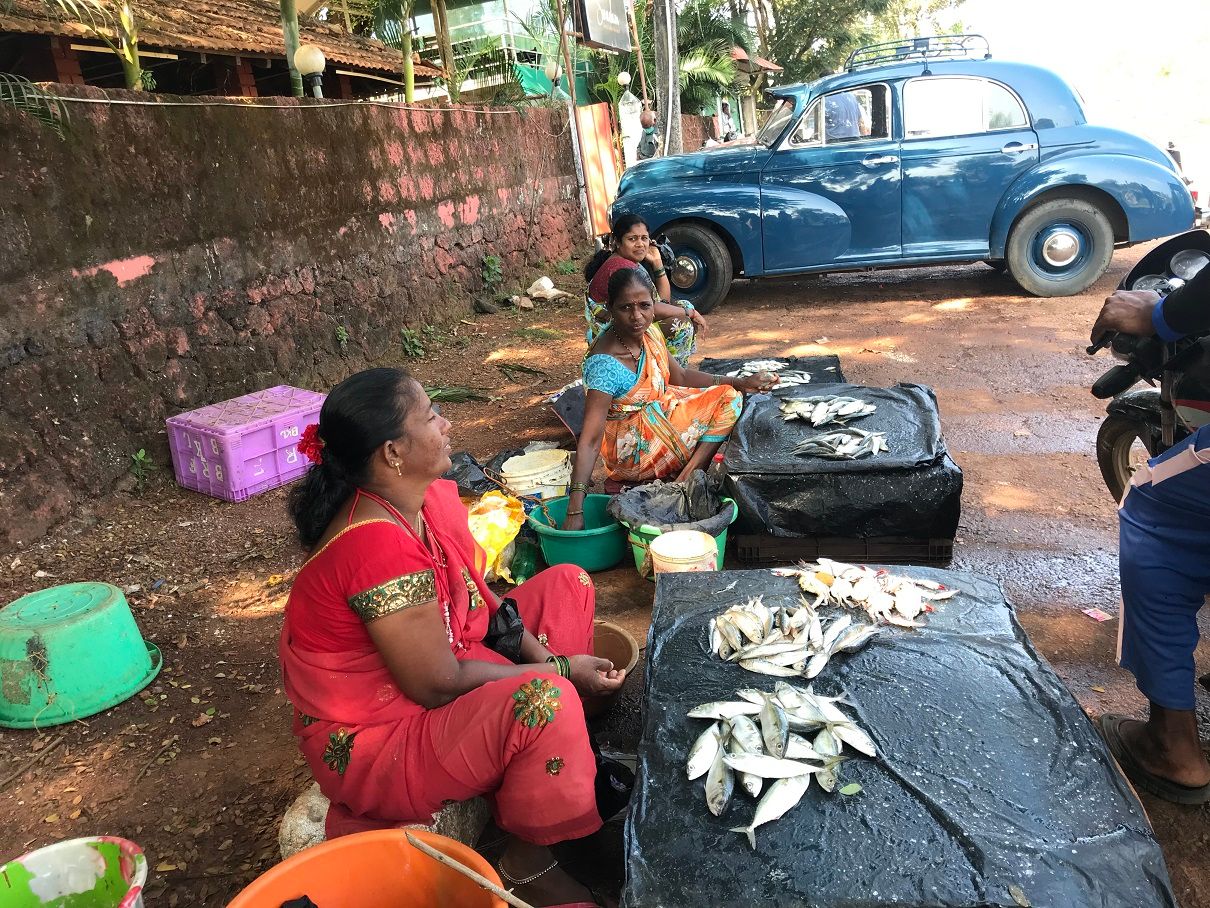 On the hill roads, the silence envelopes you in a reassuring embrace when the engines die away. We stopped for the de rigueur lime sodas at a friendly canteen, their sleepy dogs not worried by our sweating Hindusthans.
Kodachadri nestles in foothills not far from the Mookambika temple. We chose to luxuriate in those calm environs, awakened by calling hornbills and serenaded by birdsong.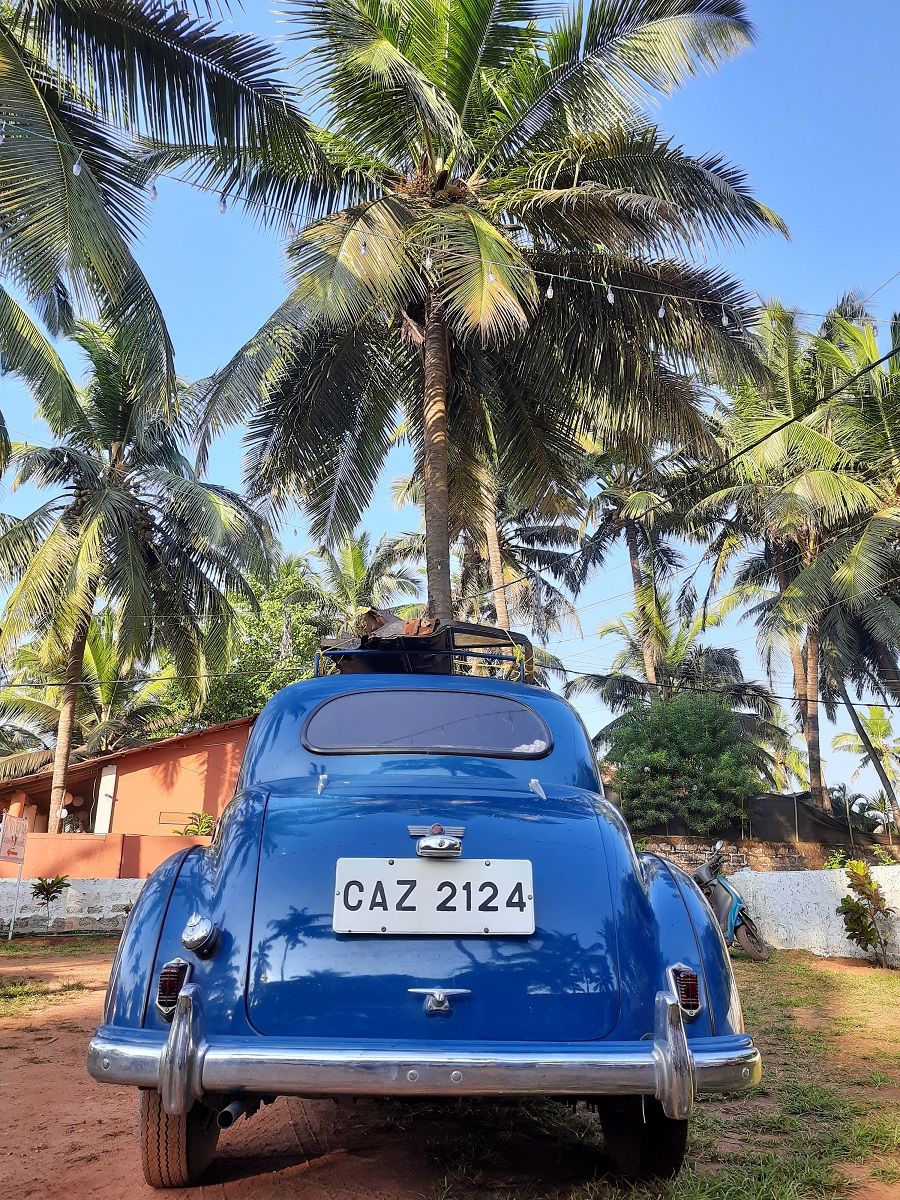 We resumed highway driving at Baindur, pointing our noses northward. The coastal road is no longer a sleepy tarmac strip through a tunnel of trees. As we negotiated the humidity and heat, we were in danger of missing the sights, sounds and smells of the coast. However, Manju had other plans; a stop at a restaurant off the road transported us to another world: a sloping wharf not visible to the higher carriageway, where the boats had brought in their first catch. There was fresh Pomfret on offer, at prices unbelievable for the Bangalorean. The opportunity to stuff oneself to the gills did not go a-begging.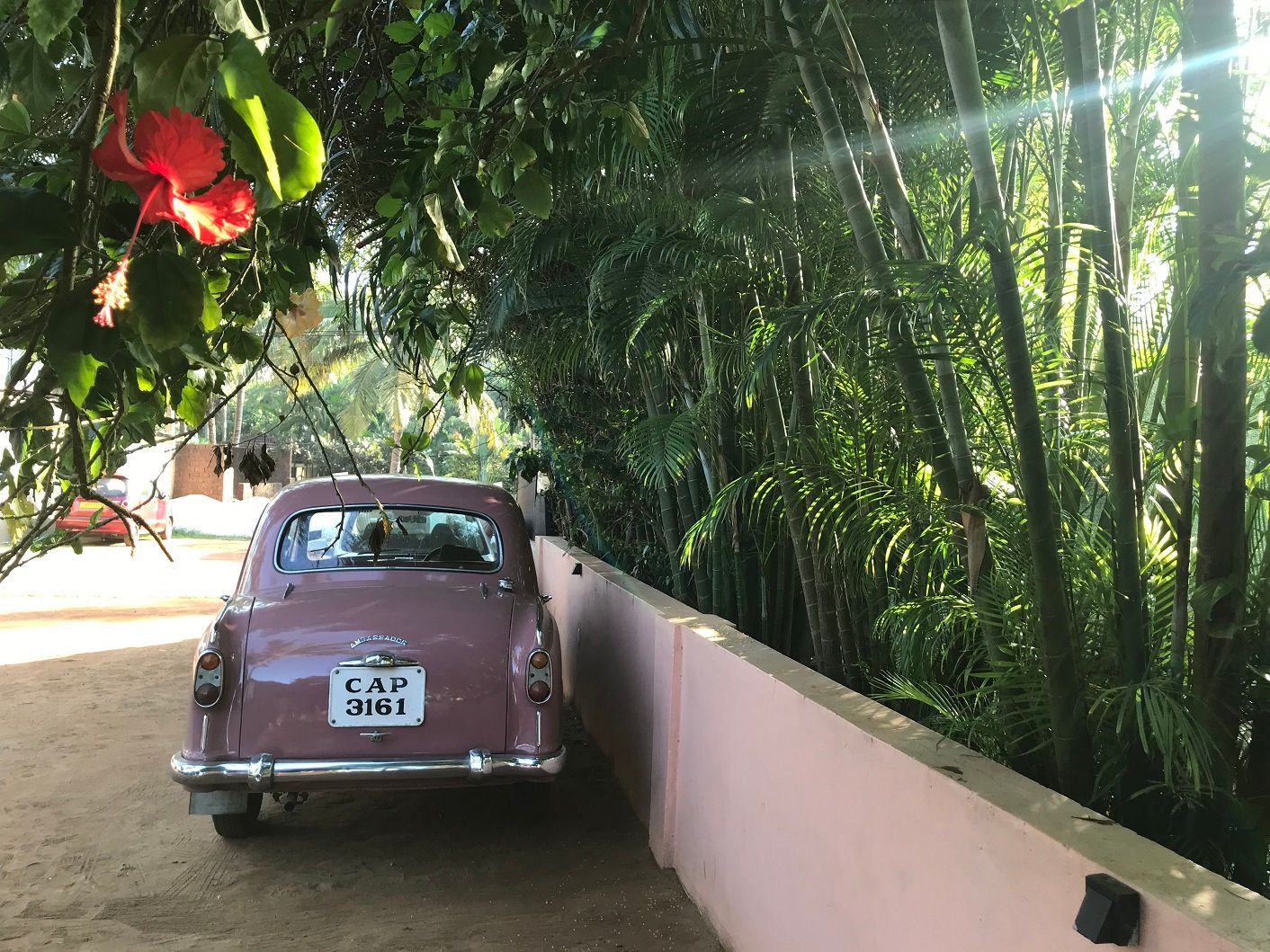 We trundled on, and I reflected on our journey. Hindusthans evoke mixed feelings. Undoubtedly, Hindusthan Motors wrote the leading chapter of India's pre-liberalisation car manufacturing industry. They remain symbolic of India's phase of licence raj, with all its failings, real and imagined. Yet, for India's baby-boomer generation, the Hindusthans symbolised family, travel, adventure, comfort, in a way that no other vehicle did, except our steam trains. And here we were, decades later, trundling on with a song on our lips, in these comfy, roomy, dumpy beasts.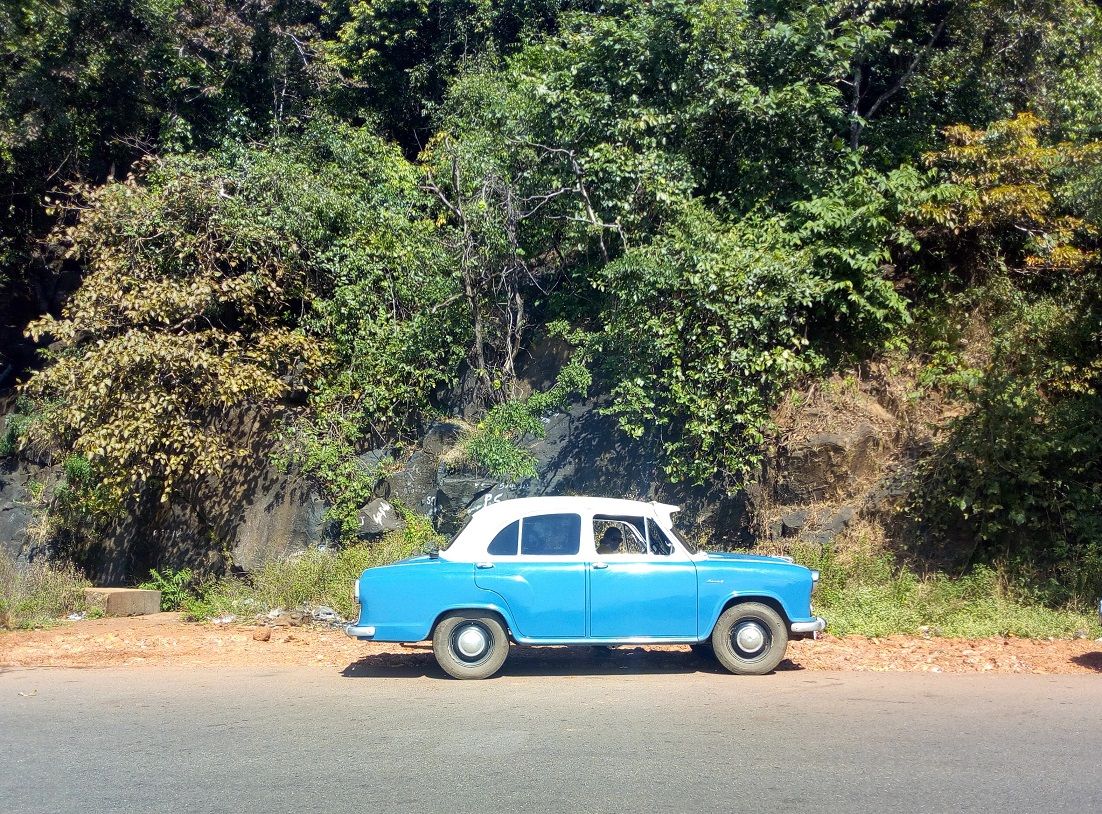 With or without that extra 'H', Hindusthans have souls.
---
---
Comments
Sign in or become a deRivaz & Ives member to join the conversation.
Just enter your email below to get a log in link.