Mario's And Naik's Whimsy; The Cartoon Beetle
Images: T.R. Raghunandan

It was a fuzzy corner of a WhatsApp picture that caught my eye. In the far distance stood a dull white Volkswagen Beetle, with some interesting artwork on it. I filed that away in my mind; it needed investigation at a later date.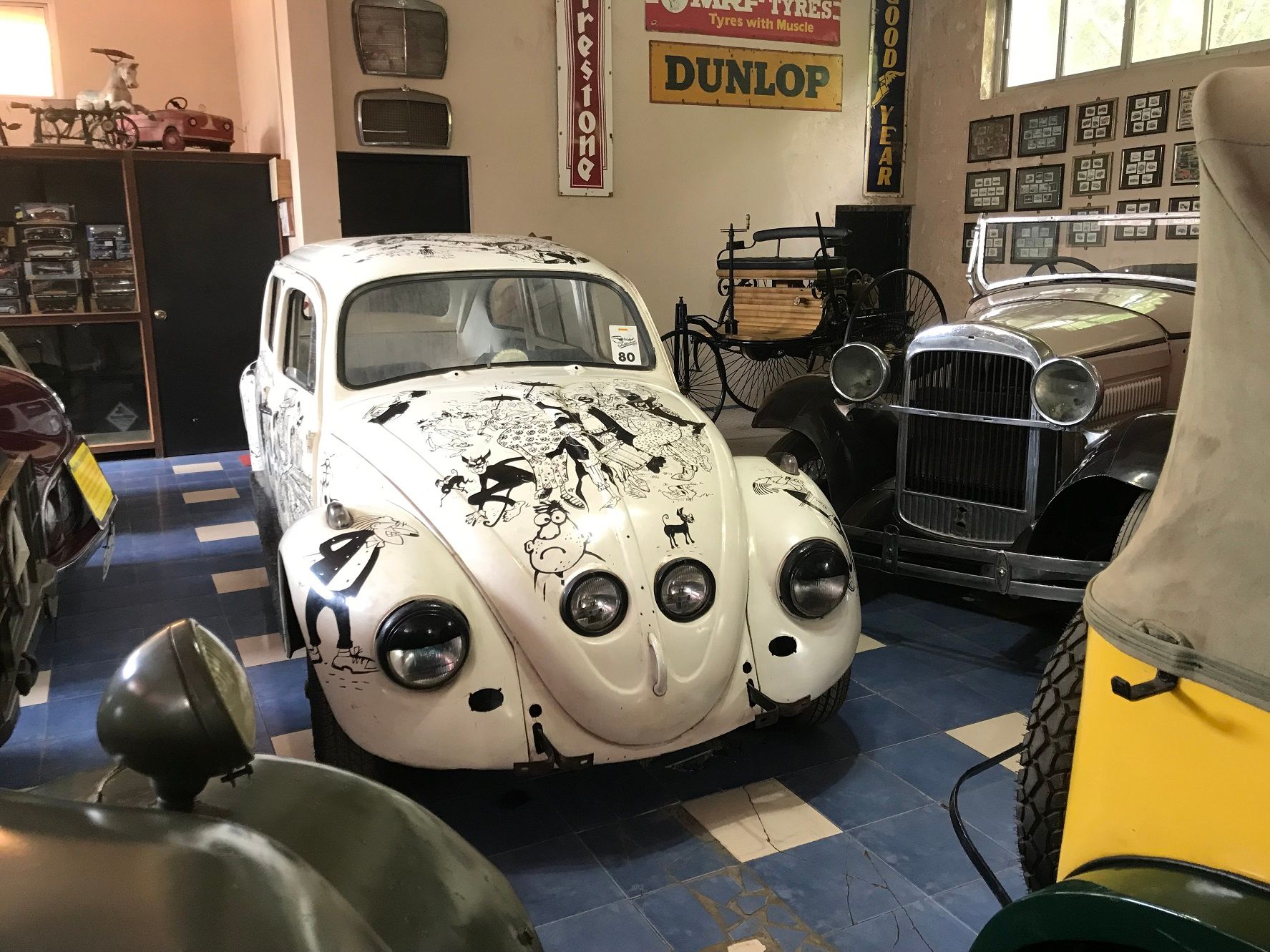 I had met Pradeep Naik on my annual classic car drives to Goa, a few times. However, we had not gone beyond a few perfunctory greetings and smiles, at the various car do's. 'I run a museum in South Goa', he had once said, chilled beer in hand. 'Why don't you visit sometime?'
On a more leisurely trip to Goa, I decided to make that southward trek to visit Naik's 'Ashvek Car Museum', tucked away on a side road close to Margao.
And there stood that Beetle.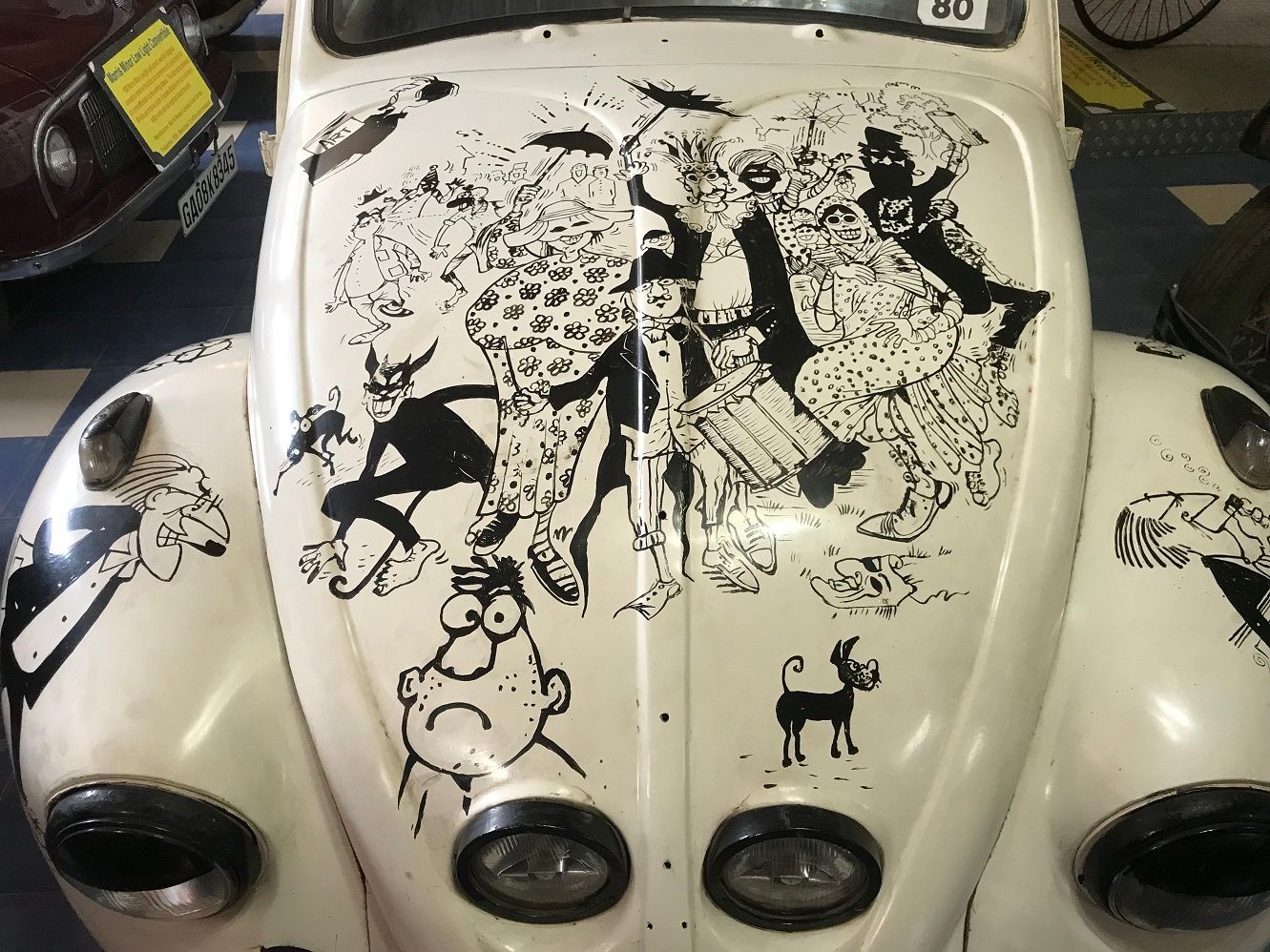 For those accustomed to reading the Times of India publications from the sixties to the eighties, Mario Miranda's cartoons were a staple; they never failed to raise smiles with their lampooning of some of the popular stereotypes of the day. The Bollywood actor Balraj Balram in tight pants, Elvis-like sideburns and a puff of hair up on front, the buxom actress, Rajni Nimbupani, the unnamed portly 'Boss' in the corporate office and his super-efficient Private Secretary, Miss Fonseca, the Minister and his sidekick, Mr. Moonswami, were characters we all seemed to know, and their daily shenanigans brought cheer into our lives.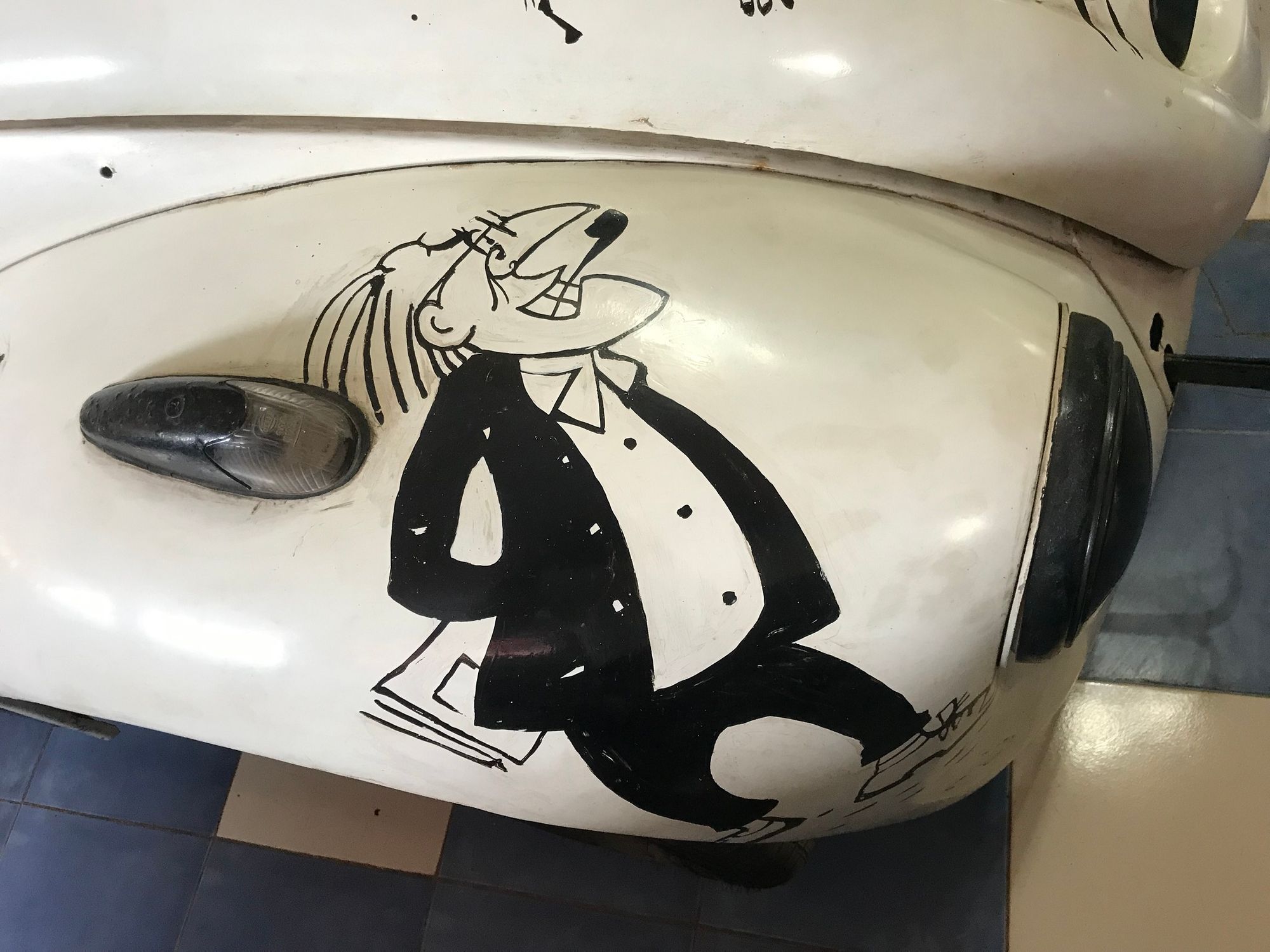 But Mario loved nothing more than sketching his beloved Goa. His cartoons were rich with detail; they told many stories. The expressions of the passengers on a packed Mandovi Ferry or Goan bus displayed a range of emotions. From the bon vivant who enjoyed the sight of a well-endowed fisherwoman to the starchy woman who looked on disapprovingly, to the old men daydreaming in the verandahs, the children getting in everybody's way and the scrawny dogs, Mario's characters made us laugh at our follies and our weaknesses.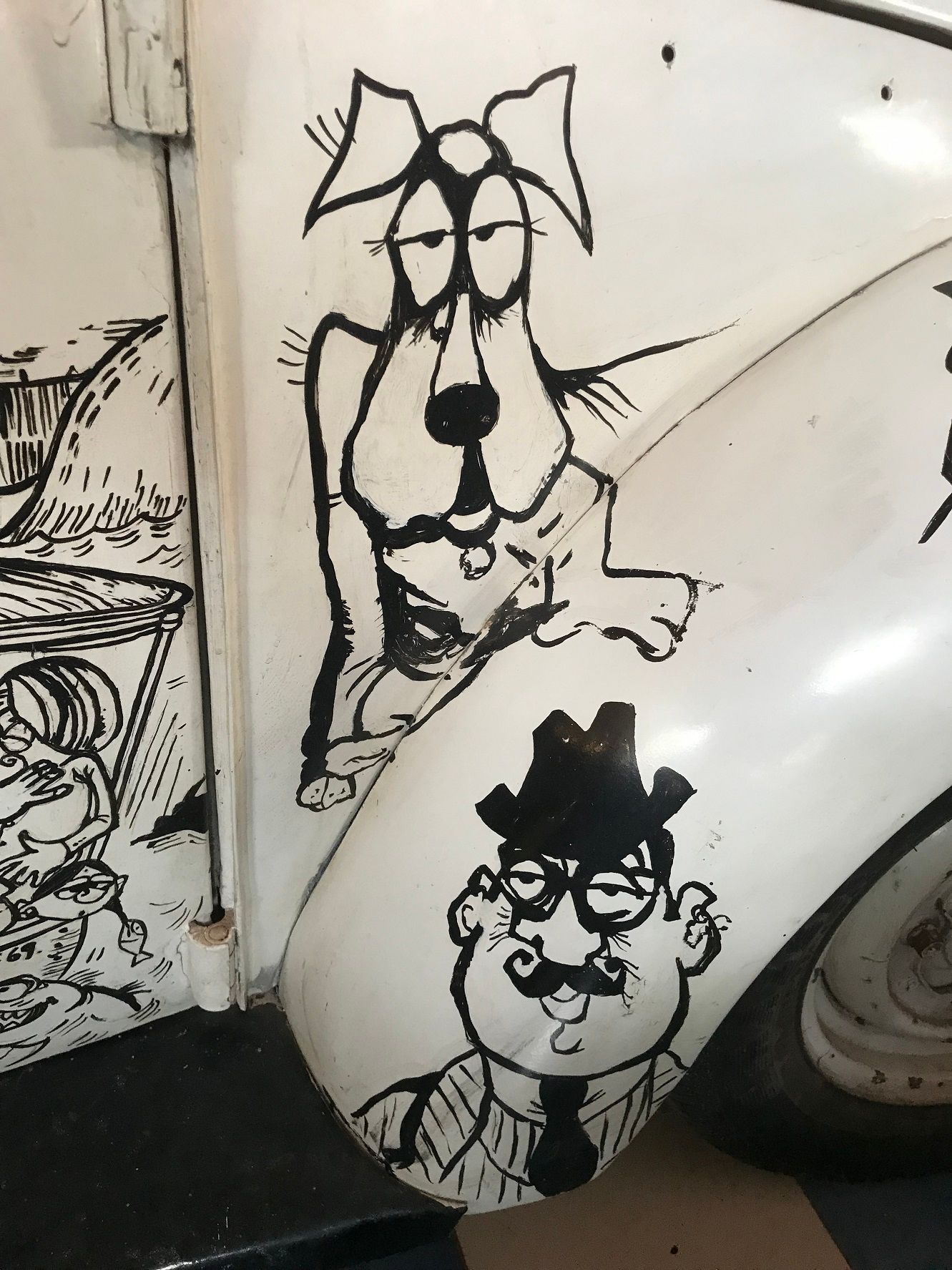 I asked Pradeep what prompted him to stretch a Beetle and have Mario's cartoons painted all over them. He was surprisingly reticent and only revealed that he had seen some such thing during a visit to another museum and thought that he could do the same with this car. He started with making a Beetle into a stretch limousine; this was at a time when Beetles were commonplace, particularly in Goa. Such an act would be considered a sacrilege now.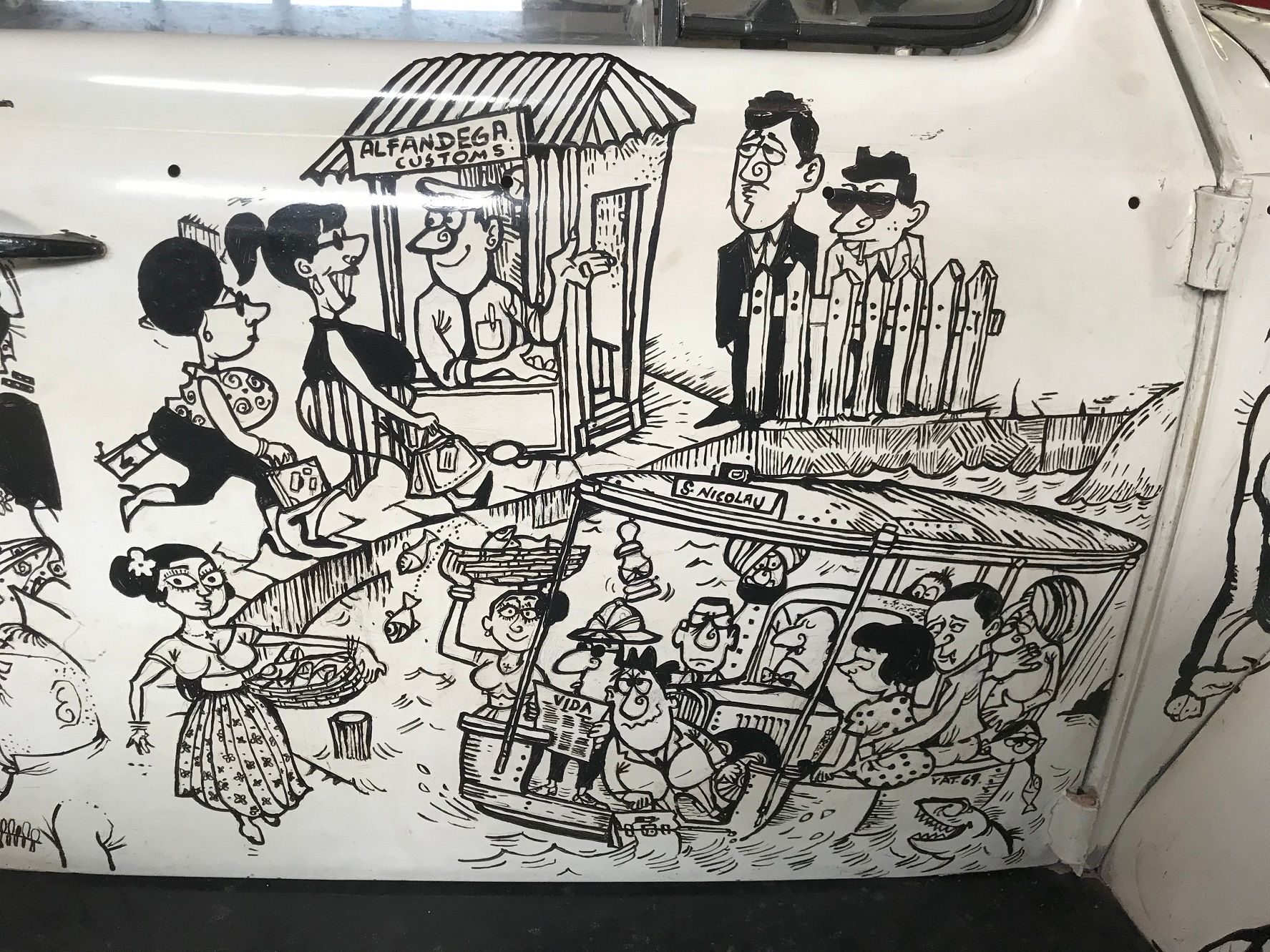 'Did Mario paint the car?' I asked Pradeep. 'No', he said. Mario gave his permission to replicate some of his cartoons on the car, and another artist, unfortunately unnamed, faithfully repainted those specially chosen by the celebrated cartoonist, all around.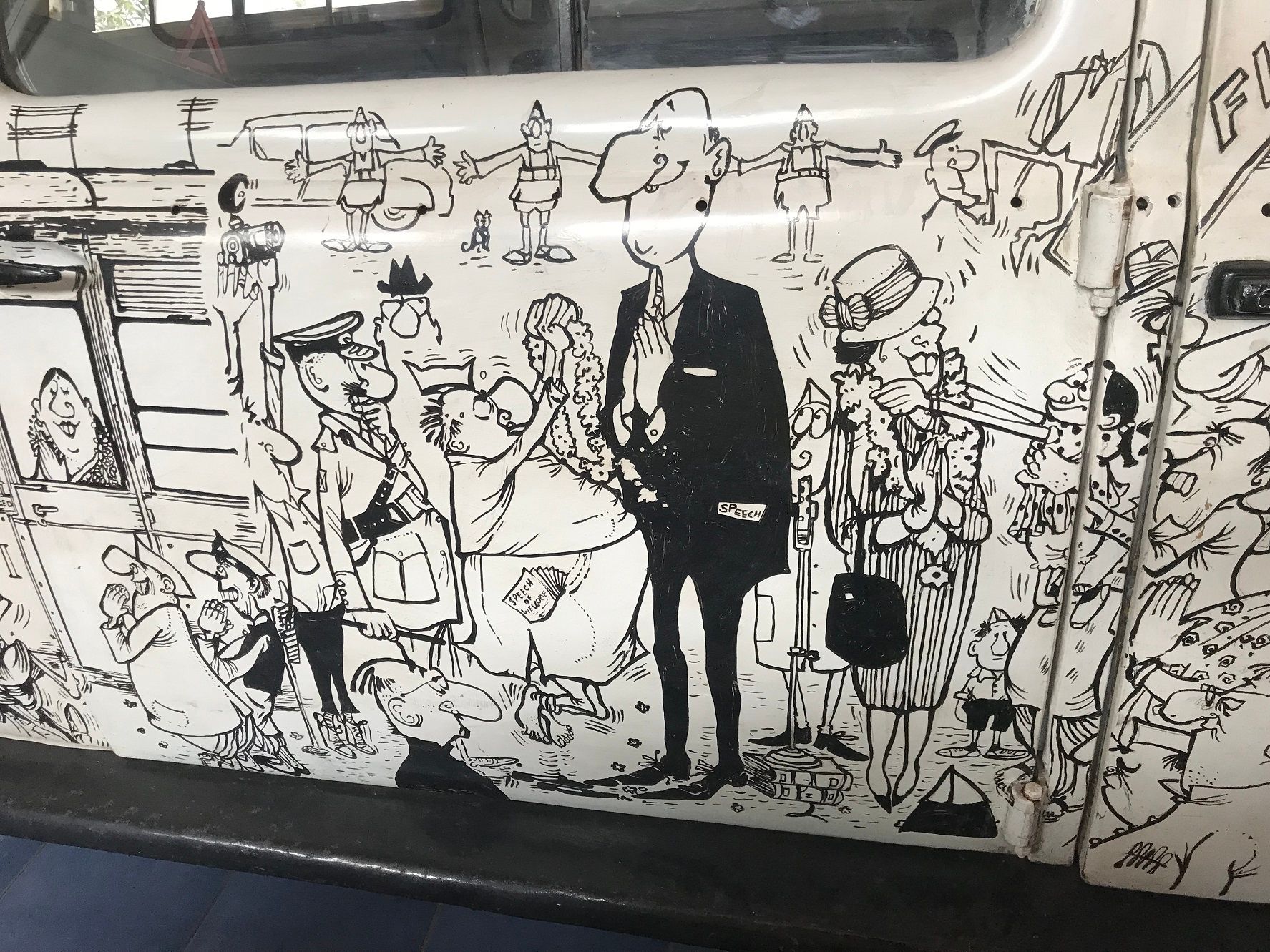 I commenced my circumnavigation of the car. The bonnet, with its owlish extra lamps, is graced with a cartoon of Goa's famous Carnaval, The King of the Carnaval is heralded by a drum beating savant, and is flanked by two umbrella waving beauties. The devil is in attendance, even as a distraught dog scampers away.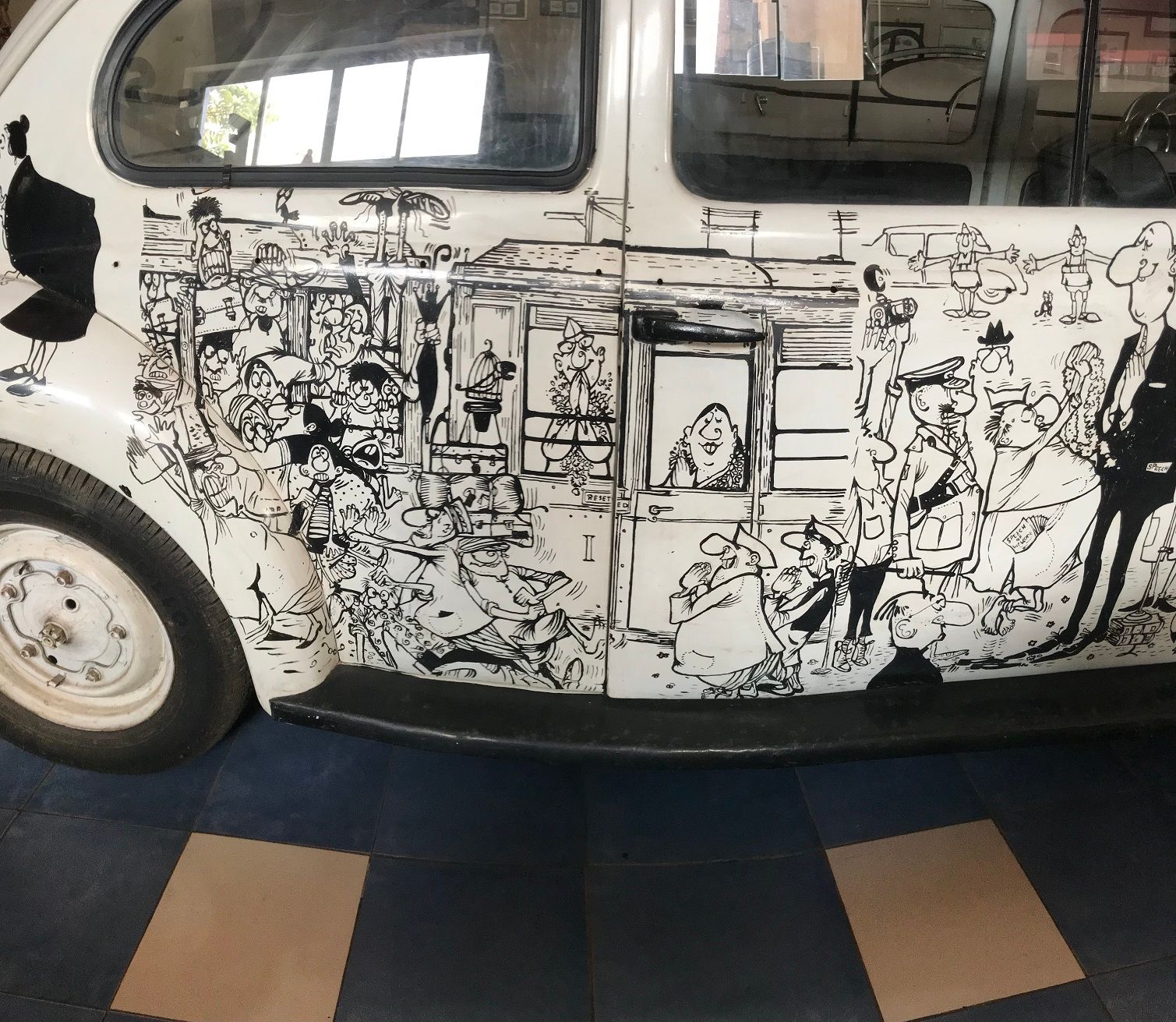 Both front wings feature a pipe puffing fussy art critic. One's confidence in his abilities is considerably diluted by a book tucked under his arm, titled, 'Teach yourself Art Criticism'. The offside wing features one of Mario's favourite white and black patched dog characters and a pleasant, corpulent Goan in a tight suit.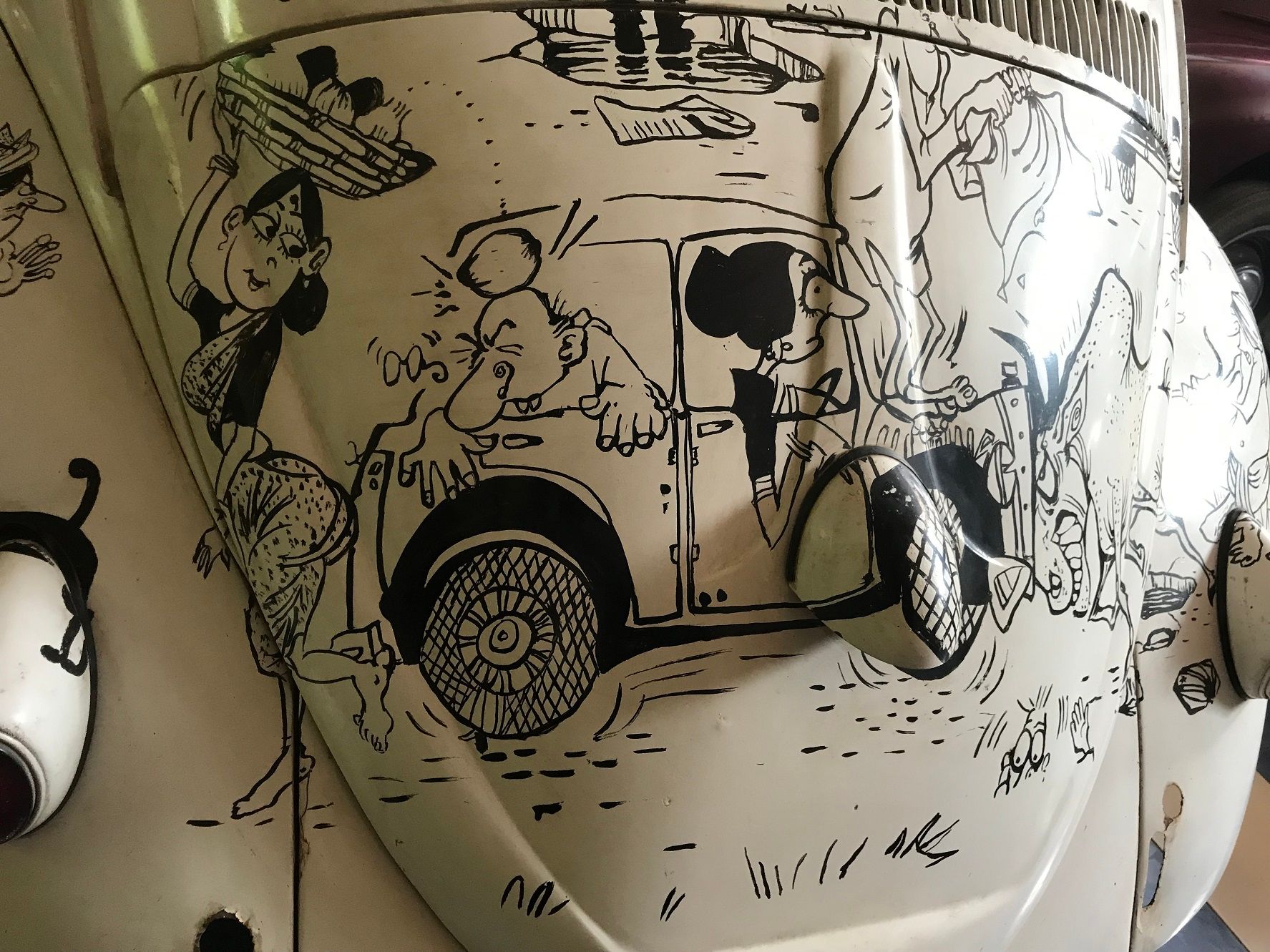 The offside flank is devoted to the visitors that come, like bees to the proverbial honeypot, to Goa. In a throwback to the old days, as a ferry, complete with a car on it, crosses the Mandovi, two cheerful women are waved into Portuguese Goa by a courteous customs officer—they did exist back then—to be met by two rather suspicious looking chappies.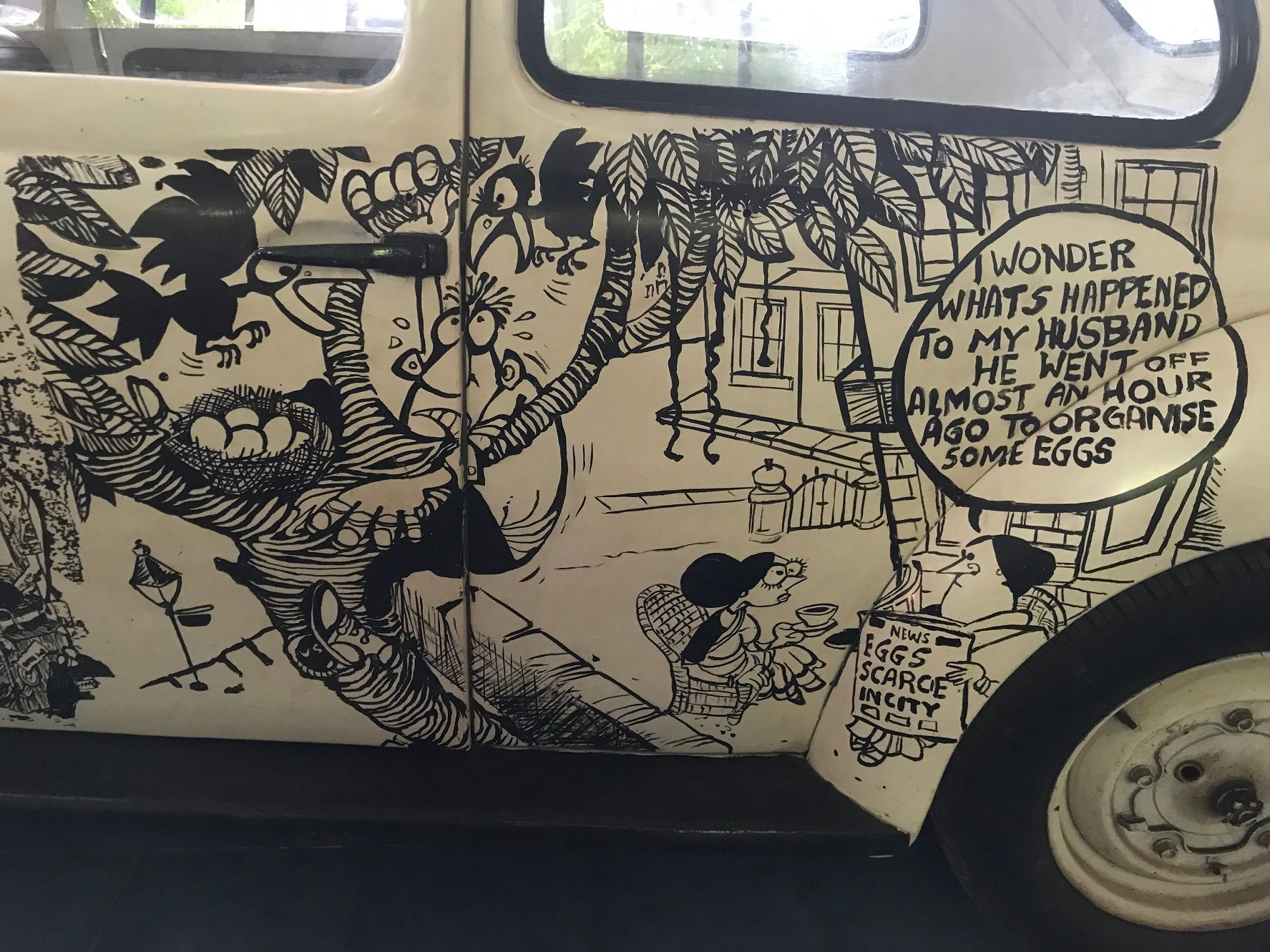 Adjacent is a scene taken straight from any story that lampoons politicians. A stocky dhoti-clad chap strains to garland a tall foreign dignitary, as other local politicians pay their obeisance to what could be a Minister of sorts and his wife, who luxuriate in a Railway First Class Coupe even as other passengers are crowded into an unreserved compartment.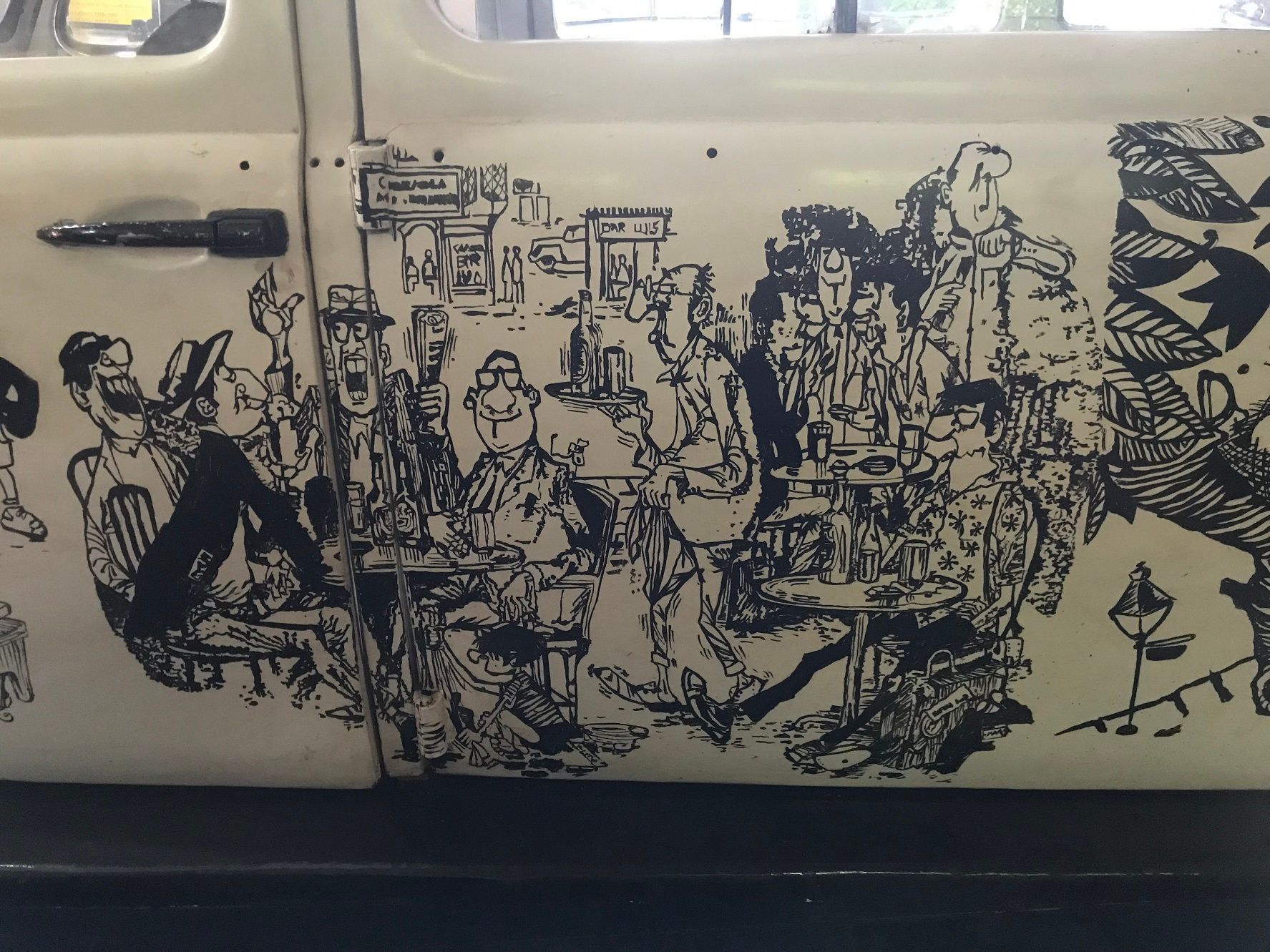 On the rear boot— that is a misnomer on the rear engined Beetle—its action time for automobiles that face the hazards of a narrow Goan road. An unfortunate car of unknown provenance is front-ended by an angry bull escorted by an unconcerned farmer. A comely vegetable seller is rear-ended by the same car, but she seems more amused than perturbed by the mishap.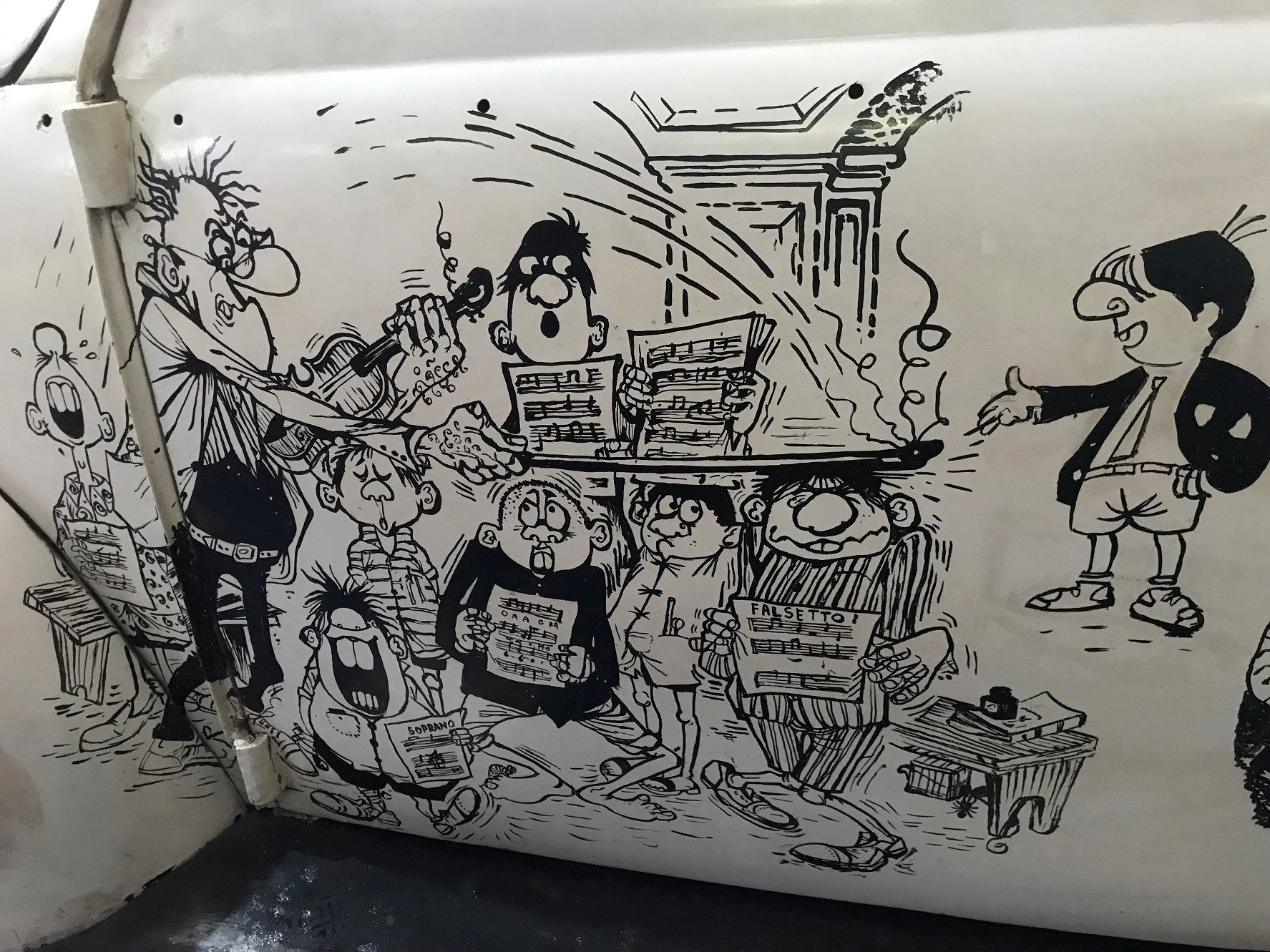 The near side features a choir practice; the falsetto seems to not be performing up to the mark and is dished out some instant discipline by an ill-tempered conductor. Next, we see the interior of a typical Goan Bar; one can almost hear the tinkle of the glasses, the creaking of the ceiling fans and the low conversations in Portuguese and Konkani. Further towards the rear, a man climbs a tree to purloin fresh eggs from a nest, to solve the egg shortage in the city.
High on the roof, a band signs off with love from Goa, and its muse, Mario Miranda. But what of the man himself? Does he feature here, somewhere, I wonder. I turn to an exciting game, to look for a likeness of Mario. Finally I find him, high up on the bonnet, with his back turned disdainfully away from the noise and sights of the Carnaval. Just below the flat windscreen, stands the French-bearded Mario, with a book titled 'art' under his arm. I smile with satisfaction. All is well with a world in which whimsy rules. What can go wrong when Beetles are stretched, and covered with cartoons that evoke a kinder, simpler life? He who can poke fun at himself is blessed by the Lord.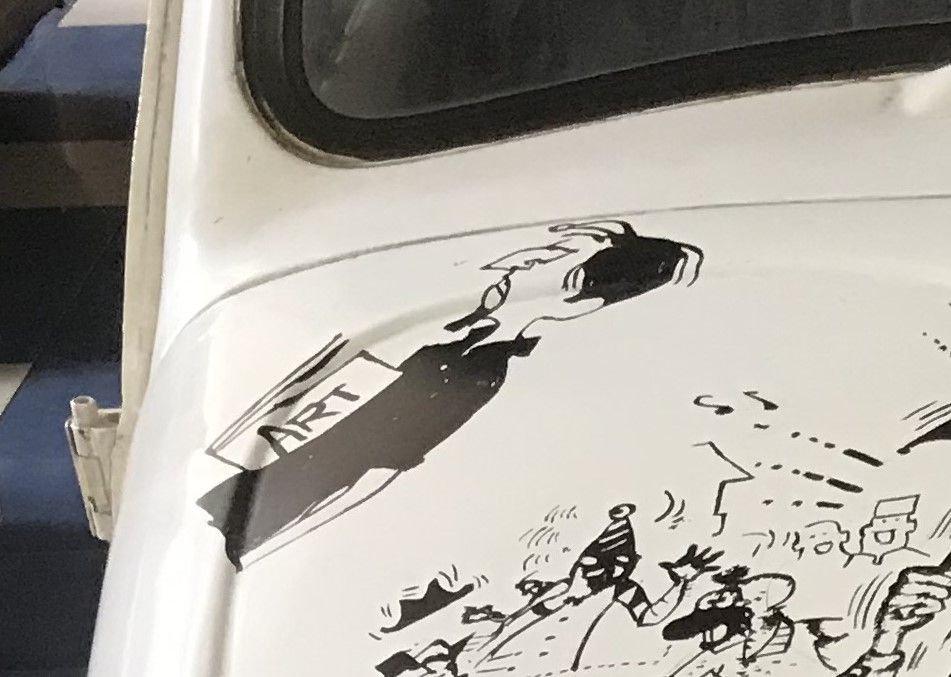 ---
---
Comments
Sign in or become a deRivaz & Ives member to join the conversation.
Just enter your email below to get a log in link.