Summer Moonshine—A Pleasant Display Of Classic Cars & Bikes
Images: Pankaj Motreja, Ishaan Raghunandan & T.R. Raghunandan
There is a lull in the driving habits of historic vehicle enthusiasts in the summer months. Only the brave venture out, usually at dawn, to return hurriedly as the sun climbs. We Bangaloreans have much to cheer about, because the hot season is confined to three months; March, April and May. By June, the monsoon washes over the peninsula and the weather turns cool.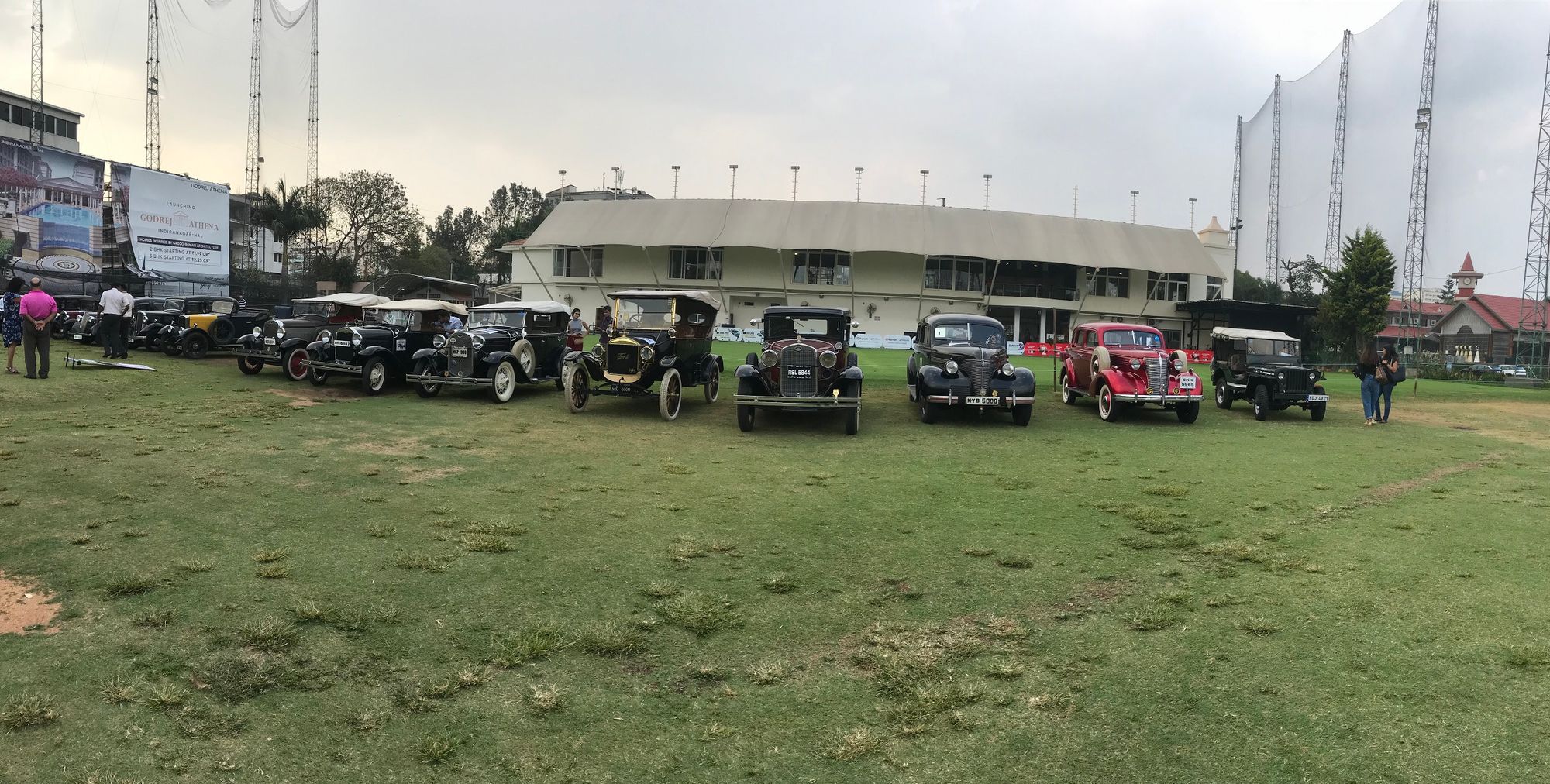 Even given the heat, the Karnataka Golf Association readily agreed to KVCCC organising a display of our historic vehicles on their verdant greens. The KGA has emerged as one of the premier golf courses in the country and they are celebrating their fiftieth anniversary this year.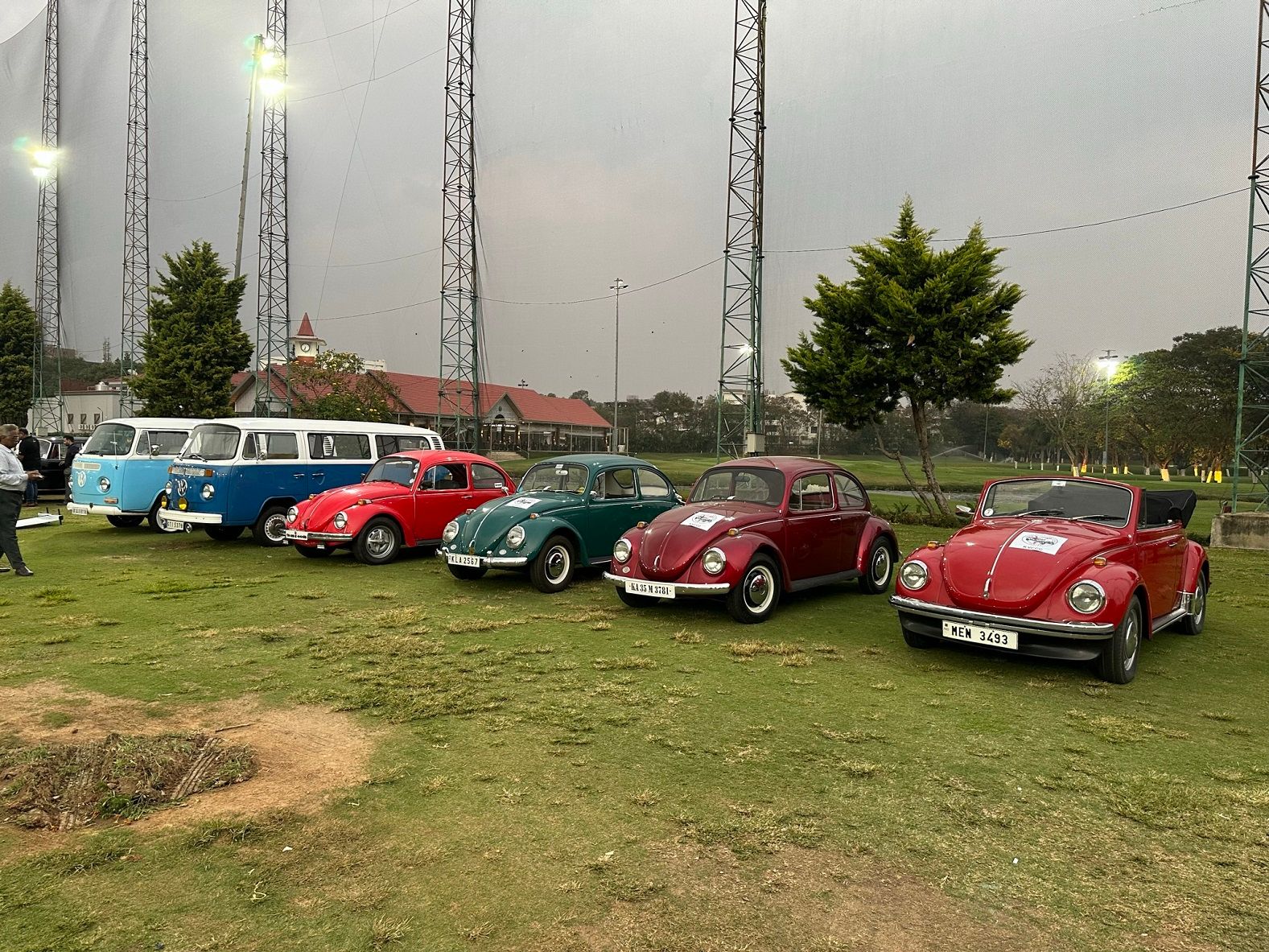 Though mid-March is spring-time, parking cars under the blazing forenoon sun is not pleasant, even if there are lawns below. We opted for an evening display, stretching past to dinnertime. A display of old cars and two-wheelers was combined with a Jazz Quartet, which entertained and refreshed the members of both clubs.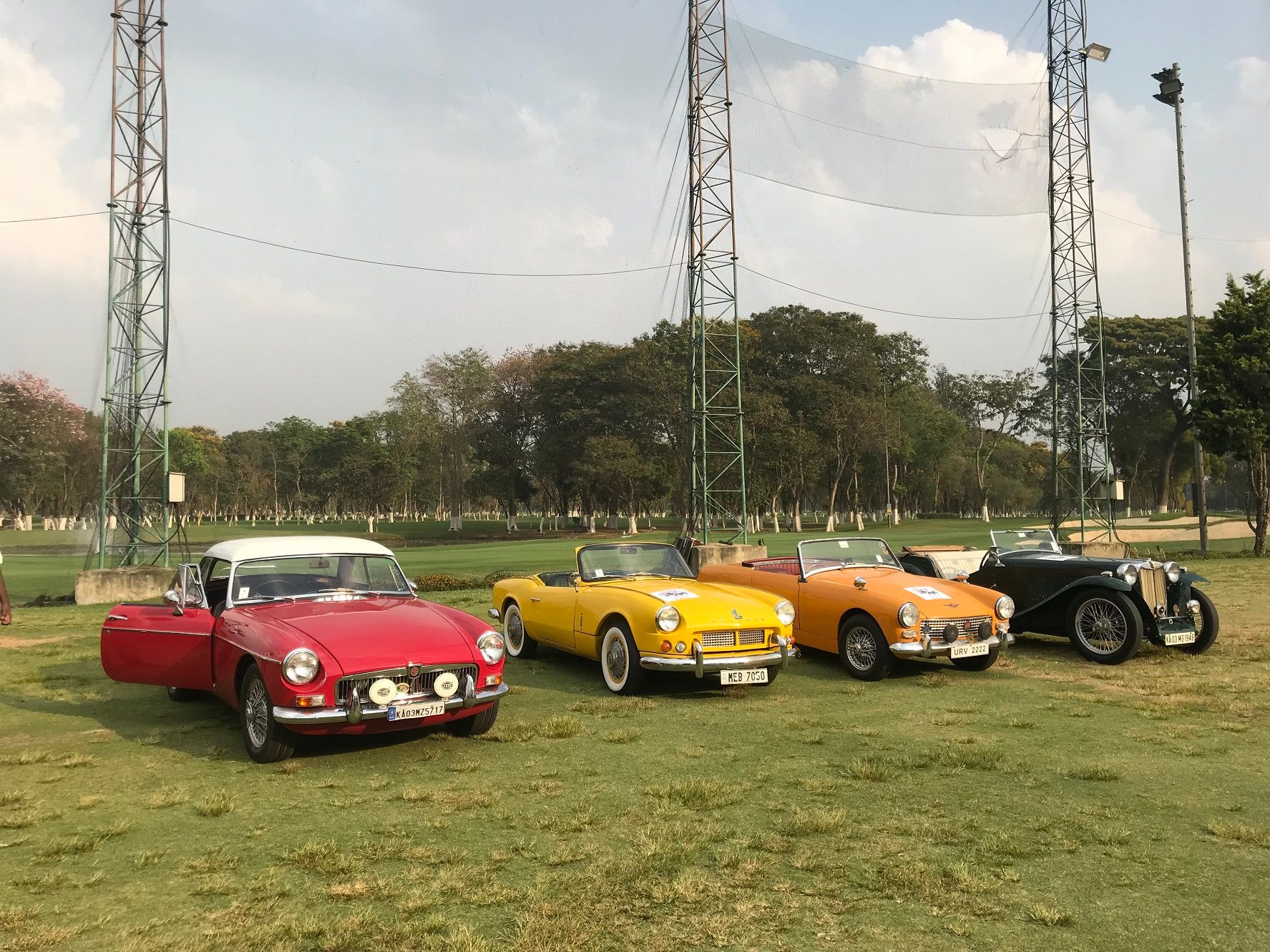 How vehicles are parked in a display is critical to the enjoyment of visitors. Visitors need space to appreciate each vehicle from all angles. Furthermore, photographers throng car displays; our club has a mailing list of young enthusiasts on whom we draw, to record our activities, even while ensuring that there is a method that draws similar themes of design or antiquity together. A line of convertibles, or finned American behemoths parked in a row, enable comparisons and triggers animated discussion amongst laypersons and connoisseurs alike.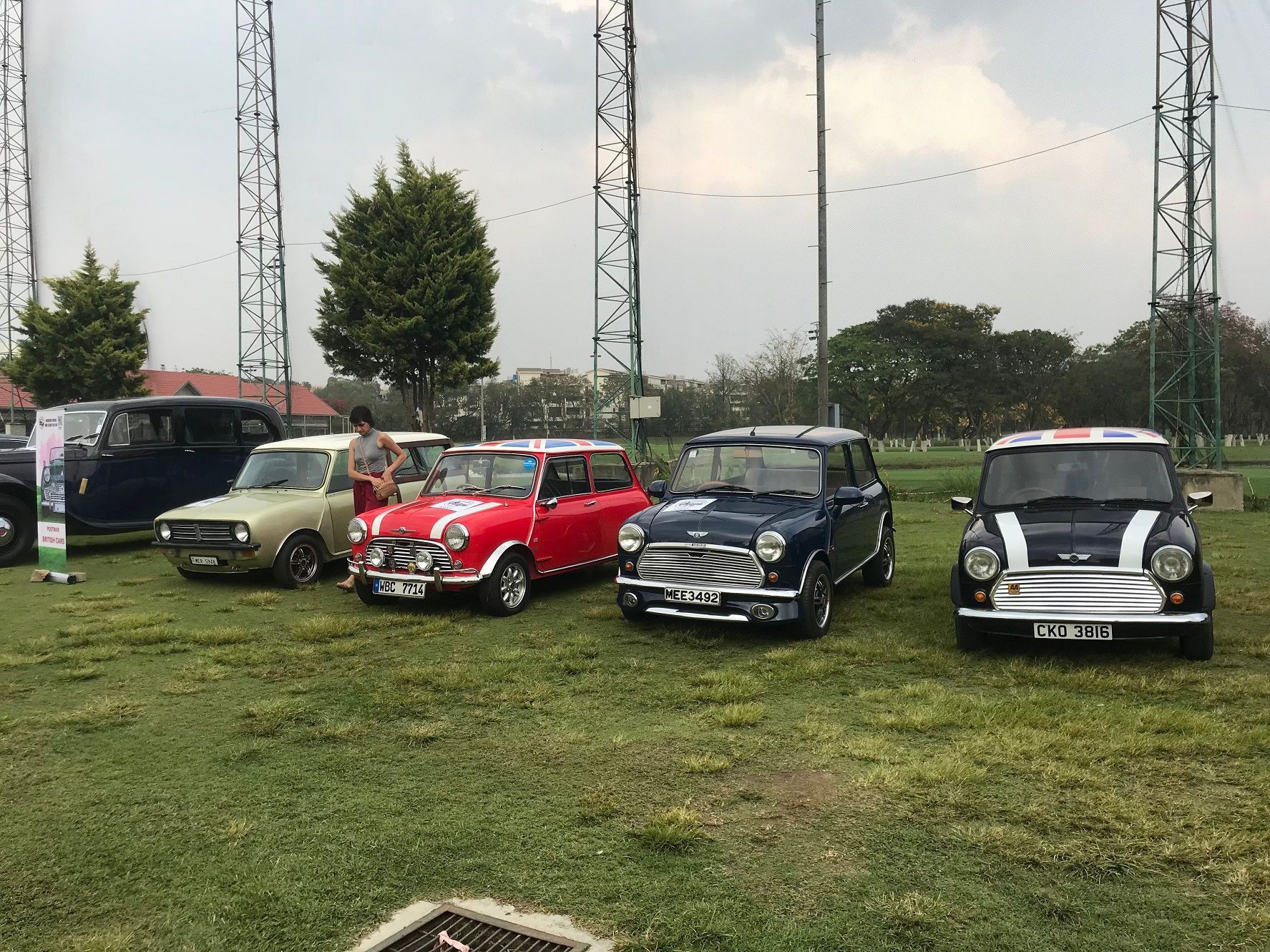 We kept things simple. We parked the pre-war cars on the lawns at the base of a 'U'. Along one arm, we parked German and British cars, and along the other, Indian, American, Italian and French cars. The two-wheelers were nestled in the 'U', with the Jazz Band podium.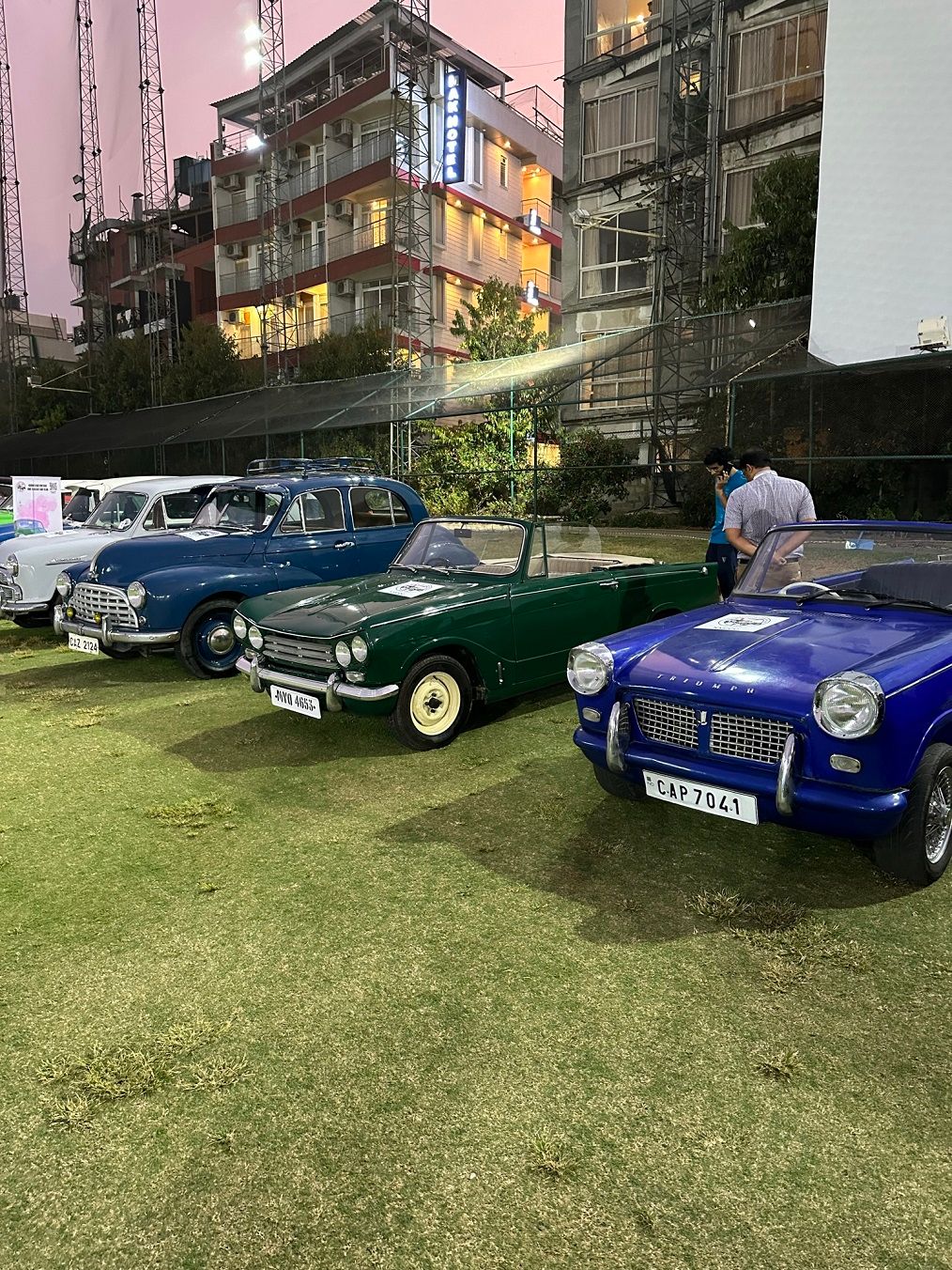 There was a wide and enthusiastic turnout, of both our regulars, and members who rarely venture out. Usually, there are a few dropouts as the build-up progresses to any event. We were thrilled that all fifteen pre-war cars registered for the event, turned up. Taking pride of place in that group was Cyrus Unwalla's 1926 Morris Cowley, a well-known car, but rarely seen, lately. The Cowley is delightfully vintage, with its magneto driven engine and its dickey seat. None the worse for its age, Jeanne, as she is fondly known by its owner, was driven in sprightly fashion to the venue.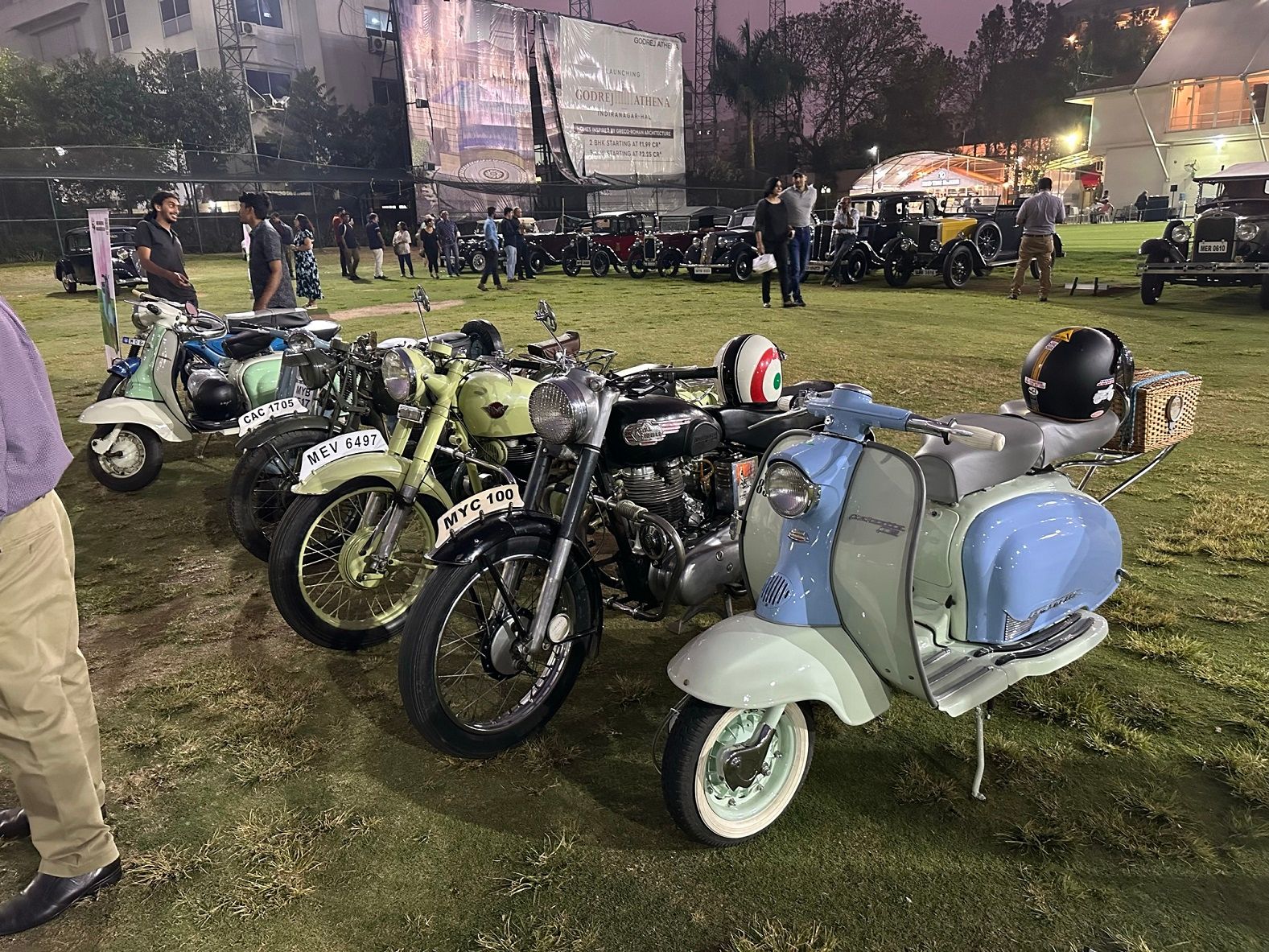 Of the pre-war cars, it was no surprise that Austins and Ford Model As dominated. Two Austin Ten tourers, (1936 and '39), and two of their tinier Austin Seven siblings made up the Austin contingent, while four Model As complemented the sole Model T. Unusual however, was the brace of Standards. These cars, which included Balakrishna's rare single owner car, provide a side by side comparison of the evolution of the body from the upright style to a slightly more streamlined, fastback style; the Flying Standard, of Gourishankar.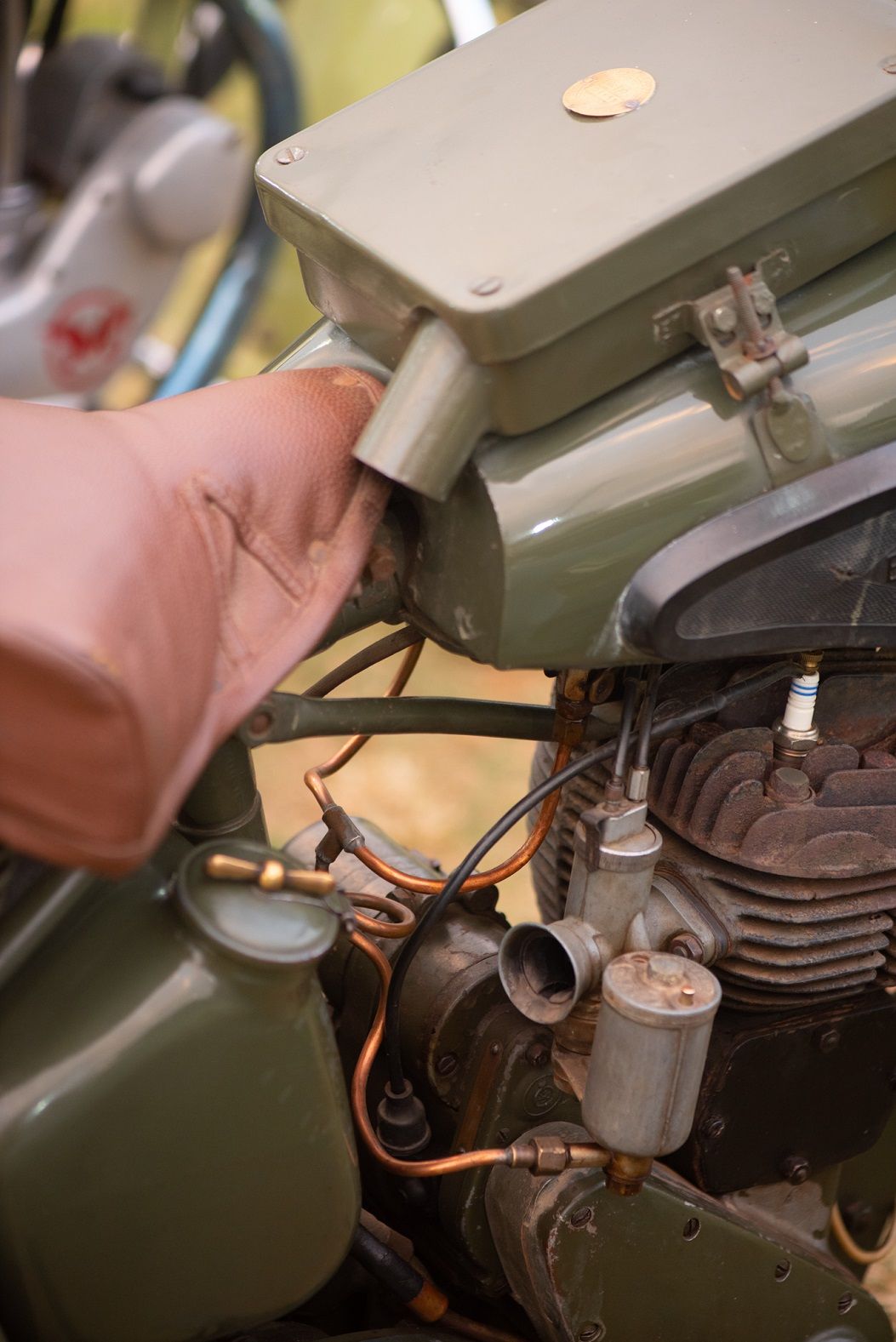 Similarly, a couple of Chevrolets, including Narendra's limousine, provided great interest. These cars are from the muted pre-war era, when the US was still recovering from the Depression.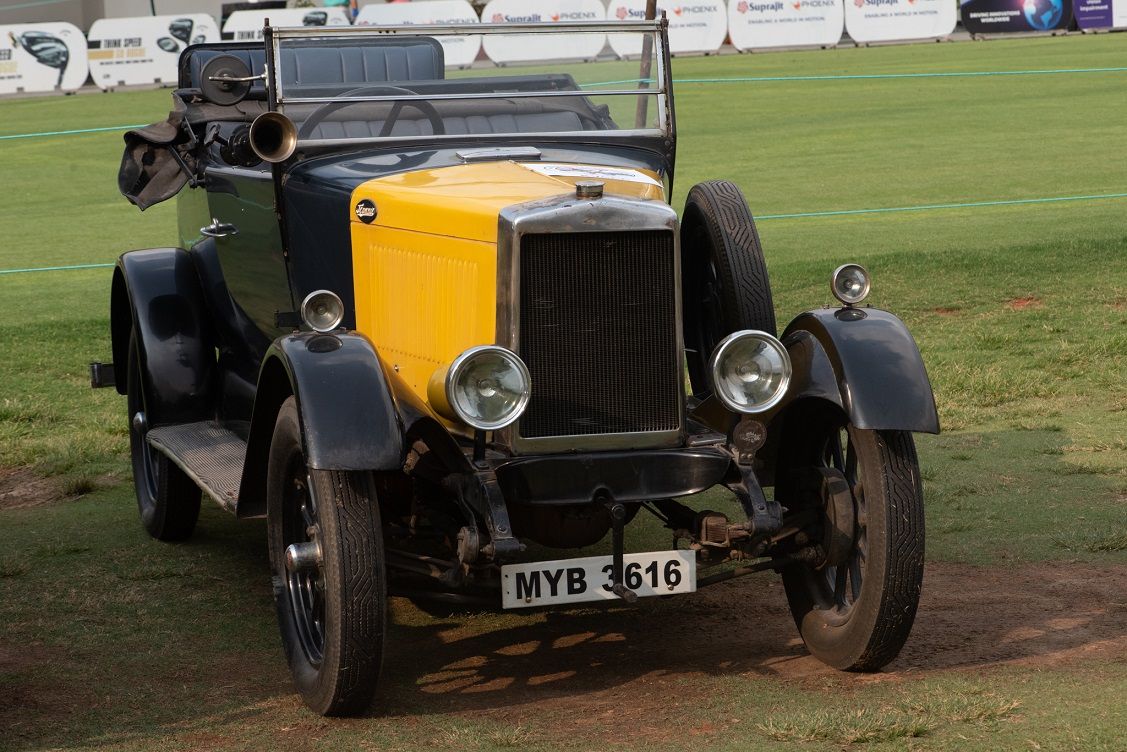 Post-war British cars were dominated by compact cars; Jamal's elegant Jaguar and stately ex-Mysore Daimler DE 27 notwithstanding. Cars of the people were plentiful too; Alec Issigonis would have been happy to see both his iconic creations. Two Morris Minors and four Minis, from an early grill one with the trademark Union Jack painted on the roof, to an unusual Woody Clubman Estate, represented.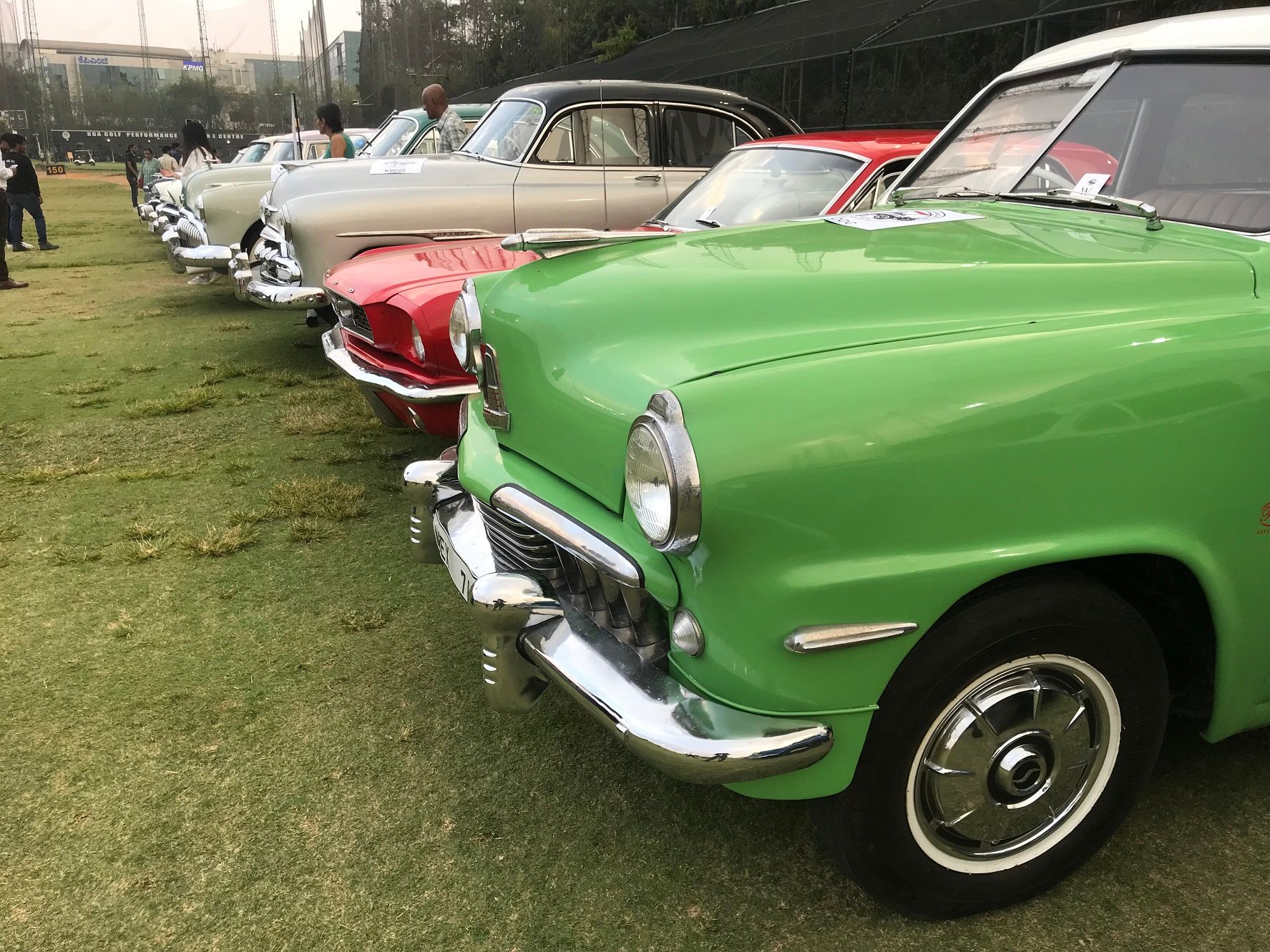 Four quintessential British roadsters, a Sprite, a Triumph Spitfire, an MGB and an MG TC, complemented these peoples' cars, all basking in the warmth of the evening sun. Similarly, the German contingent saw four Beetles and two VW Buses. Outstanding was G.S. Ravi's freshly restored 1959 220 SB, the first of the finned Mercedes cars that slowly replaced the Pontons. To provide the contrast, there was S.V.S Gupta's luxurious looking maroon Ponton from 1957.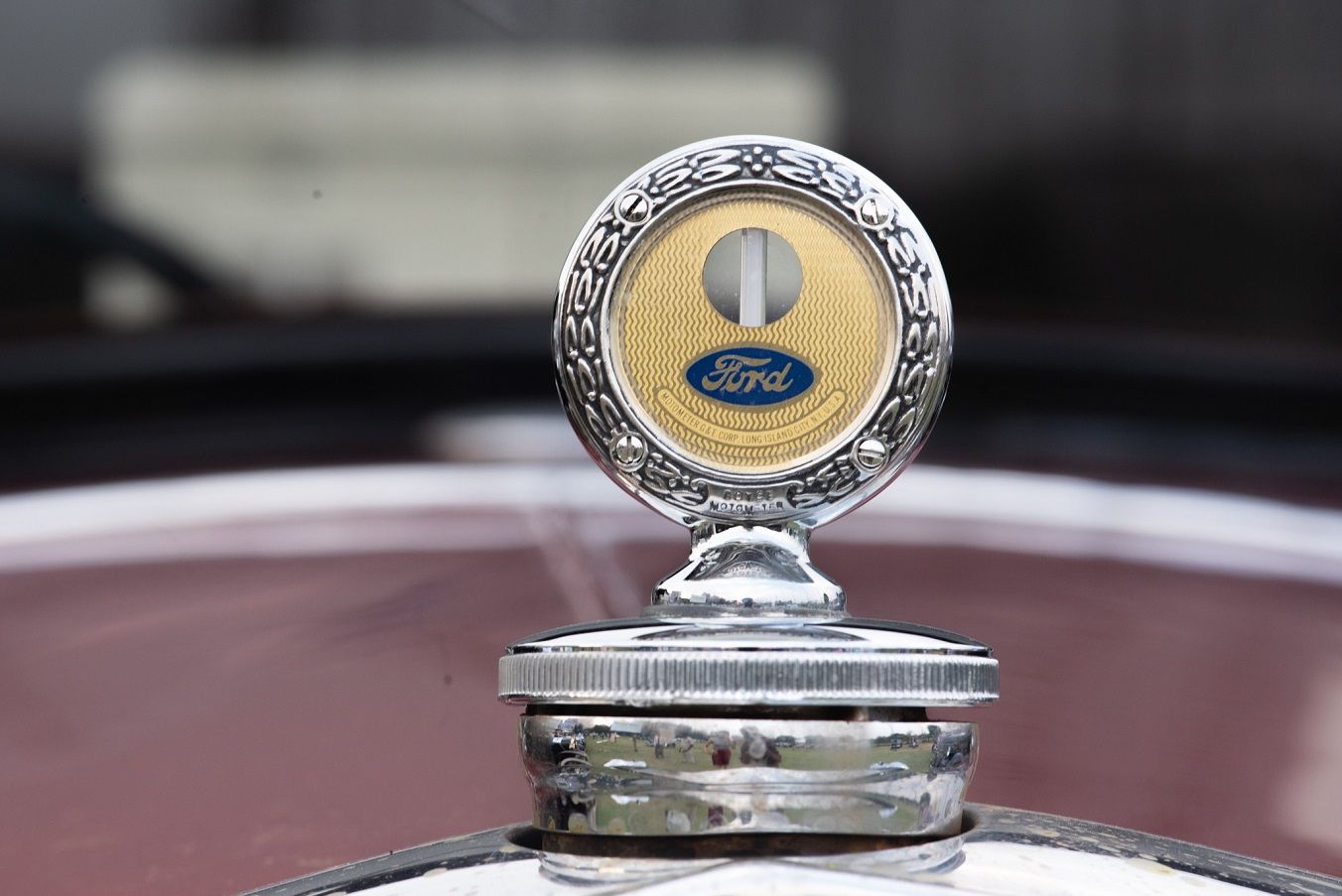 The Indian field drew in numbers in plenty, with Ambassadors and Fiats dominating. The Standards are rare these days, but Srinand's and Nandish's Herald convertibles showcased how the Michelotti designed body shapes had evolved over the years.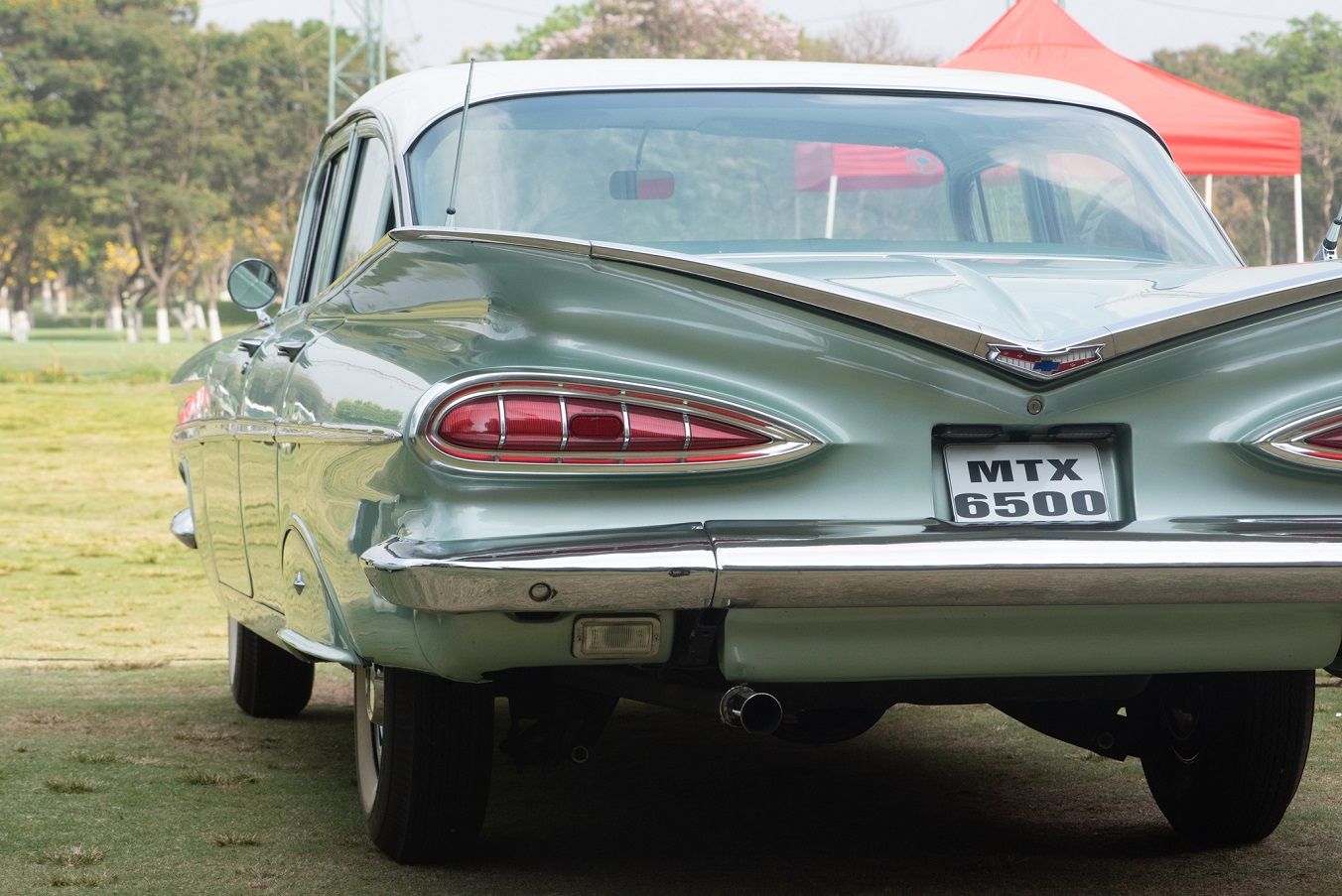 The Yank Tanks are noticeable wherever we park them. We went through the buxom early post-war years, to the finned era represented by S.V.S. Gupta's 1959 Belaire, and then we progressed on to Naveen's slab sided Monte Carlo.
Rare are the Italians and the French; we had just one of each. Sulaiman's canary yellow Alfa Spider hobnobbed with Doctor Perumal's Midnight Blue Traction; two pretty cars by far. Hopefully, next time, we will have more beauties from the Continent.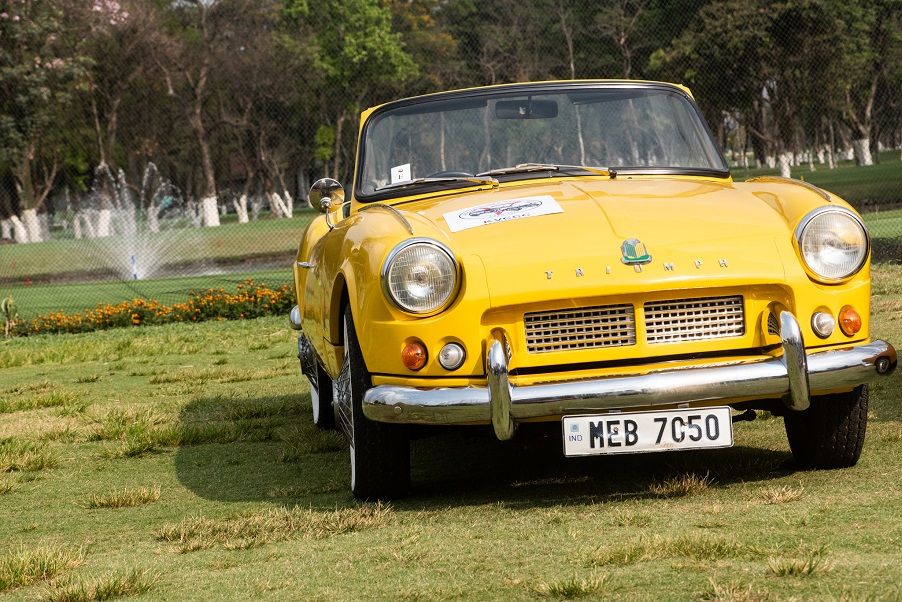 Of the eight two-wheelers, two Vespas and two Lambrettas gave the event its 'Roman Holiday' touch. An exceptional 1963 DKW, which belongs to Vinod Reddy, stood out for its rarity. The thumps were provided by three large singles; Prabhu's wartime BSA M20, Perumal's similar model from the fifties, and Guruprasad's early Bullet, oozing patina and character.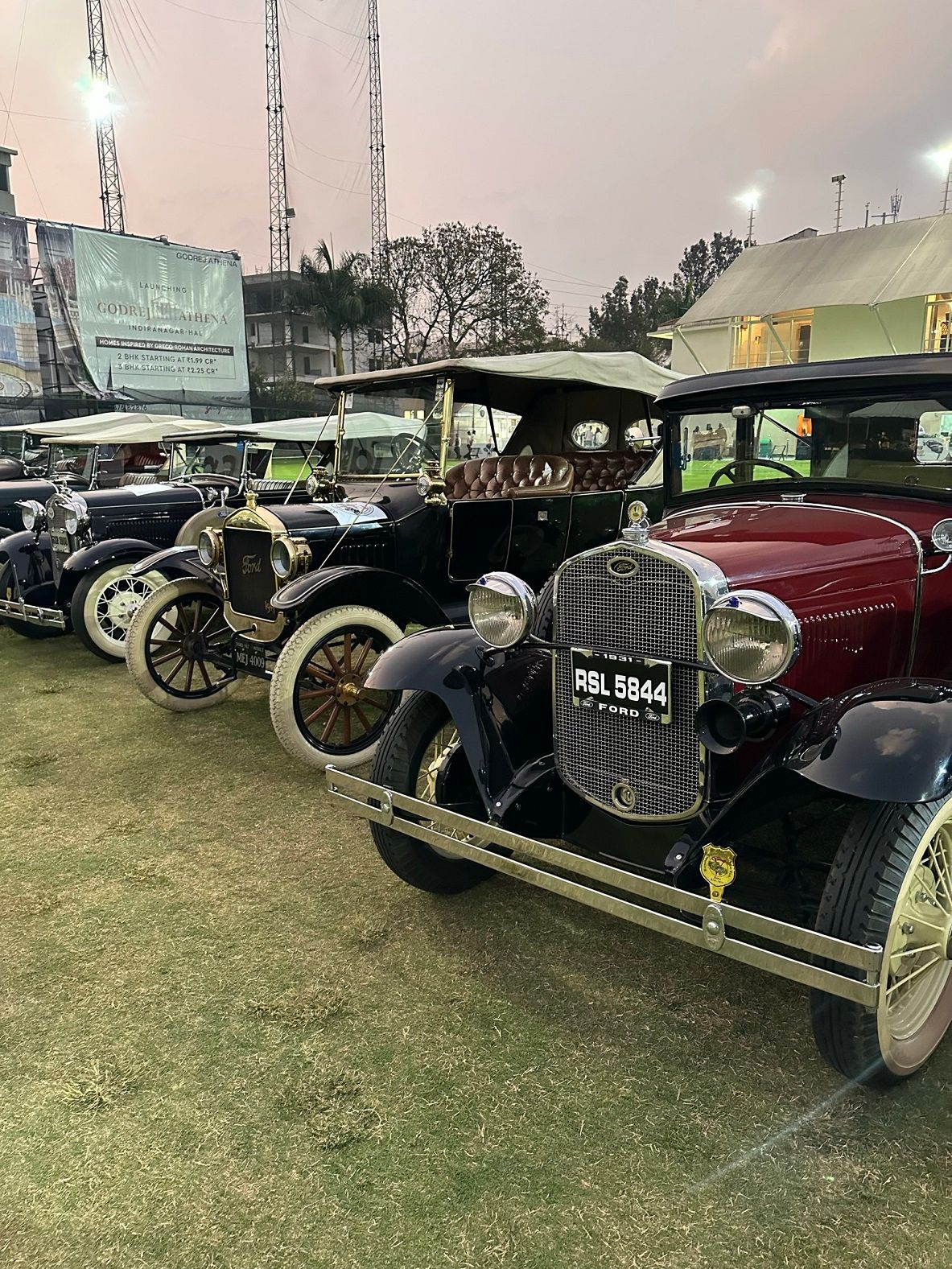 The golden-green hue of the evening sun on the green did wonders for the photographers, before twilight drew us back to the pavilion for a sumptuous dinner. It rained buckets then, one of Bangalore's typical summer storms. While the convertible owners had to rush out to put up their hoods, no damage was done. A chilly wind rose as we drove away, a perfect ending to an idyllic day.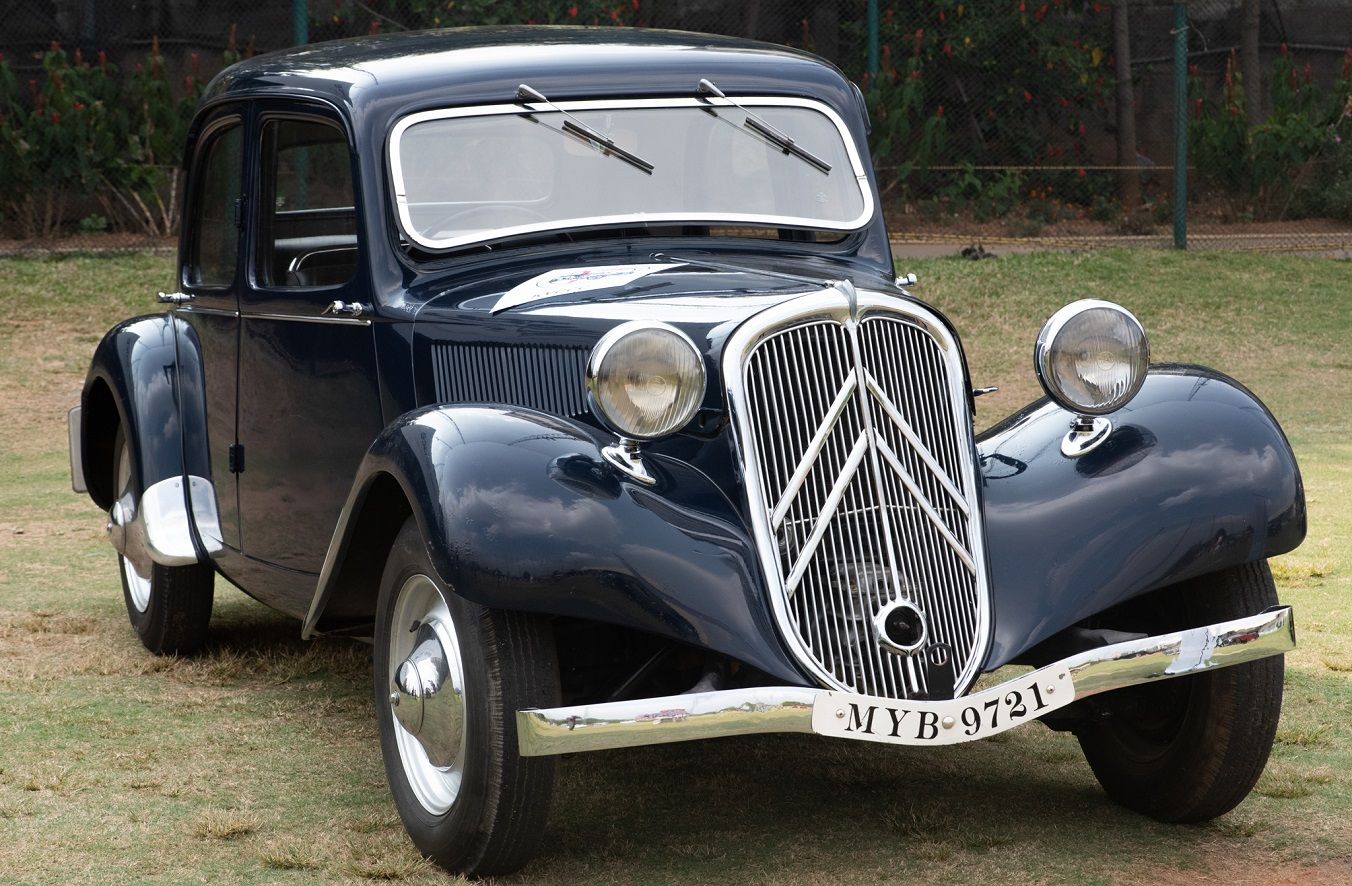 ---
---
Comments
Sign in or become a deRivaz & Ives member to join the conversation.
Just enter your email below to get a log in link.