Suzuki AX100—A Rare Japanese Find!
Images: Arvind Reddy
When I first heard about such a bike in mint condition with a very caring owner, by the editor of this magazine, I was taken aback and contacted the owner Arvind Reddy, who very readily agreed to share details of his very rare 1983 Suzuki AX 100, made fully in Japan without the 'Ind' prefix. According to him, only three such bikes were imported by TVS Group purely for showroom display purposes when they opened booking: one for Bangalore, one for Pune and one perhaps for Chennai.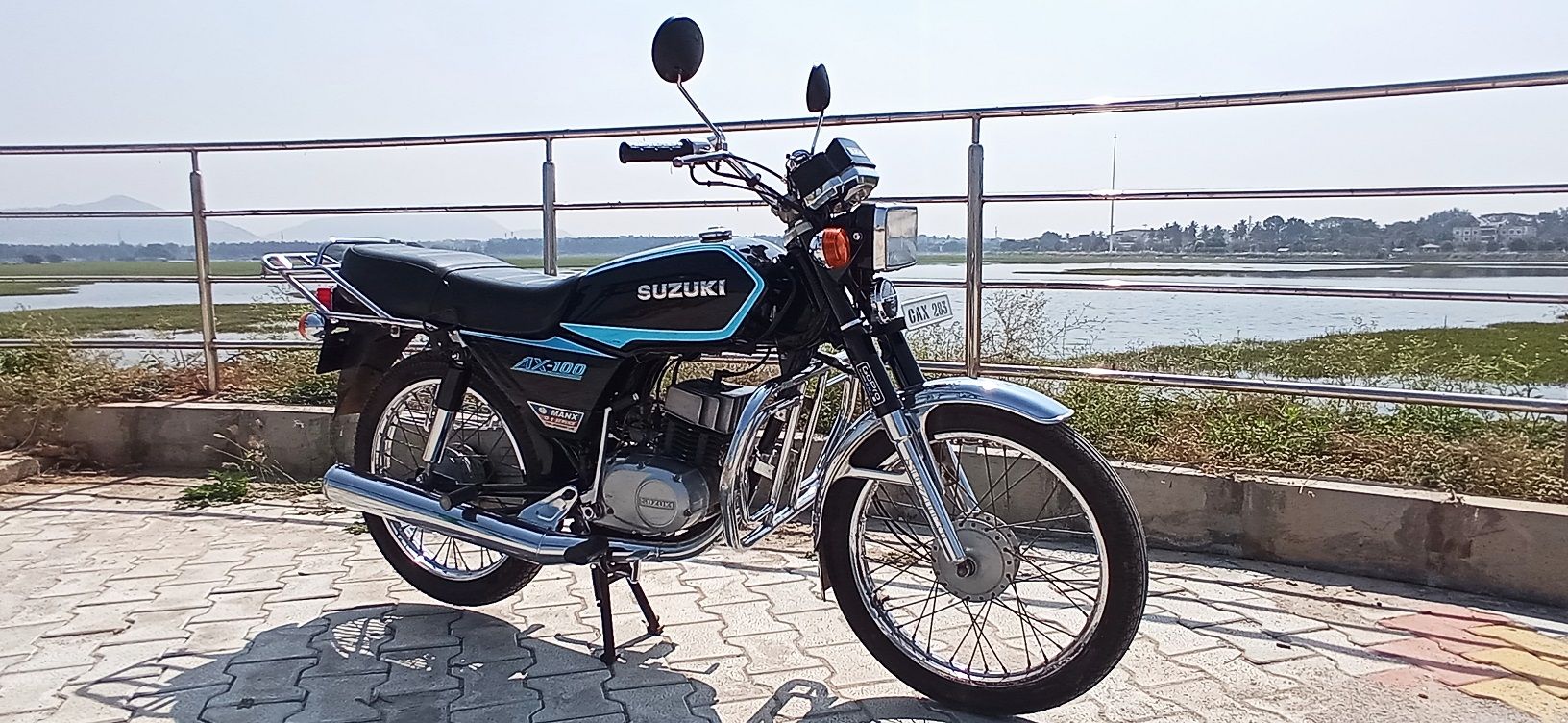 His bike was displayed by the Bangalore dealer at their showroom and registered in their name in 1984 to be much later sold to a bike collector, who had to be cajoled by Arvind to part with his prized possession. The other two bikes have been repainted. Arvind claims to have seen the Pune bike and the third one on social media. Every bit of Arvind's bike, a 1983 model, is Japanese—from the rubber foot-pegs to the meter console, engine, gearbox, indicators and everything else, and these have endured 39 Indian summers. The owner takes due care to replace failed components with new Japanese spares, though such changes are very rare.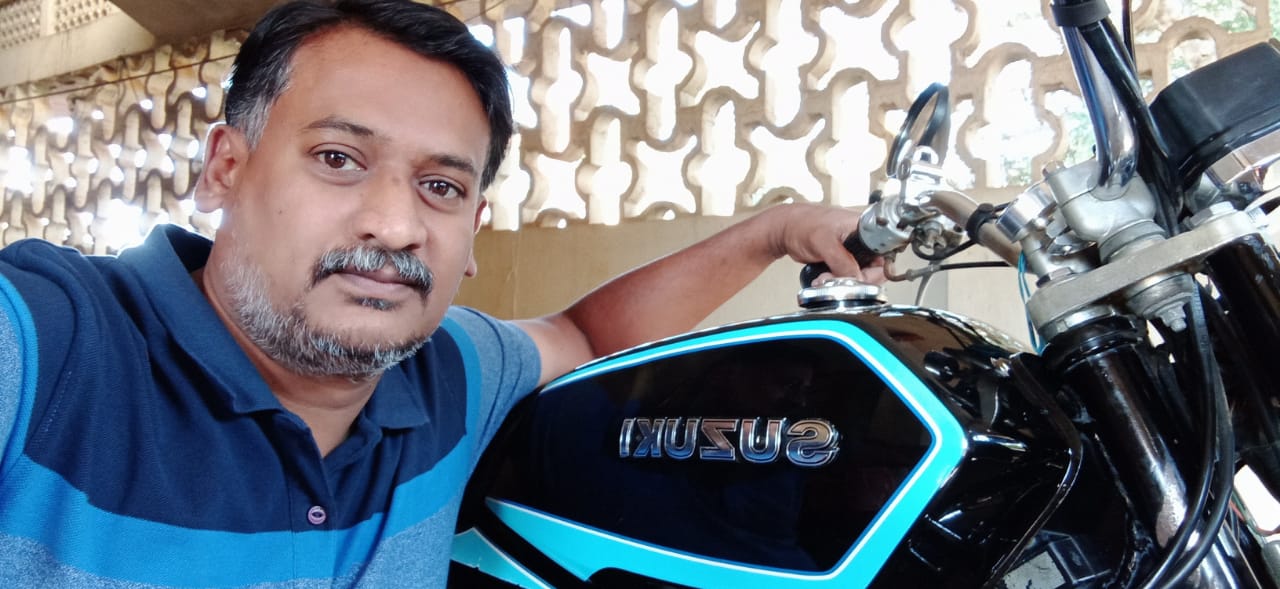 Arvind says that he has been a two-stroke bike fan since his college days back in the mid-1990s. Basically a computer engineer, he is a hard-core DIY guy and has a good bike collection having owned almost every Indian brand. He has driven some 500 bikes including the Yamaha RD 350. The Yamaha RX 100 is another top favourite of his. He bought a used Ind-Suzuki in 2003, sold it in 2019 but bought it back again later.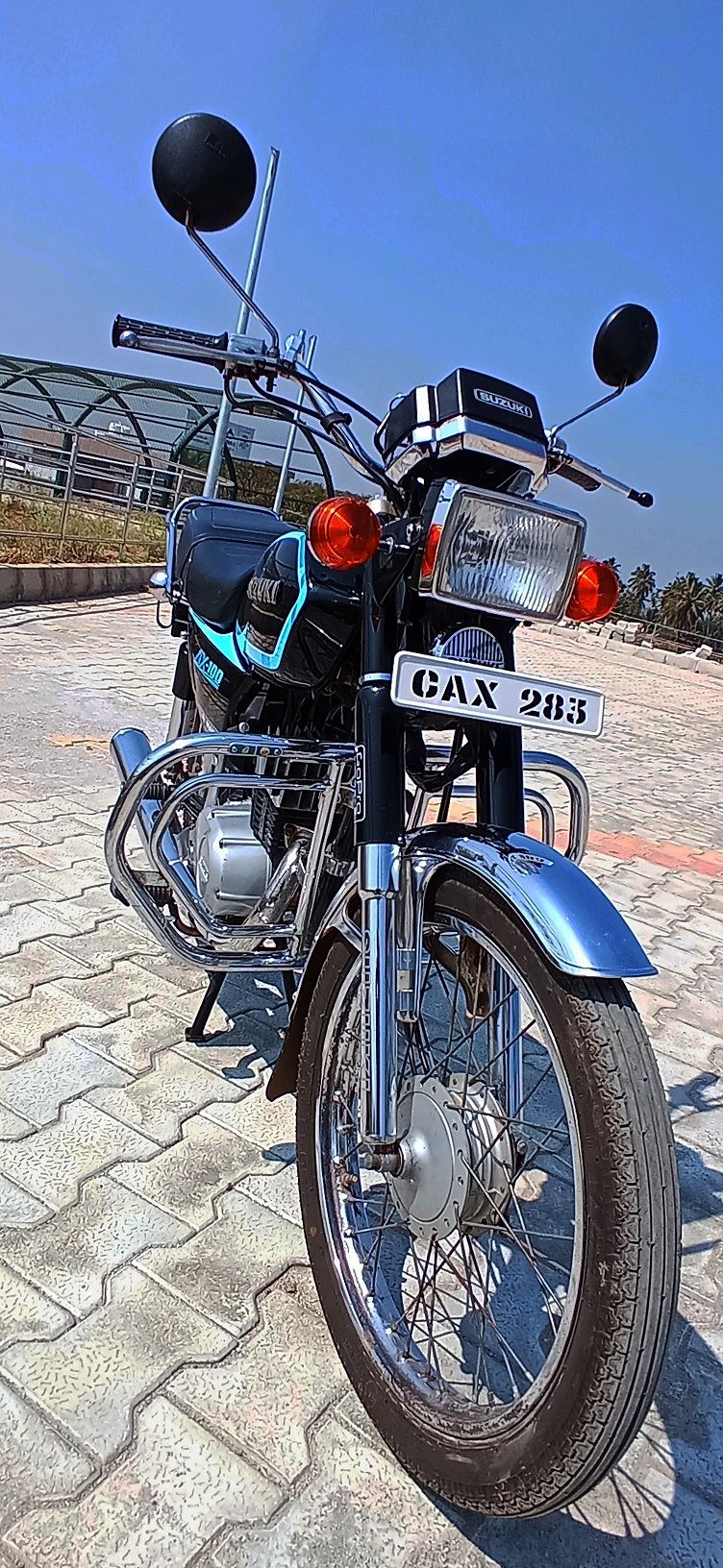 He says, "the younger generation is not aware and many of them become inquisitive, seeing my bike's spanking new looks. I have decarbonised the Suzuki bike's engine and have fitted new Japanese-made piston rings but the overall engine is still untouched. While undertaking this job, I experimented by fitting the engine cylinder kit of a more powerful TVS Supra. It touched 110 kmph but the brakes were feeble to handle the power generated. Stopping the bike became tough and I regretted doing this."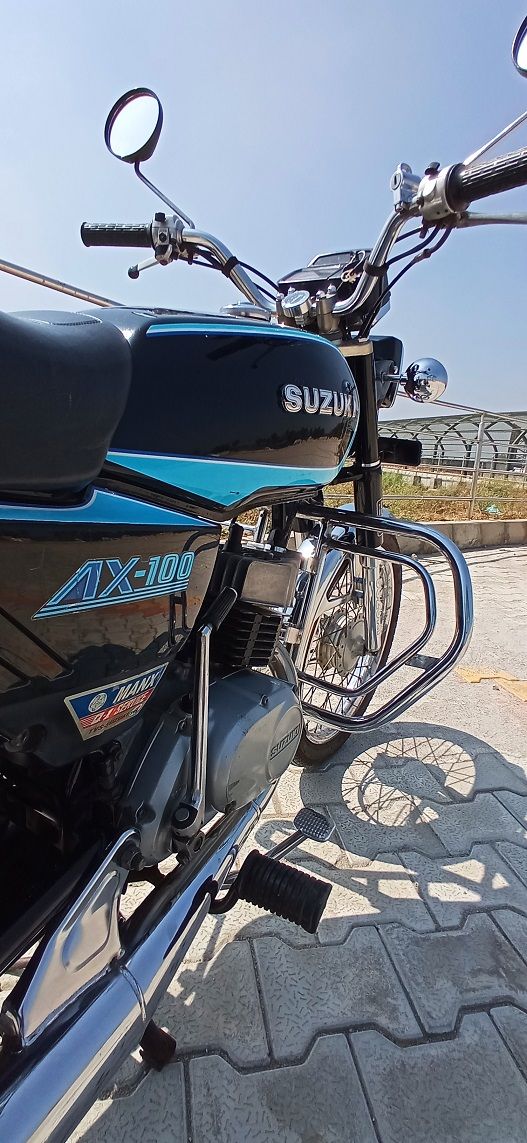 Continues Arvind, "Compared to the Supra, this bike's engine is silk smooth and the drives are not tiring. I have been on long drives with the AX 100. It is excellent for solo rides. I avoid a pillion rider as this is in the interest of its long life. My bike has an illuminated LED gear indicator display on its meter console that was not available in the TVS made versions. The speedometer has, apart from kmph, alternate graduation in miles per hour (mph). The sparingly used engine will do anything between 50,000 and 100,000 kms without an overhaul, I am sure."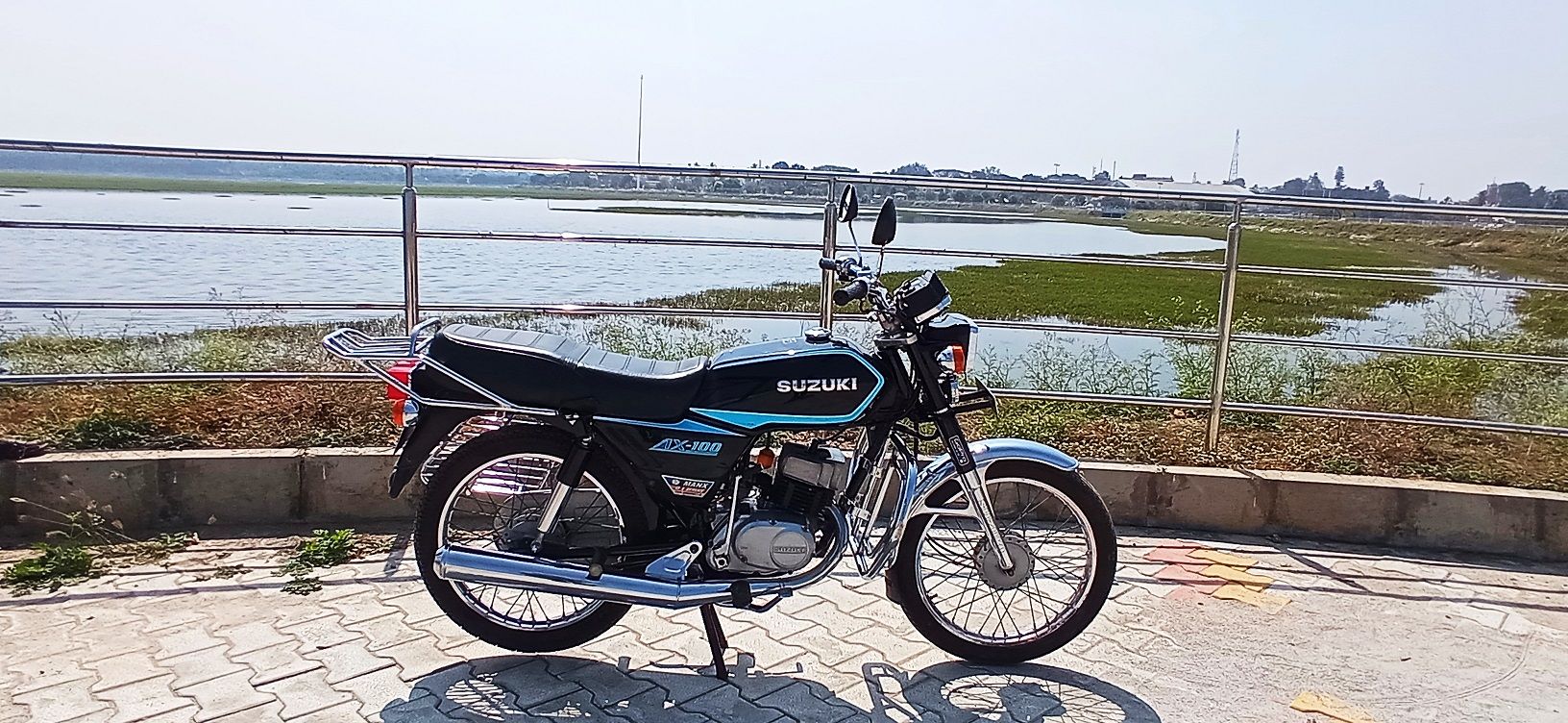 "Maintaining this bike is difficult," explains Arvind. "New, original spares are impossible to come by. TVS showrooms do not store any spare for the AX 100 and its other variants. I own two Ind-Suzuki AX 100 donor bikes for spares as back-up and have stocked many spares through social media groups of owners and spare sellers. The bike has been trouble-free till now, but it is advisable to stock adequate spares for a rainy day. I am looking for a Japanese-made taillight cover as I have fitted an Ind-Suzuki-made replacement."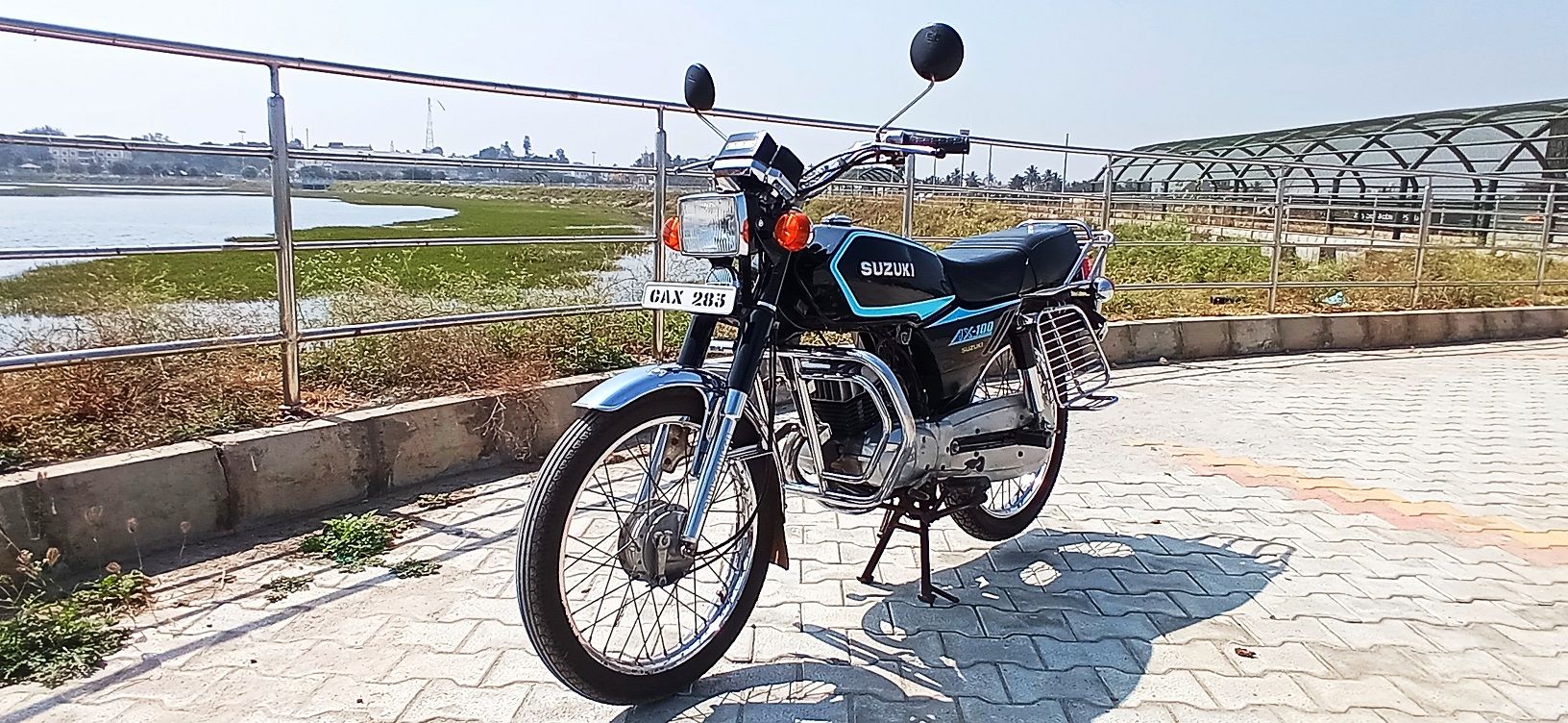 The first 100cc Japanese bike to find a new abode in India, Ind-Suzuki was launched in 1984 by Sundaram Clayton, then jointly owned by the TVS Group and Clayton Dewandre Holdings, U.K. after entering into collaboration with Suzuki Motor Corporation. The company was manufacturing TVS-50 mopeds since 1981. A new company, TVS Suzuki Motorcycles Ltd., was soon formed. By 1987, the name Ind-Suzuki changed over to TVS Suzuki.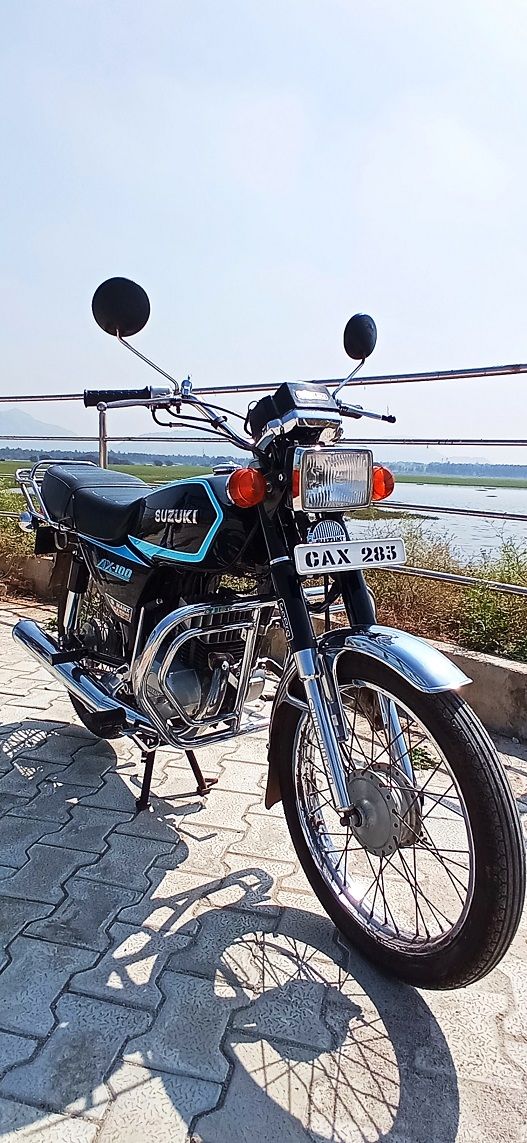 The AX 100 weighs 88 kgs, has a 98 cc/ 8.25 bhp @ 5500 rpm engine with a Mikuni carburettor and a 4-speed constant mesh gearbox, with top speed ranging between 85–90 kmph. It had a waiting time of 6–8 months post booking. Starved of technology, buyers went gaga with its aesthetics, silky smooth engine, user friendly kick-starter and auto lube system—the first for a commuter bike. It also had an oil level warning light in its meter console, a much-missed feature in the competition. The electricals were 6 volts (D.C.) and battery power was used for indicators, jewel lights and horn.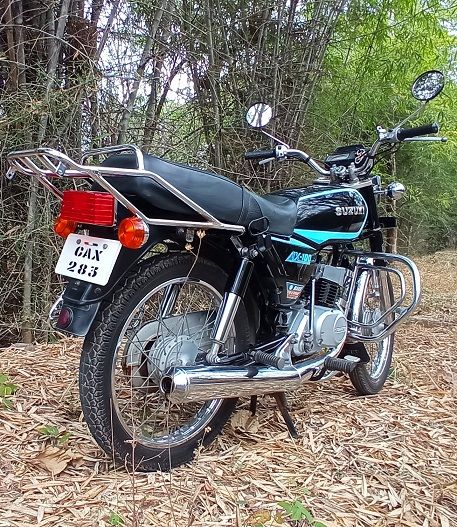 Within a few years, two-stroke variants like the AX 100 R (tougher chassis for rural use) and AX 100 AC (without battery) were launched, followed by Supra, Supra Power Up, Max-100, Max 100 R, Shogun, Samurai, and Shaolin. The author has a pleasant ownership experience of his 1986 model Germain red Ind-Suzuki AX 100, bought brand new and which ran flawlessly. It was a breeze to navigate with the silky-smooth engine, slick gearbox, and its many rider-friendly features. It also had an OE helmet lock on its handlebar to fasten the helmet's strap.
Most components were Japanese made and the suspensions were quite soft for our roads. In its initial months it was a traffic stopper, inviting gazes from many. This bike's hydraulic oil on the front forks required topping once, but other than this it had no other niggles at all.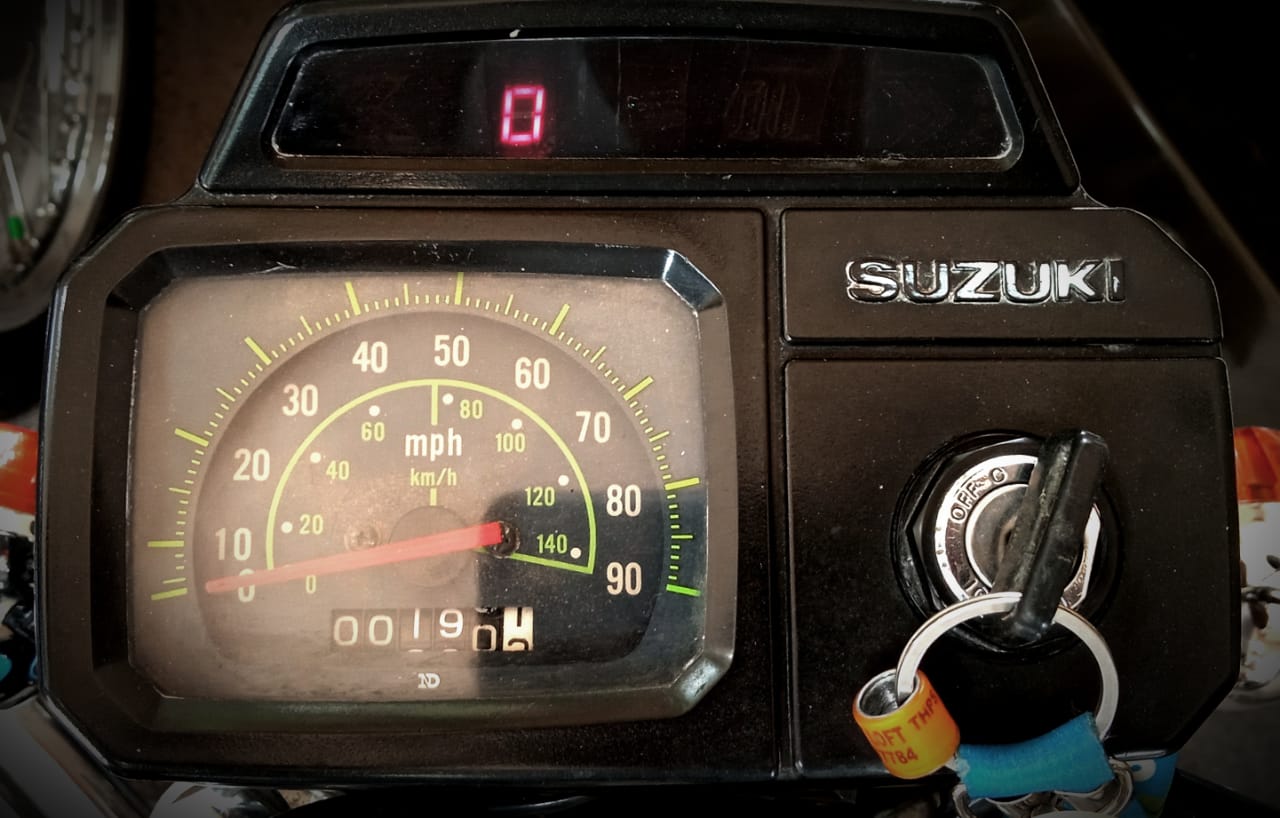 The underrated Ind-Suzuki AX 100 has added a dimension to India's two-wheeler scenario much like the Maruti 800, its four-wheeled sibling, had done, but its success was unfortunately short-lived due to the arrival of the Yamaha RX-100 and the Hero Honda CD-100, that became darlings of the performance and commuter markets respectively, leaving the 'middle of the road' AX 100 and Kawasaki Bajaj KB 100 behind, in the sales stakes.
---
---
Comments
Sign in or become a deRivaz & Ives member to join the conversation.
Just enter your email below to get a log in link.