The World According To Dilip Bam
Images: Dr. Anjan Chatterjee Archives
Dilip Bam (04/01/1947 – 13/10/2016) did his Mechanical Engineering from IIT and MBA from XLRI, Jamshedpur, had earlier worked with Kirloskar Oil Engines and lived abroad for many years in the earlier part of his career.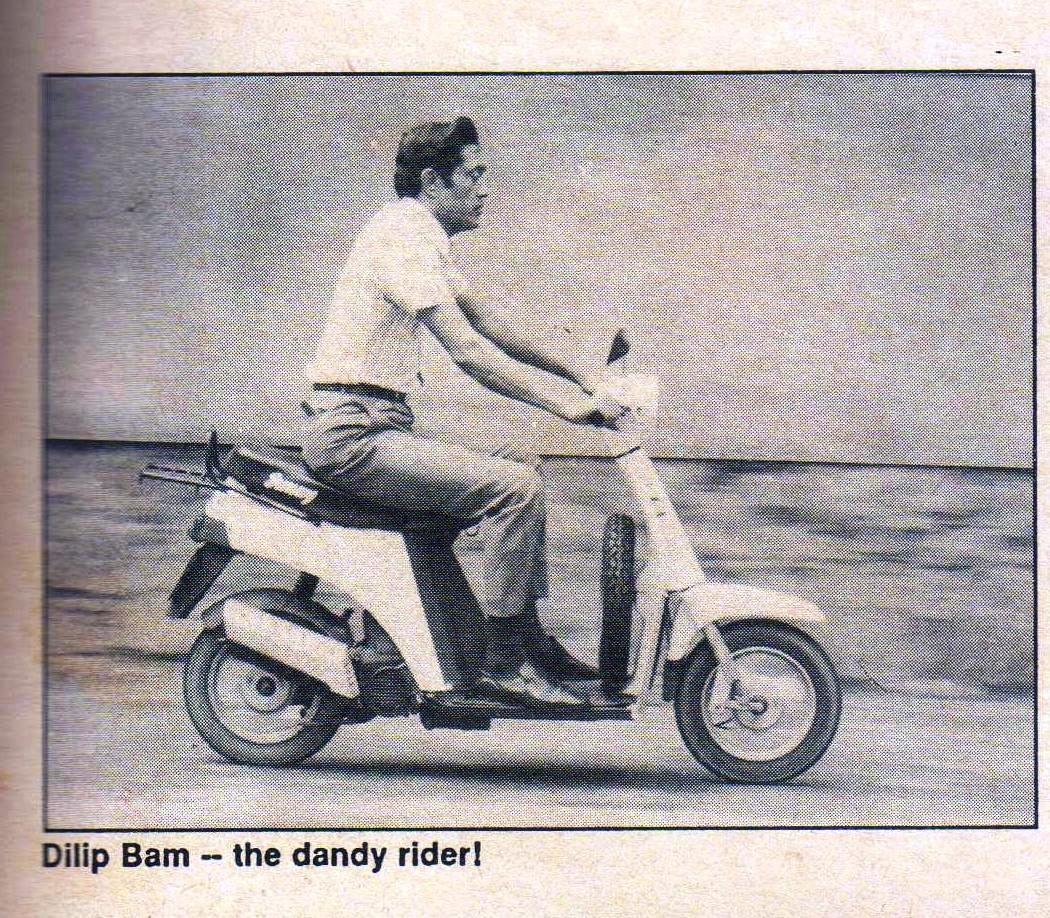 Later he was Telco's Area Executive in the Far East till the early 1980s and had hence spent many years in automobile business in the Far East, before venturing into auto journalism. Thereafter, he was a lecturer for Management at Symbiosis, BIMM, IFCAI and IMDR.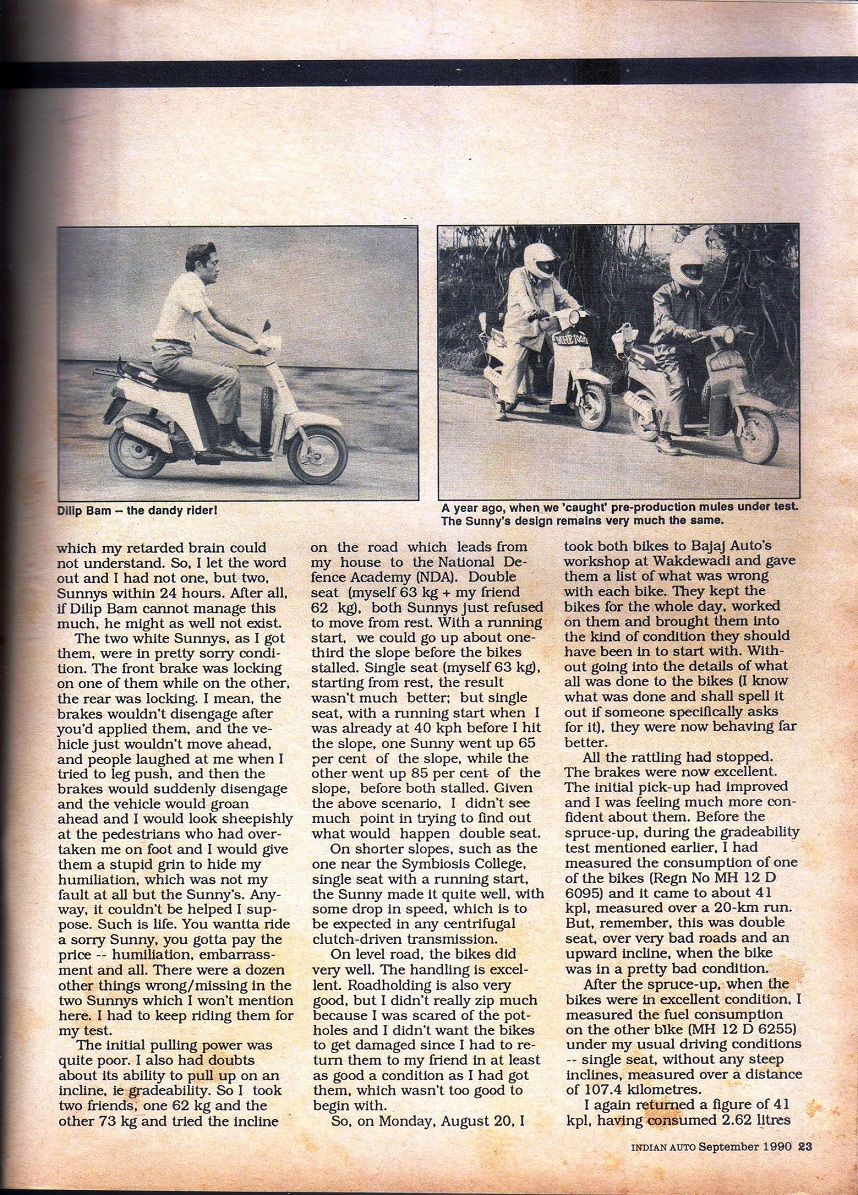 A brutally honest and most original to the core, while doing his test rides, he neither missed any technical issues nor any ergonomics and aesthetics pluses or flaws that he noticed. Umpteen of these would not be discernible to the others normal senses and eyes.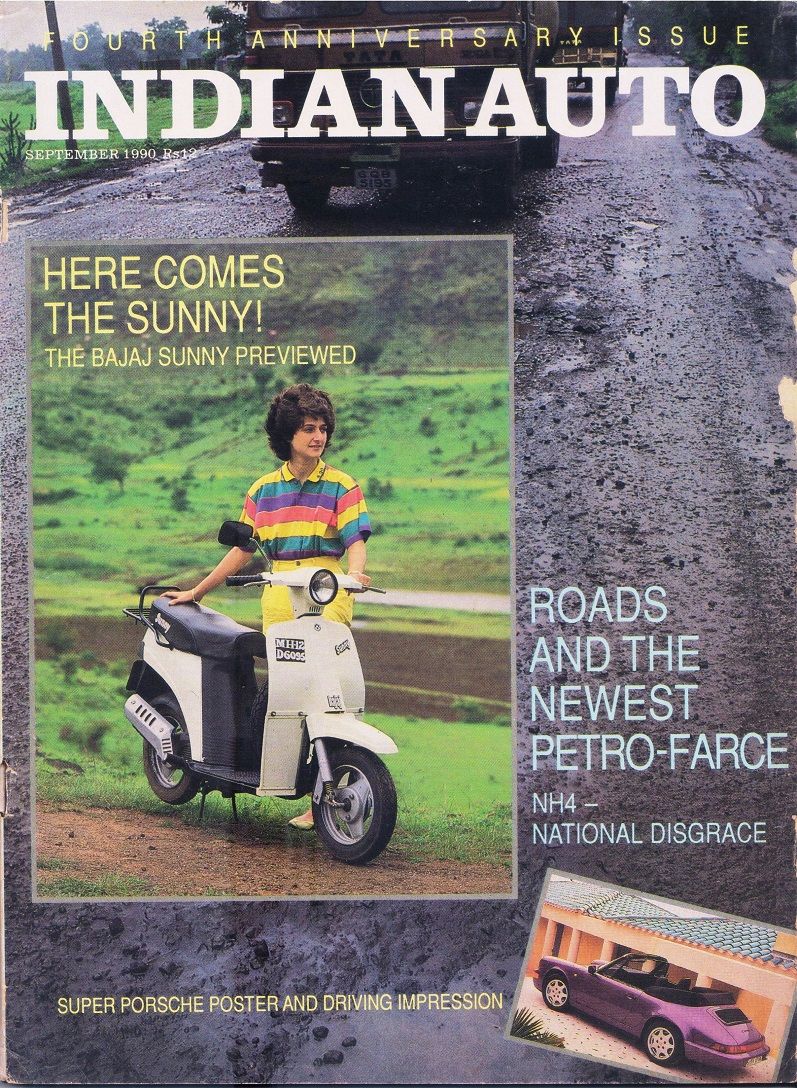 His reporting was a mirror image of whatever he saw, felt and sensed, leaving nothing nebulous, concealed or even distorted, sometimes to the displeasure of automakers. He had deduced the front fork and rear suspension travels comparing them with the manufacturer's figures.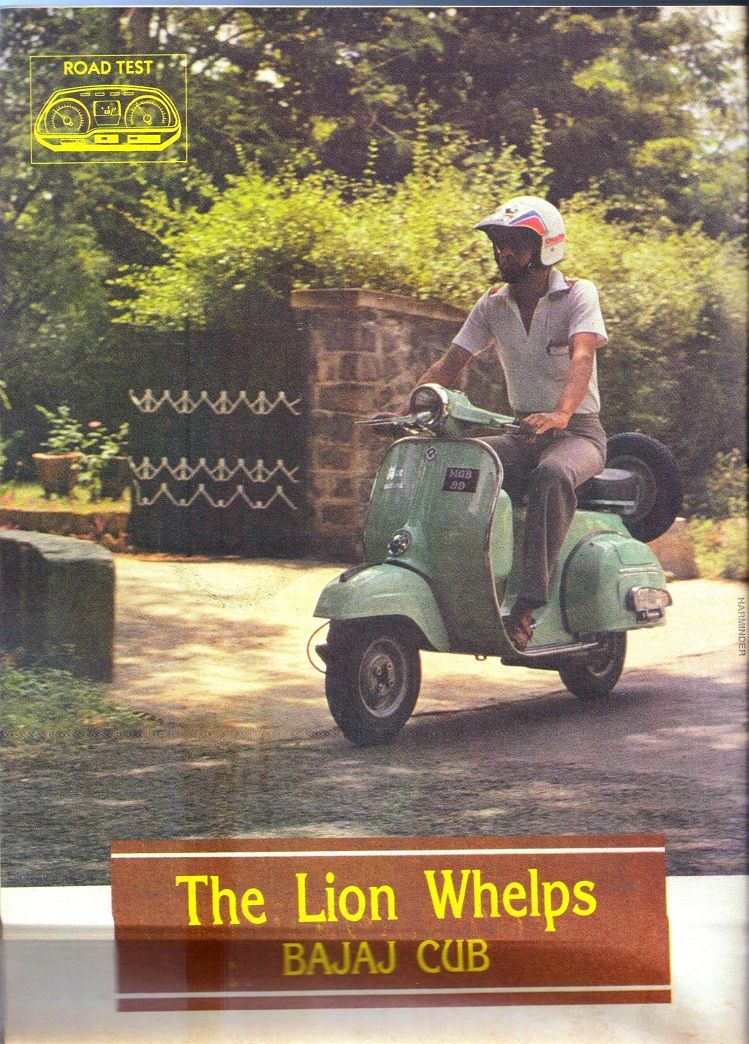 In one case (Enfield Fury) he found the front fork travel to be 130 mm against the rated 155 mm, and the rear suspension travel to be at 60 mm rather than 90 mm. But he was also honest enough to admit that even these actual figures were far larger than any other bike in the market then, making him grade the Fury as superlative.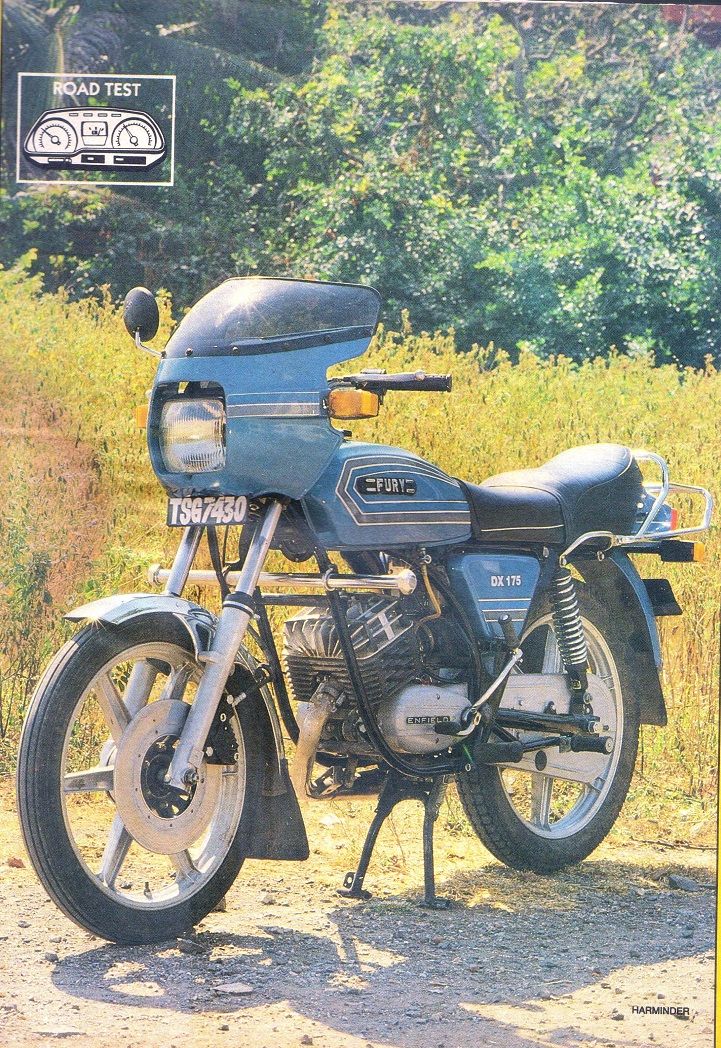 He conducted drawbar pull tests of test bikes comparing these to the competition. The Fury he tested extended a pull of 105 kg, the two-year-old RX 100 pulled 98 kg, while a Luna moped, and Kinetic Swift pulled 10 kg and 25 kg respectively.
Dilip Bam had also expressed doubts about manufacturer's claims on bhp on the older bikes, calling for usage of chassis dynamometers to check what bhp was available to the rear wheel. The Automotive Research Association of India (ARAI), Pune, when approached by him in around 1987-88 were friendly enough, but placed bureaucratic hurdles quoting scriptures despite his willingness to pay costs. He suspected the then ARAI reputation, as it was freshly involved in the ARAI- Standard 2000 scandal.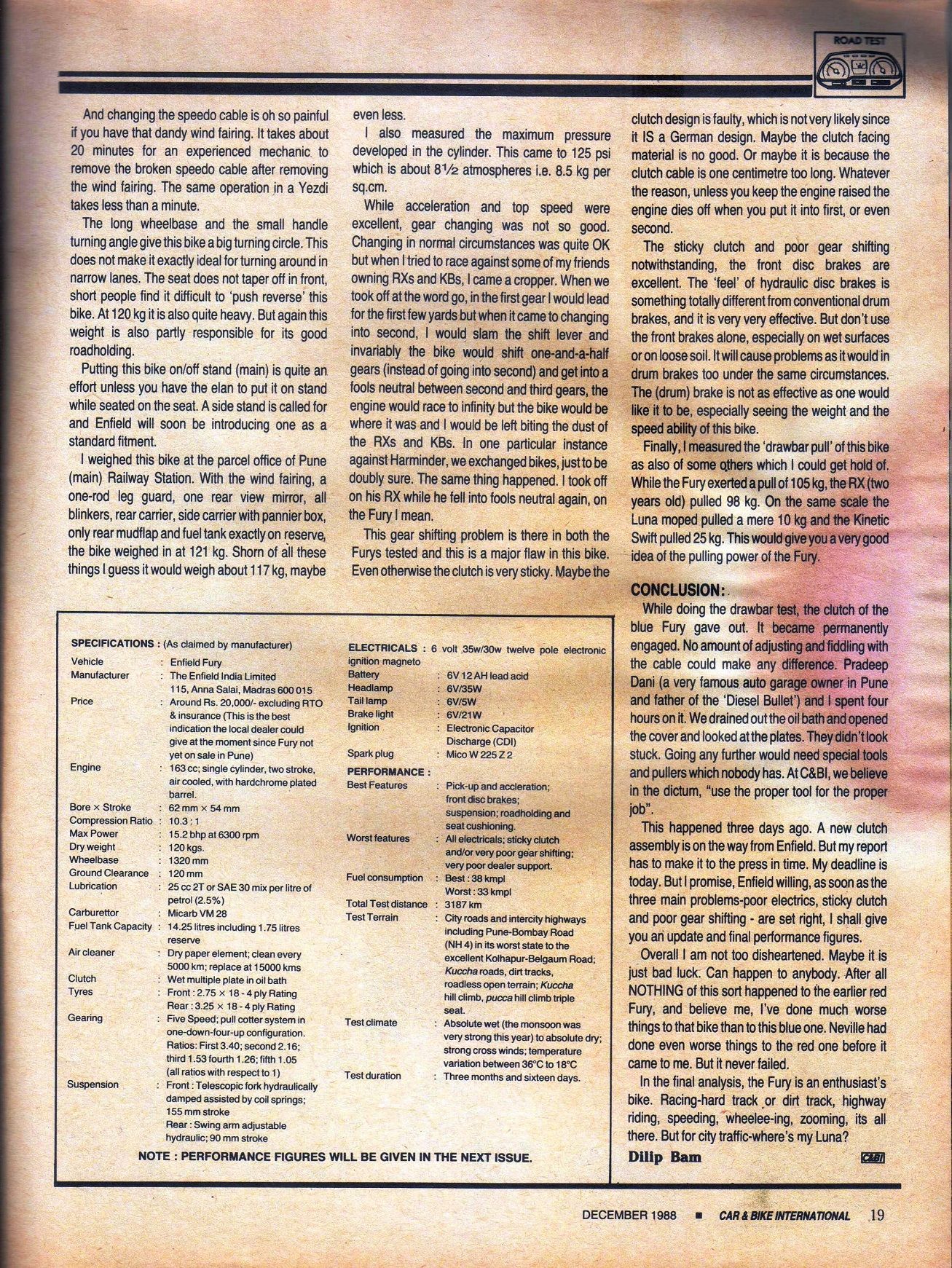 Thereafter, he said that he was making arrangements with manufacturers of chassis dynamometers hoping to provide genuine bhp figures. All these qualities of Dilip Bam were deeply appreciated by the readers of the then auto-magazines and later on his awaited blogs on portals.
Most of the auto magazine readers would just after grabbing their copy, open to check if there was any test ride report by Dilip Bam. And that was the first thing many readers would read. His write-ups interspersed with rustic and earthy humour and wit were among the most unparalleled in the world of Indian auto journalism.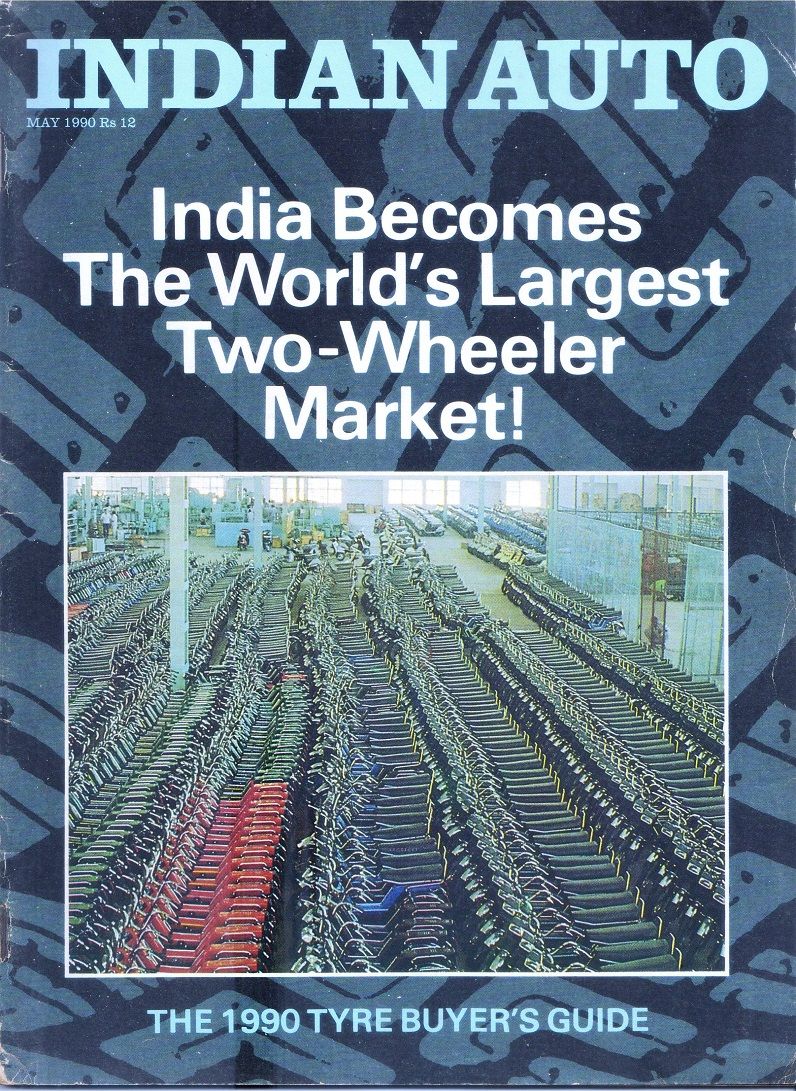 The more rustic, flawed and rudimentary a machine was, the more rustic and witty musings and ire it would draw. Even the then hi-tech machines did not escape his five or sometimes six senses. He ridiculed their flaws. He introduced the concept of Engine Life Factor (ELF) that defined as 100,000/ Compression Ratio x RPM. This is a measure of how long the engine is expected to last, pre-supposing uniformity on other factors like materials, workmanship, cooling efficiency and some other unquantifiable aspects.
No write-up on Dilip Bam can be replete without his test drive notes on myriad number of two-wheelers and also the Maruti 800 (SB308).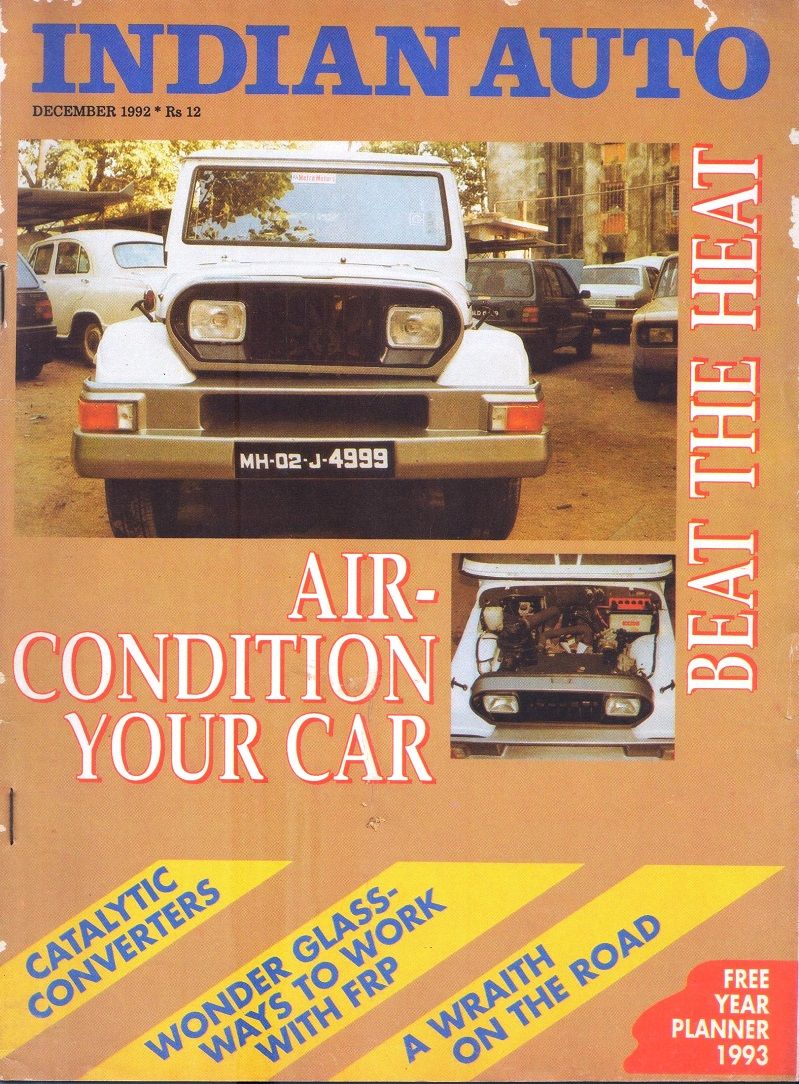 Bajaj Sunny IA Sept 1990: Being a scooter with a step-through space, the rider's shoes and lower garments remain quite clean even while going through muck-filled potholes, though the same can't be said about the pillion rider sideways with both feet on the LH footboard. If the pillion rider sat 'horse style' with his feet on the foldable footrests, then he'd have to move his left foot to allow the rider to kick start or else kick start it himself.
Enfield Fury CBI December 1988: The Fury is an enthusiast's bike. Racing hard track or dirt track, highway riding, speeding, wheelee-ing, zooming, it's all there. But for the city traffic - where's my Luna?
Hero Honda Street IA April 1997: The Street, I have not to kick to start, nor to push or pedal start. God! I think this is the only bike in the whole wide world in which the fuel cock is part of the carburettor, rather than being before the rubber pipe and built into the fuel tank. More than its el thinno tyres, it is the self-same auto clutch that kaputs you. You see, in this bike, you don't control the clutch, the clutch controls you! And I hate to be in somebody else's clutches!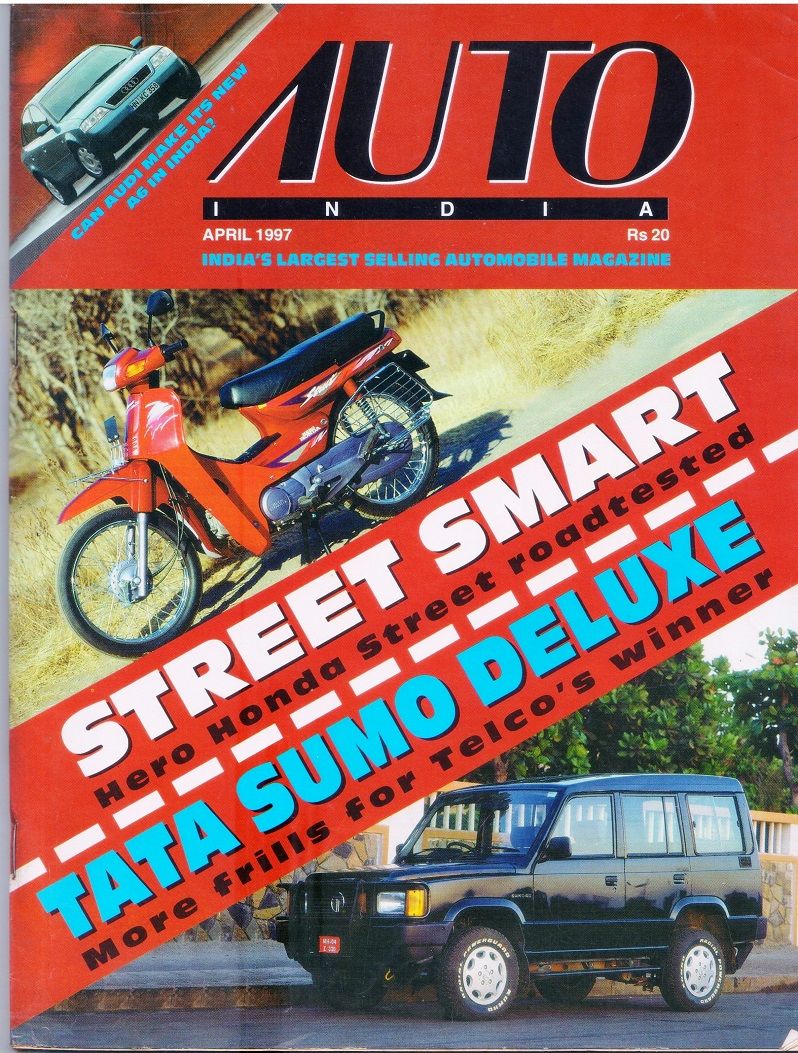 Yamaha RX 100 CBI January 1988: My own conclusion is that the RX is the bike of youth. Of impatience. Youth just has to get ahead. Overtake everything in sight. The RX responds beautifully to young desires. The greatest feature of the RX is its ability to overtake almost everything on Indian roads including the Maruti. The sudden surge which is required for overtaking (at between 60-90 kph) coupled with the need for superlative handling ability required, is about the best in the RX among all Indian bikes.
Conclusion: A superlative machine. Overall, the best all-rounder. If my eyesight were as good as a cats' and I was not as lazy as a buffalo, I'd say that for the Rs 15,650 that it costs, it is the best deal on wheels.
Bajaj Cub CBI November 1987: With so many 100cc options in the market, Bajaj probably thought that 100 is a magical cc. In fact, for Bajaj it was (and is) practically magic because except for the piston-crankshaft train, almost everything else is common with the 150 cc models and the extra effort on their part was only marginal.
Conclusion: If I am getting a 150 cc Priya for about the same price on road, I'll go for the Priya.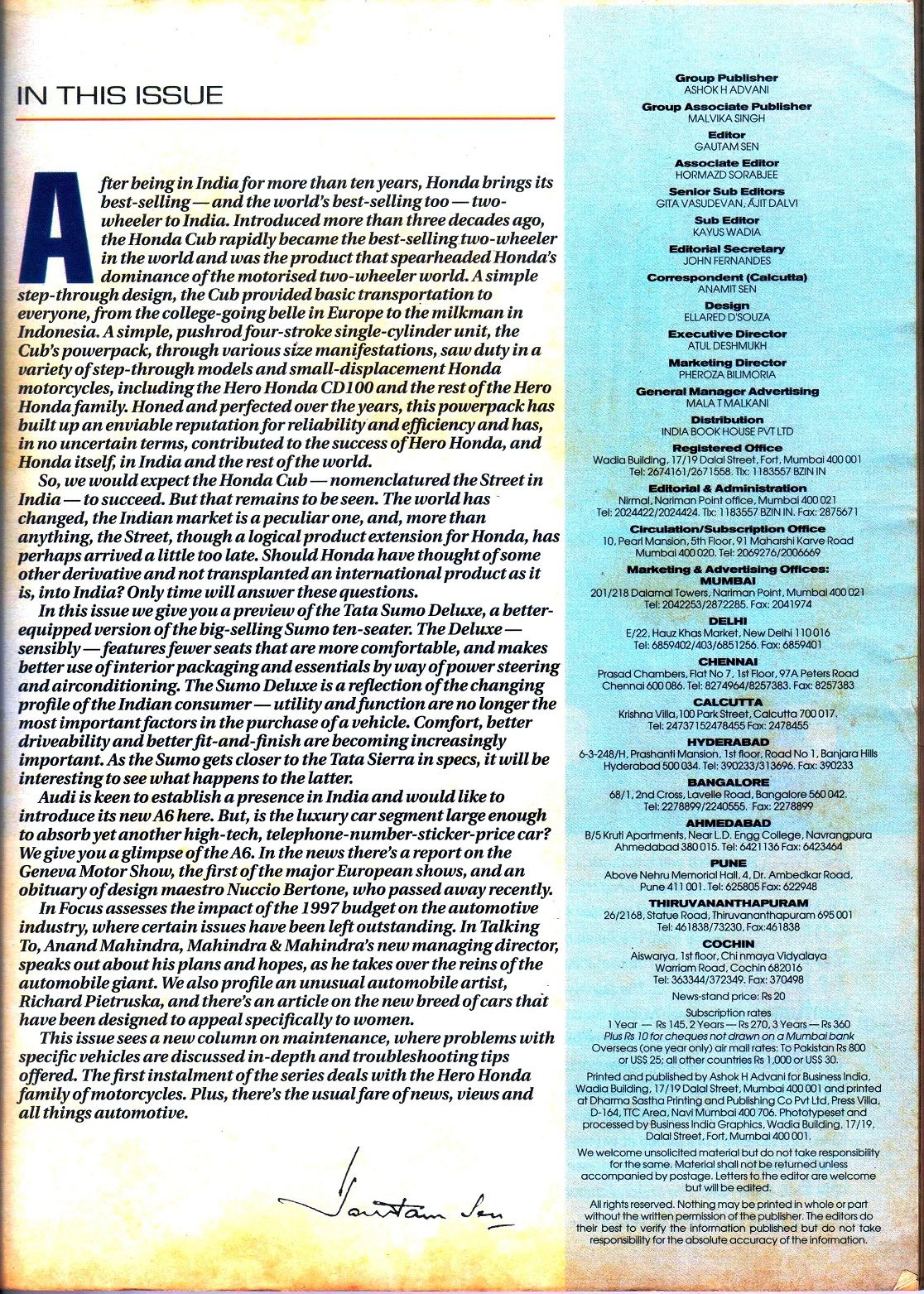 Maruti 800 People's Car? CBI JUNE 1988:  If looking at the car makes you happy, looking at the owner's manual makes you cry. The paper quality is second class and the printing quality is absolutely third class. To top it all, nowhere in the manual is the factory address or the Registered Office address given. Maybe, all the cars are imported from Japan and sold off, so where's the question of a factory address? For such a small looking car, the interior is surprisingly roomy.
"Yes, Dilip Bam was an eccentric yet very intelligent tester of motorcycles and scooters, one who had a great, nutty sense of humour, which was, on many occasions not that politically correct," says Gautam Sen, adding with a laugh, "So it was not unusual for either Dilip or the magazine he was writing for, to be in trouble every now and then."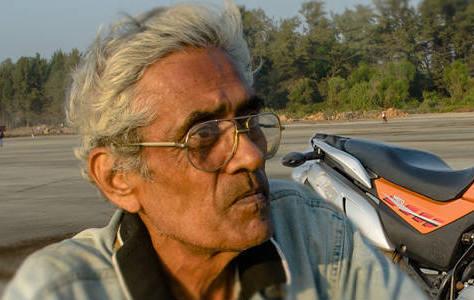 That's Dilip Bam though, in a nutshell, as his personality and his works can all add up for a fitting tribute in a book, dedicated to him. He must be testing driving chariots for the Gods or even Rudolph's sleigh up there.
(IA stands for Indian Auto and CBI for Car and Bike International)
---
---
Comments
Sign in or become a deRivaz & Ives member to join the conversation.
Just enter your email below to get a log in link.