La Folie des Concours: Highway Battles
Images: T.R. Raghunandan & Sai Krishna
We took our photos, waved our goodbyes and left Frazer Town before dawn. Dev, our MG TC, sounded healthy and ready to go.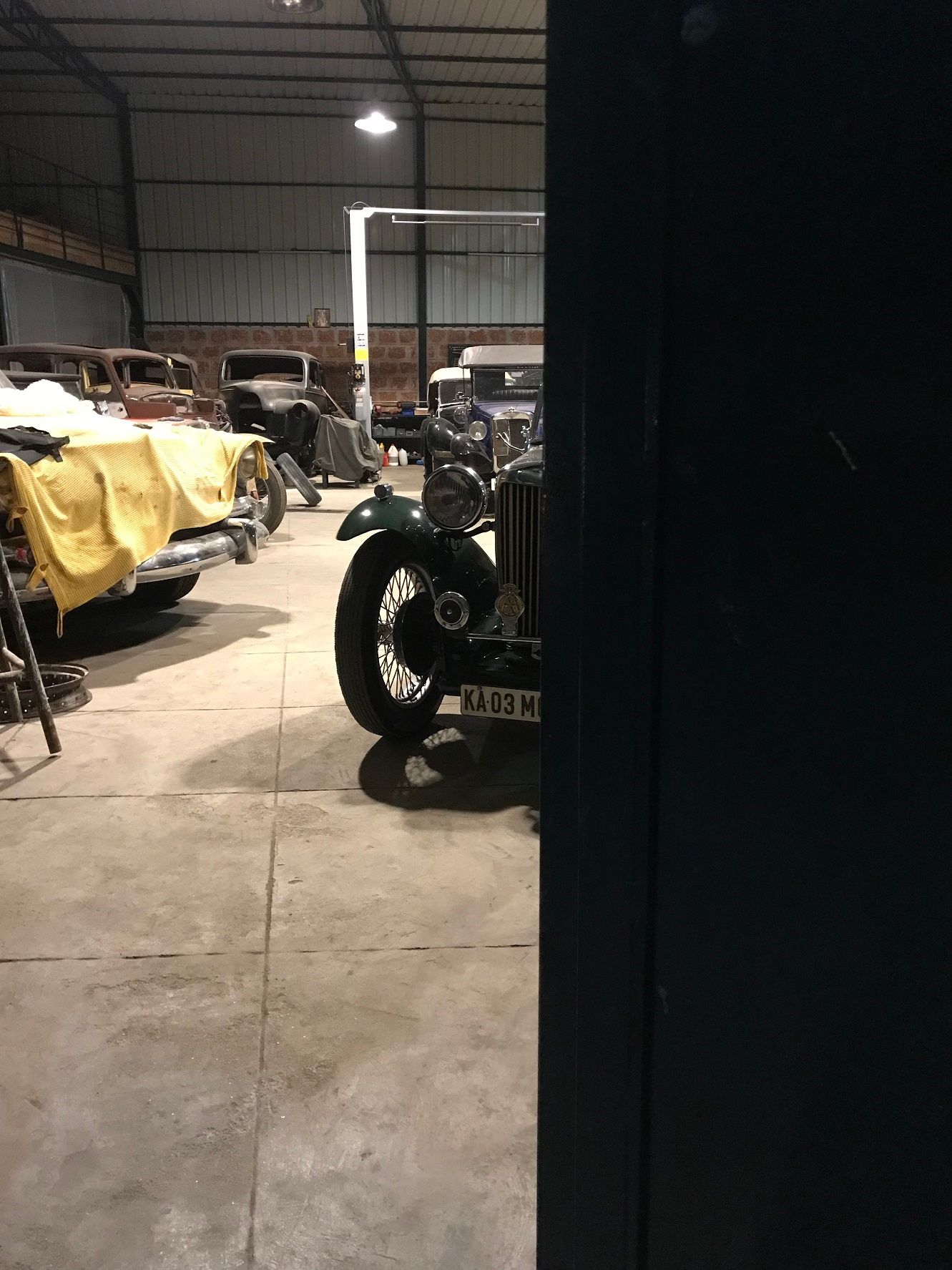 And he went, but not our way.
The brake pedal plunged, as I dabbed it. We squealed around the corner and then hand-braked ourselves to a stop.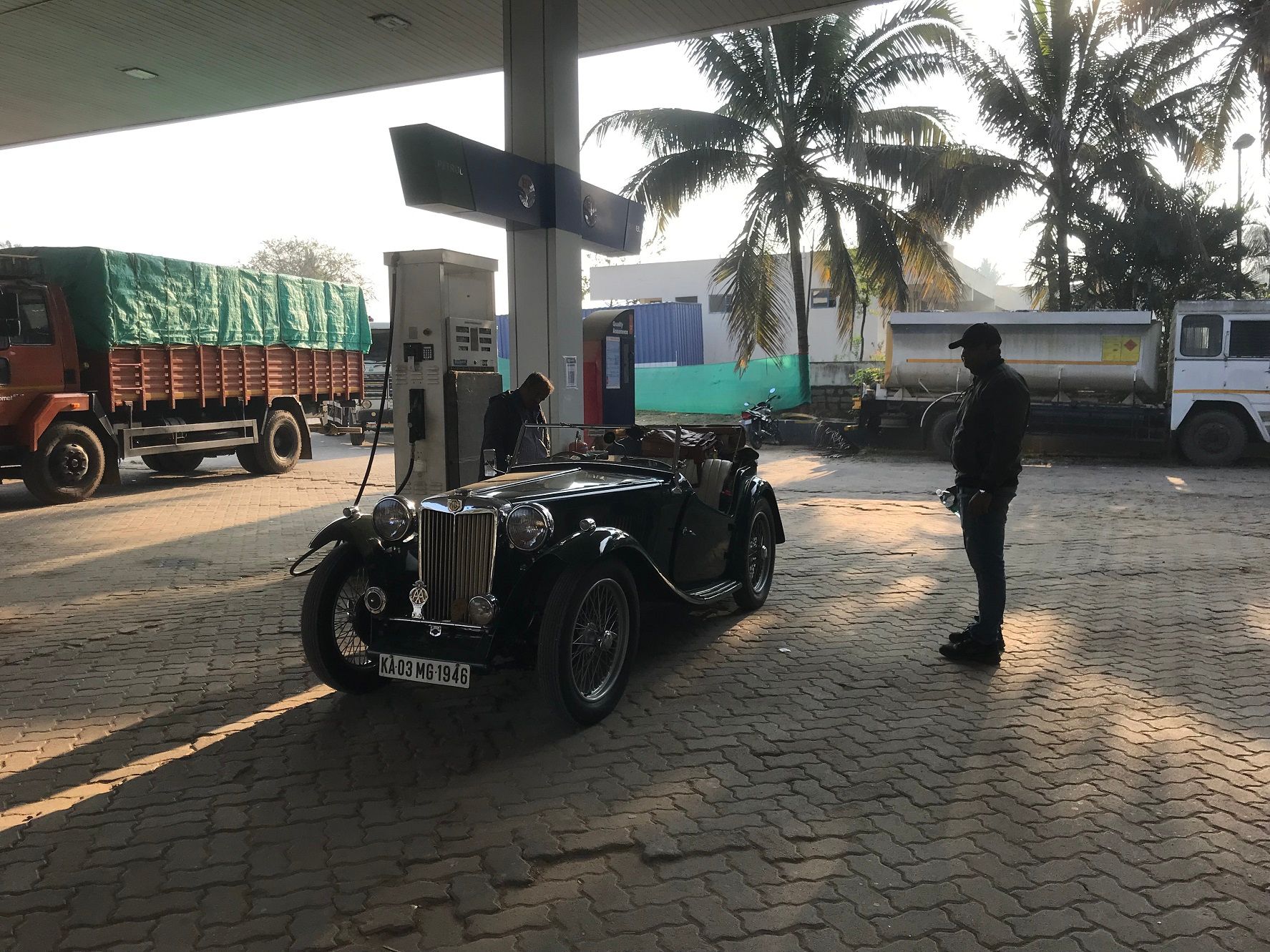 We crawled back to the workshop, our hearts thudding in our ears. A grim faced Krishna wordlessly jacked up the car and we set upon bleeding the braking system. An hour later, the bubbles trapped within were banished and we set off, just as the city woke up.
As the sun rose, we had gotten past the city traffic snarls. Driving the MG after a month, I smiled as I familiarized myself with Dev's ways. Each car is an old friend, I reflected. We have our secrets, our quiet stories, our jokes to share with each one of them. I am sure that they too smile and chuckle amongst themselves of our foolishness and our dreams.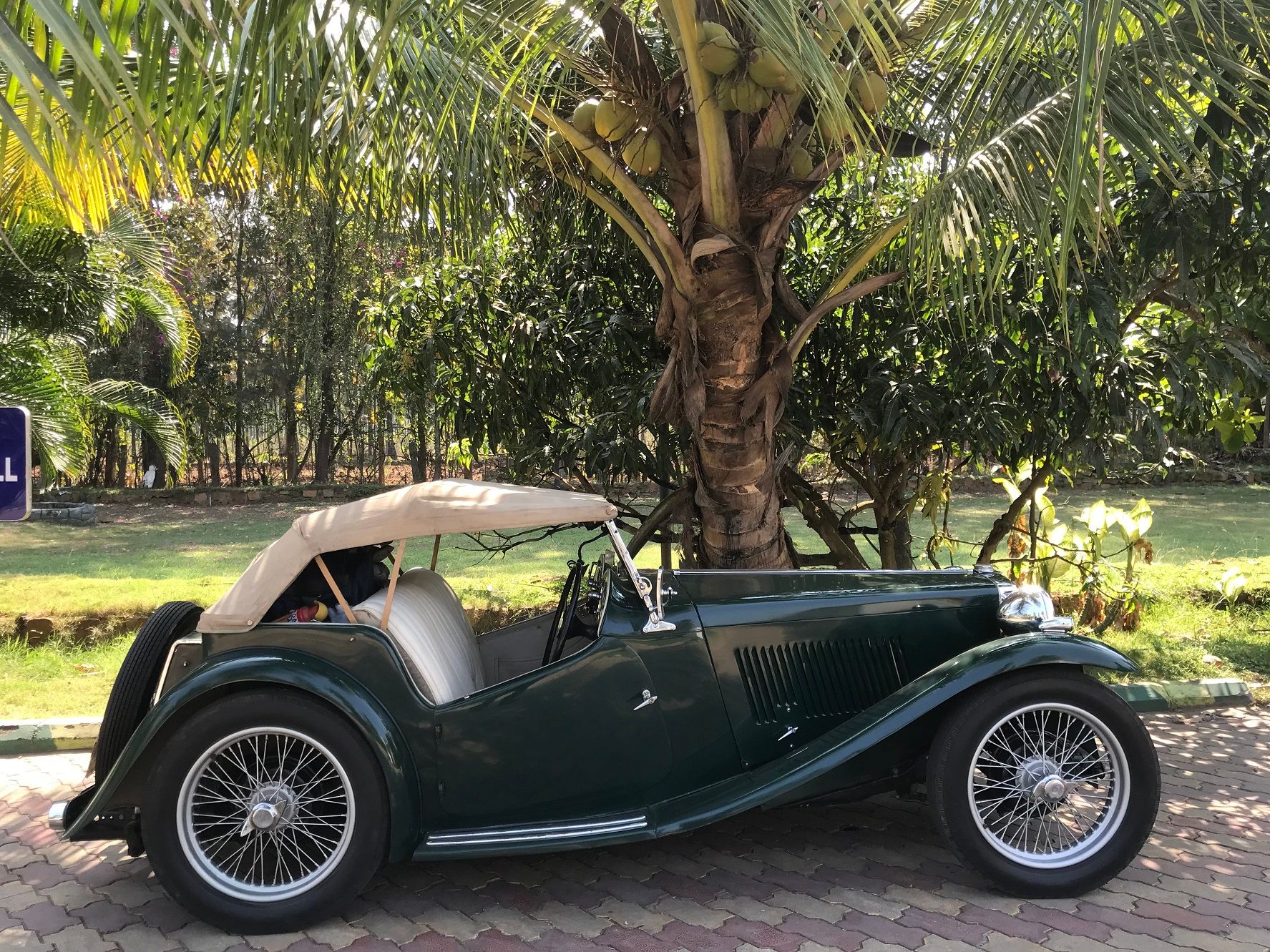 However, there is no time for contemplation as we battle with scores of lorries carrying windmill blades. These behemoths stretch 50 meters in length and have escort vehicles driving beneath the overhanging blades. Our routine was to displaying hand signals, watch the rear view mirror, dart out of the wake of long trailers, quickly shift to third or second, and surge ahead.
When young, I always yearned for convertibles, never fathoming why people preferred boring saloons. Who would not want wind in the hair motoring, I asked. Driving one now is automotive masochism. Even the gentle winter sun bears down mercilessly when the winter fog lifts, desiccating us. Carry lots of water, preferably a premixed bottle of electrolytes. Dehydration can creep up on one without warning.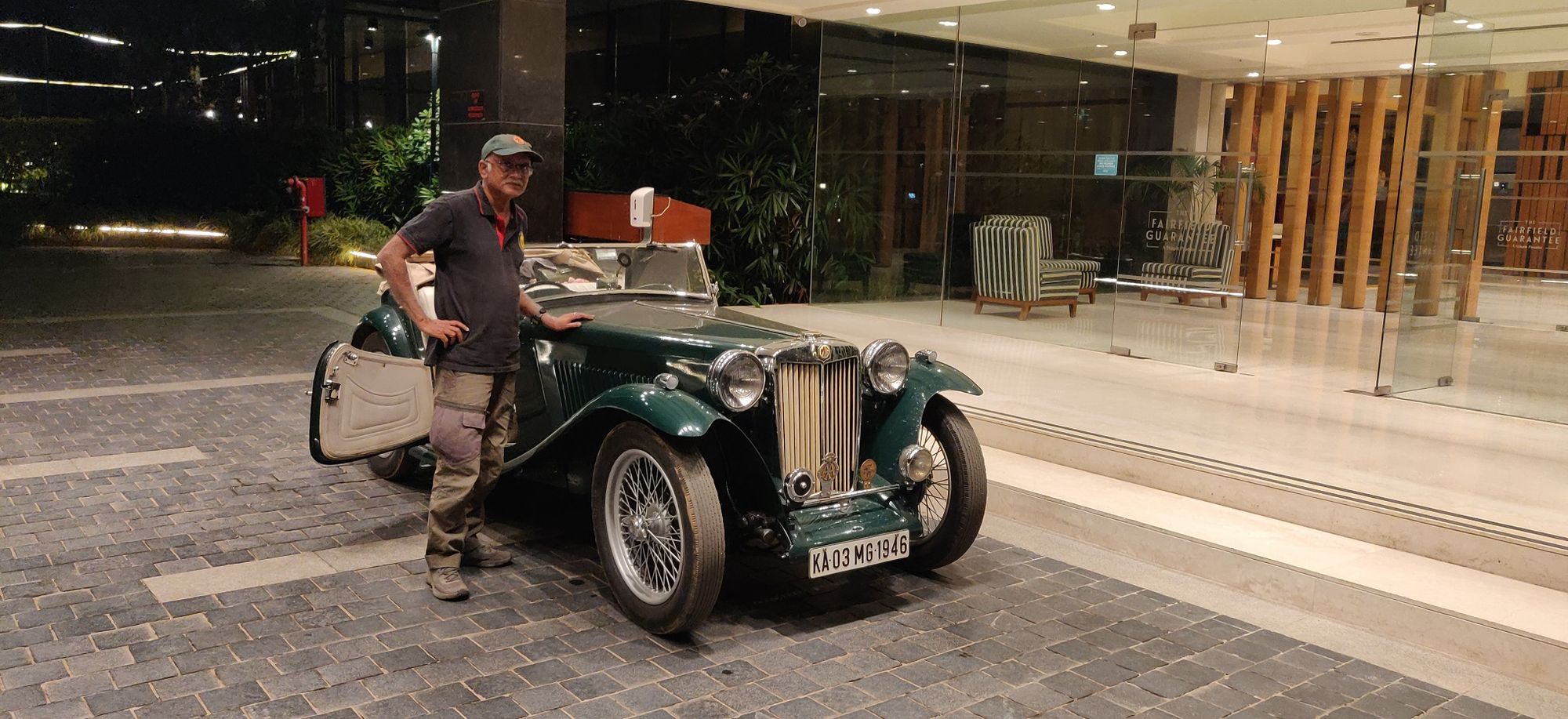 After Tumkur, the traffic eased as the road widened. At lunch in Davangere, we finally put the hood up. What distinguishes a well-designed convertible is that it looks as good with its hood up as with it down. As we parked under a young coconut tree, I appreciated Dev's crisp, rakish lines, complementing the sweep of the wings over his spindly wheels.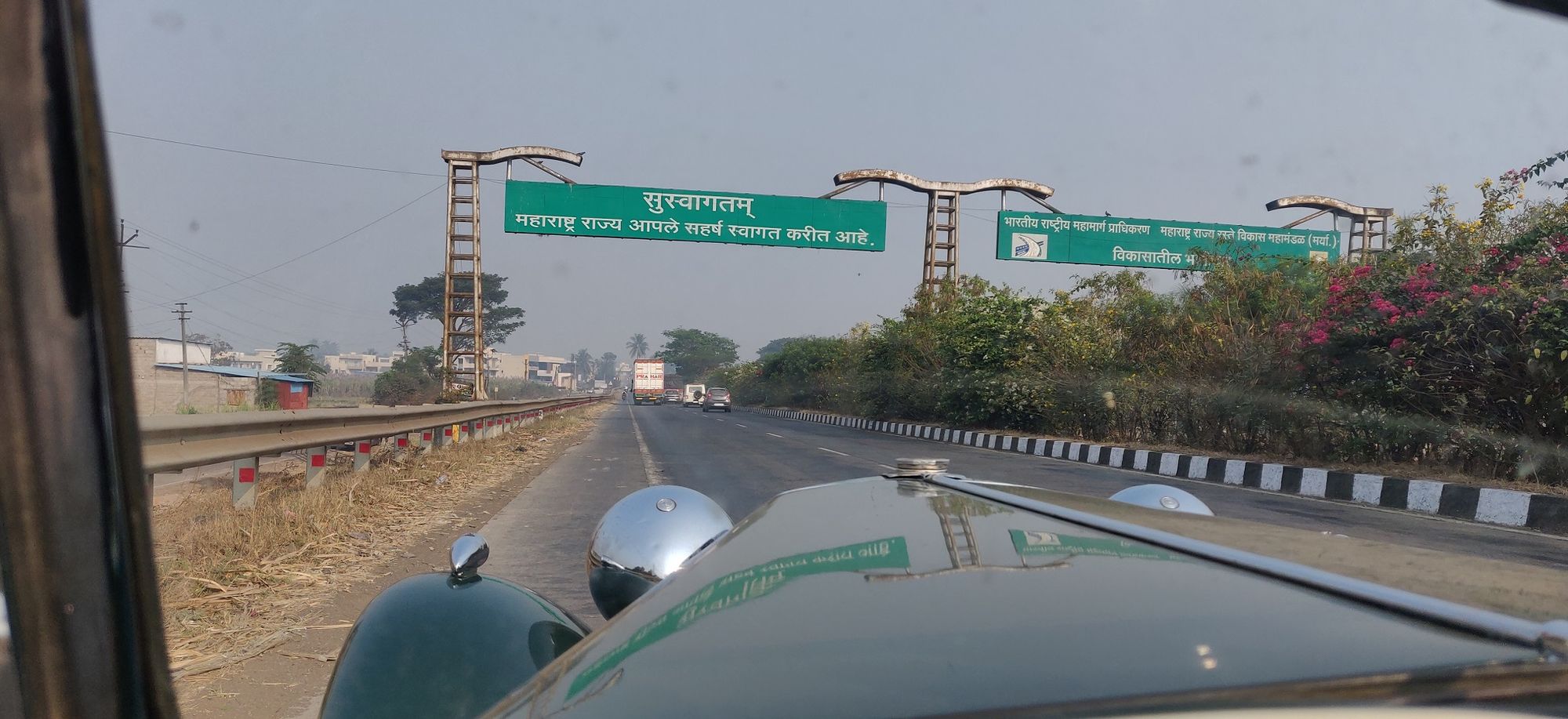 At Harihar, 20 kilometers north of Davangere, we raced over the Tungabhadra, the first of the four grand peninsular rivers we would cross on our journey. The river is the unofficial dividing line between north and south Karnataka; one leaves the land of Ragi and enters the one of Jowar.
This is 'Amrit Mahal Kaval' land, where semi-wild cattle grazed centuries back. The handsome Amrit Mahal bullocks from here were rounded up and yoked to carts by the armies of sultans, to draw heavy artillery at surprising speeds. Much of the grasslands are gone now; only some stretches are preserved, to save the habitat of blackbuck and the rare Great Indian Bustard.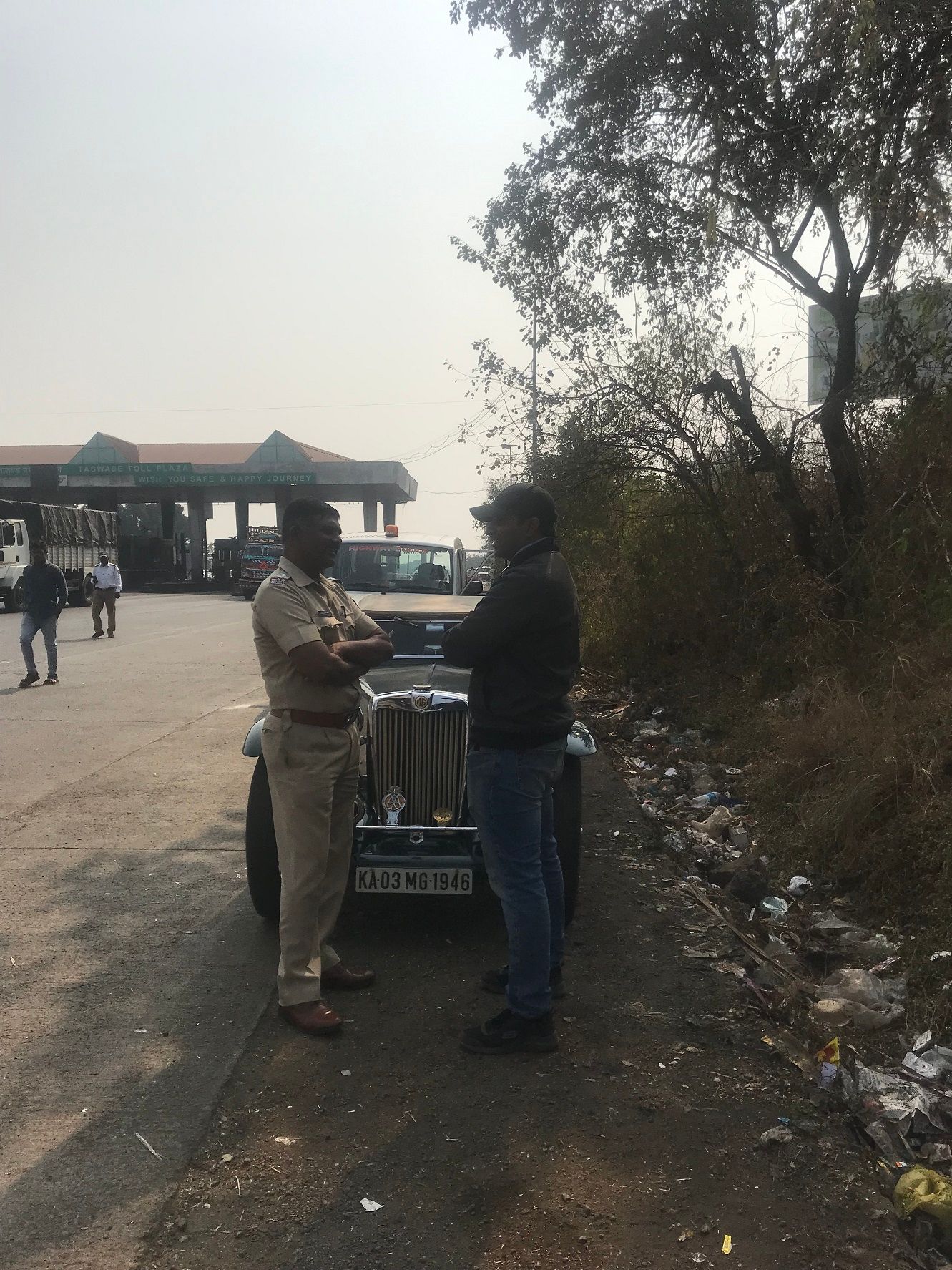 It is easy to exceed the speed limit here, but we kept to a steady pace of around 80 kilometers per hour. My style on long stretches is to keep the car at a steady 3000 RPM; that causes the least stress. In my mind's eye, we were in the past, driving down a tunnel of large banyans that graced this road stretch. Now this rolling landscape is treeless, and dotted with giant windmills.
Something had to go wrong, and it did, at Hubli. The two-lane Hubli-Dharwar bypass which goes up and down several gentle hills, cannot handle the unbroken convoy of heavy trucks. Stuck behind them, our little car began to overheat. The brakes snatched every now and then, but the stutter was not serious enough to warrant a check. Everything was forgotten when we passed Dharwar and pointed our nose straight at the setting sun.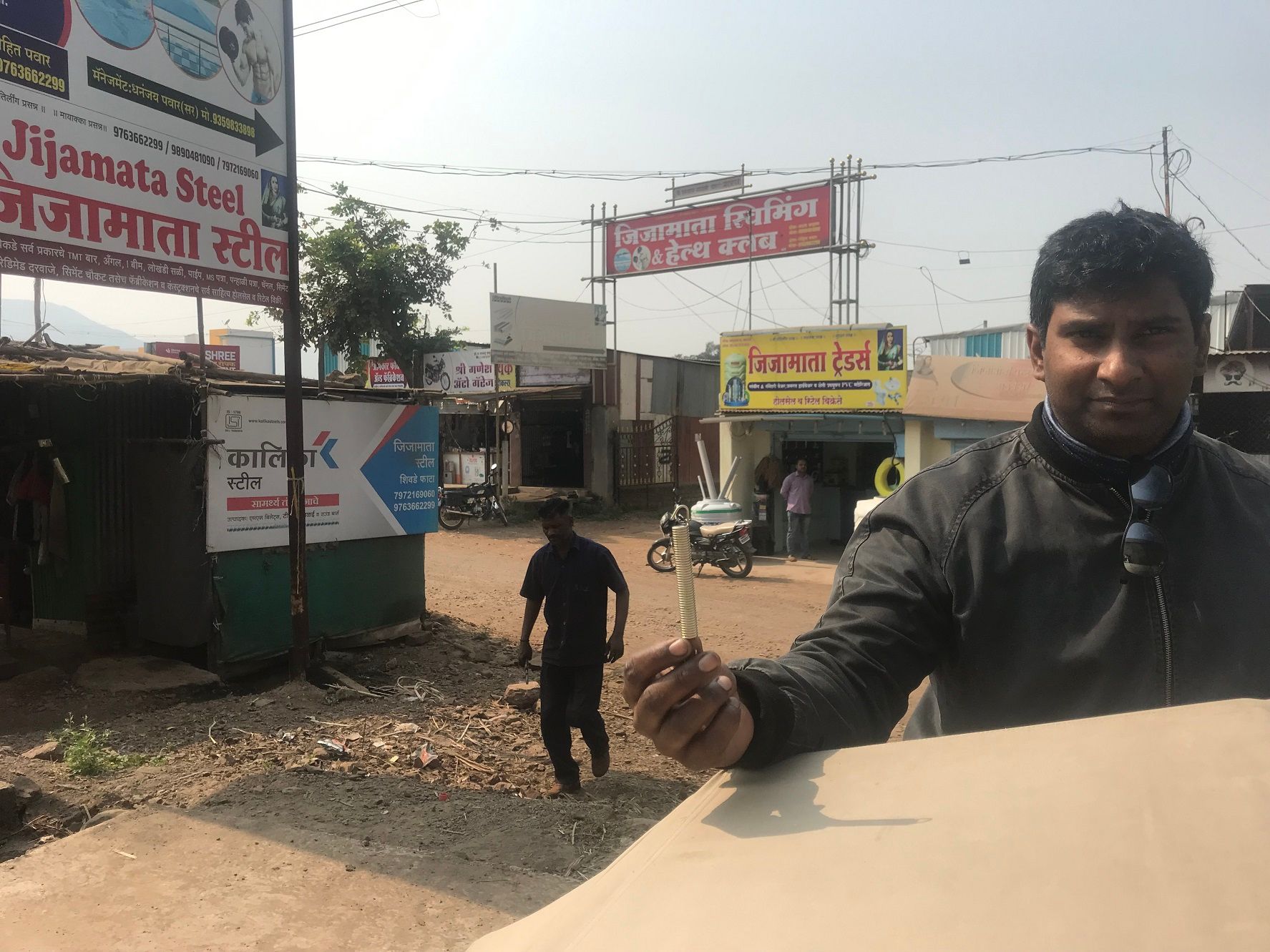 After dark, the snatching of the brakes became persistent. We stopped to rest our tense limbs and make way for trucks heading towards the city, before, inexplicably, on a long downward stretch the brake snatching disappeared and I once again felt the car surge forward, towards Belgaum, where we would stay overnight.
We made our usual early morning getaway from Belgaum. A decade back, on the stretch towards Pune one could gaze at the forests and marvel at the rich maroon soil. Now, the four-lane road cannot handle the rush. Two-wheeler commuters between Satara and Kolhapur dart into one's path from the left, and slow moving tractor hauled sugarcane road trains monopolise the fast lane. Throwing lane discipline out of the window, we sinuously wove our way through the narrow gaps that arose every now and then. We had better call this an MG Cobra, I thought.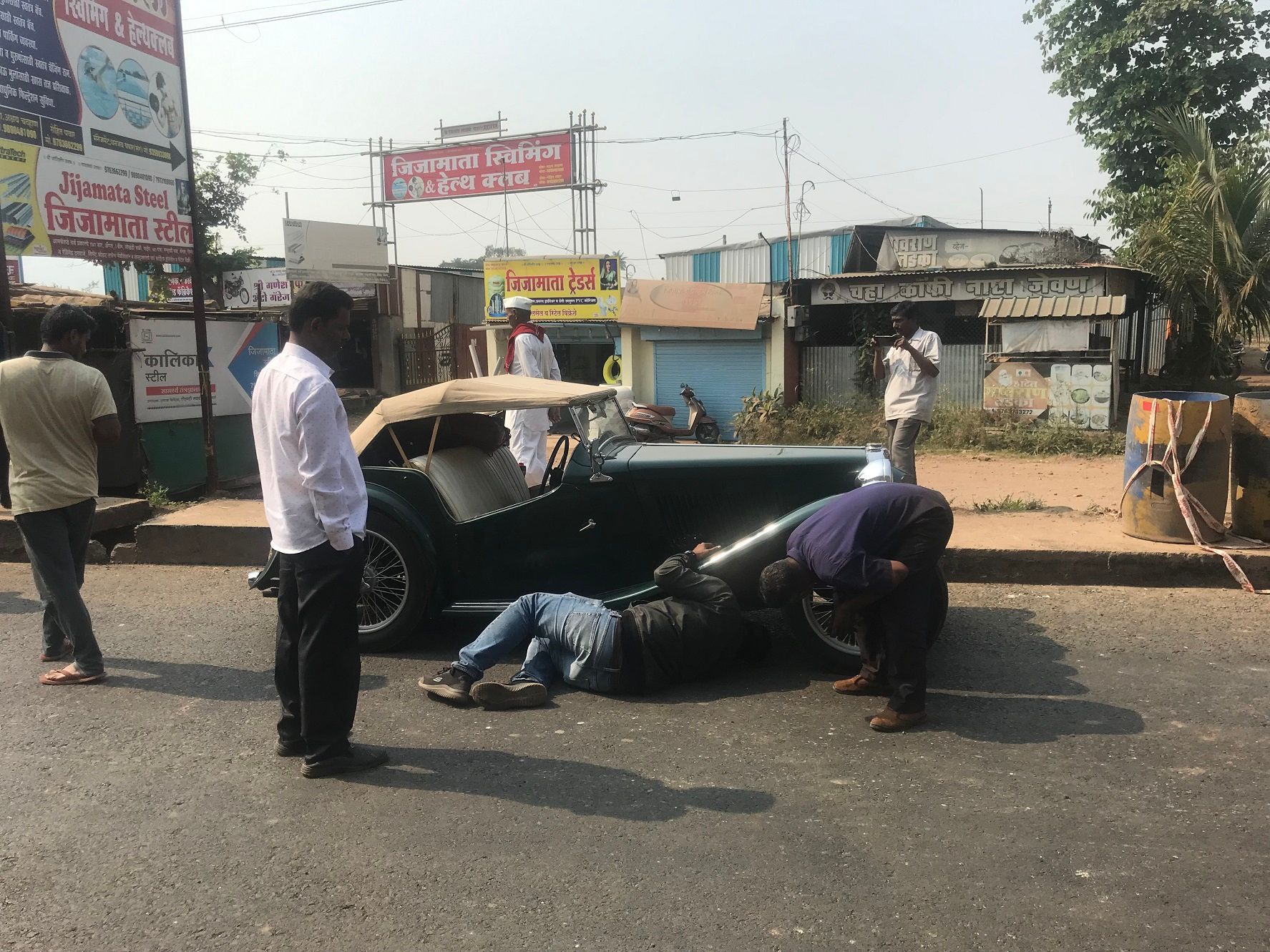 The brakes were at it again.
We had stopped after a toll gate, and were surrounded by selfie seekers. As Krishna crawled underneath to check the brake snag, policemen made full use of the photo opportunity. After I shoehorned the local sub-inspector into the driver's seat for a special photo, our introductions made us friends for life. 'You are Raghunandan? I am Raghunath', he said.
Krishna emerged to say that the offender was a faulty brake pedal return spring. It had lost its temper, being anchored within millimeters of the hot exhaust pipe. No problem, said Raghunath, our guardian angel in uniform, directing us to a nearby village shop. Armed with Hero Honda brake return springs, followed by a brief struggle under the car to hook up a new spring, we were on our way.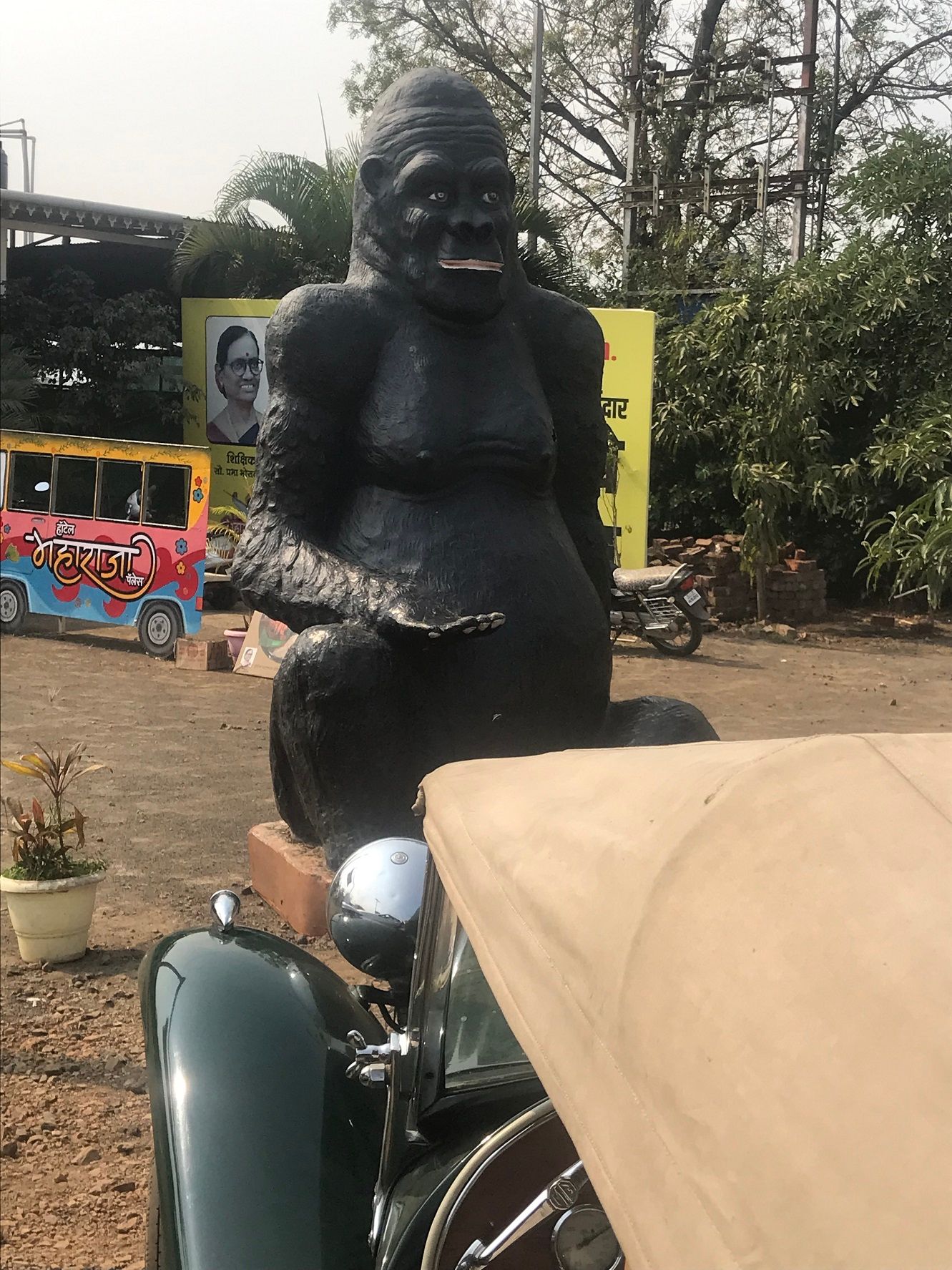 As I gorged on tongue-scorching fish curry when the car rested under the benign gaze of a fiberglass King Kong, I knew our lunch would delay us. Pune hits the driver without warning. One's serene drive through the countryside is punctuated by a tunnel. And as one emerges from the darkness, the landscape is dotted with skyscraper blocks of flats. Most bypass roads have been enveloped by growing cities, and Pune is no exception. I watched with consternation as the MG's needle rose on the temperature gauge, till it went past the limit. A geyser of green coolant from the radiator cap signaled for us to stop, right on top of a flyover. Luckily, we did not obstruct traffic. A temporary lull enabled us to dash to our hotel, where we rested our weary bones. Dev was running sweetly; we had no problems that we could not solve.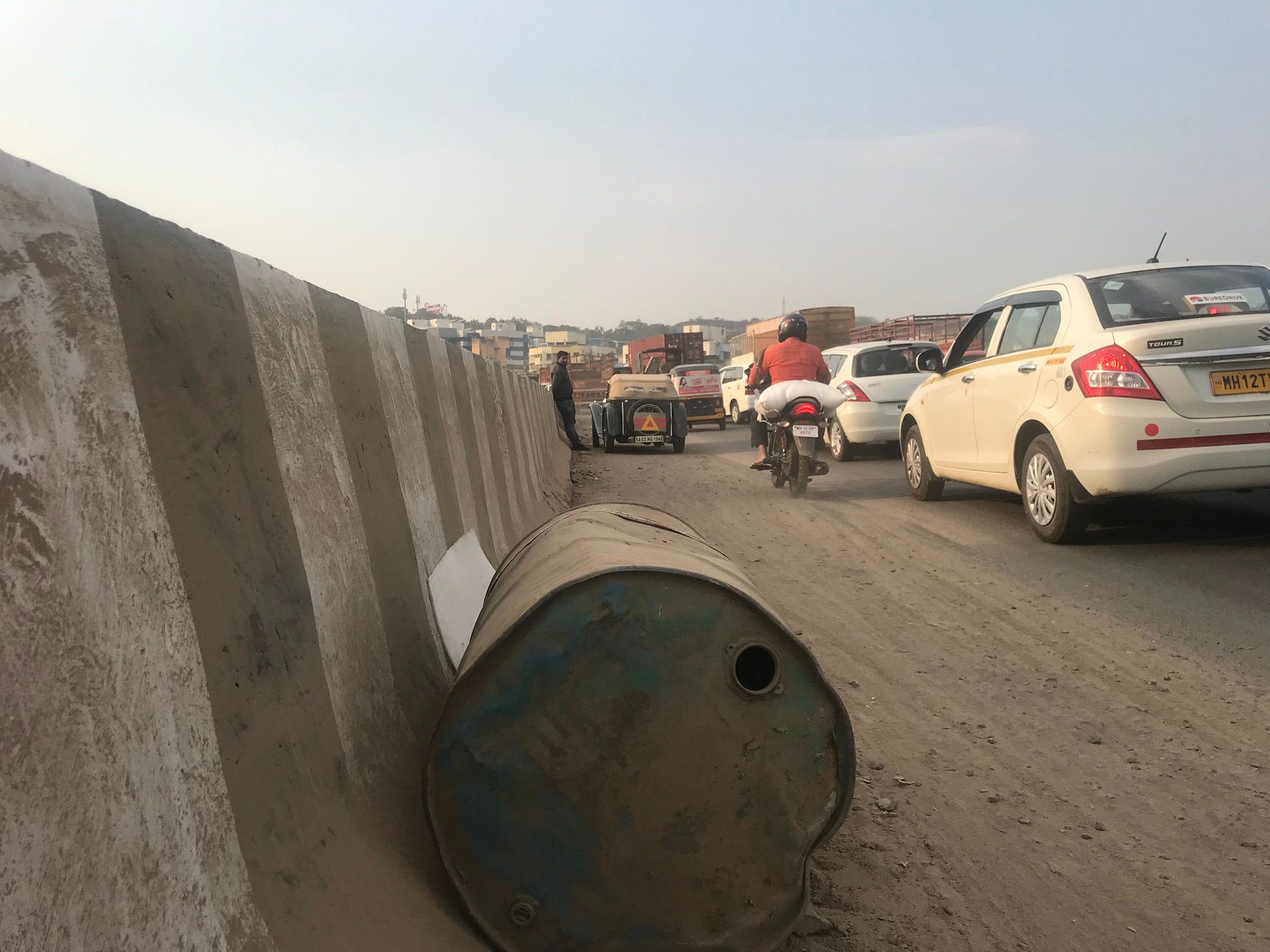 All was well. Now to head for the Aravallis…
---
---
Comments
Sign in or become a deRivaz & Ives member to join the conversation.
Just enter your email below to get a log in link.